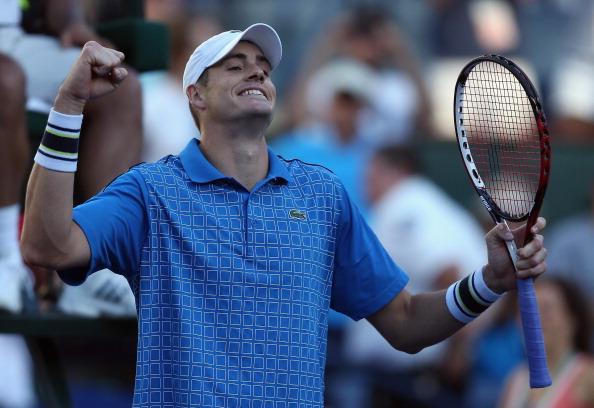 A strong service game has helped a number of tennis pros break onto the world stage in recent years and John Robert Isner is one player that's managed to excel at this part of the game more than many others.
Since turning pro in 2007, America's Isner has racked up more than $7.5 million in tournament earnings thanks to a host of titles both as a singles and a doubles player. After graduating from the Greensboro Tennis Club and University of Georgia, Isner was able to pursue tennis full time under the tutelage of Craig Boynton. During this time, Isner managed to enjoy much of his early success. However, after hitting a plateau late in 2012, the US pro decided to enlist the Mike Sell before switching allegiances to Justin Gimelstob.
Since hitting the pro circuit in 2007, one of Isner's defining features has been his height and his serve. Standing 6ft 10inches, Isner is able to get over the ball like few players on the circuit and that's allowed him to serve more aces than almost any other player in history. In fact, in 2013, Isner became the 18th player in history to score more than 5,000 aces. This feat was taken to a new level in 2015 when Isner scored more than 6,900 aces; a score which now puts him within the top ten best servers in history.
Despite having the power to end matches with his serve, Isner also holds the distinction of being part of one of the longest tennis matches ever. Lining up alongside Nicolas Mahut at Wimbledon in 2010, Isner not only broke the record for the longest single match in history (11 hours and five minutes), but a plethora of additional records. Dubbed the "endless match" by the media, the entire session trumped all matches before it thanks to an astounding 59 game tie heading into the final set.
As well as the final set lasting for more than eight hours (a record on its own), the match also entered the history books after both players each served more than 100 aces. Thanks to his performance in one of the most memorable tennis matches ever (a match Isner eventually one), Isner is now one recognised as one of the toughest players on the tour and even proved worthy of a place in the world's top ten back in 2012.
After breaking records at Wimbledon and securing three ATP titles between 2010 and 2012, Isner was able to play his way to his first Masters final in India. This run was followed up by another successful outing on the ATP tour in 2013 and 2014, during which he managed to take his number of titles to nine.
In 2015, Isner has so far retained his position in the ATP's top ten world rankings, thanks in part to a successful defence of his ATP Atlanta title. After beating Marcos Baghdatis in straight sets, Isner became one of the most successful American players in Open history alongside Andy Roddick and Pete Sampras.
In addition to having one of the most powerful serves in tennis, Isner has perfected the one-two point style of tennis. Using his serve to push opponents to the back of the court, he is then able to follow up with an equally powerful forehand. Although this style, as well as his overall lack of agility, sometimes leaves him vulnerable to skill backcourt players, Isner has been able to make a career out of his power plays.
Away from the court, Isner is sponsored by Lacoste and Prince and also enjoys Aussie Rules Football and American Football; in particular the Freemantle Football Club and the Carolina Panthers.
All information accurate up to September 2015. For all the latest news on Tennis and the latest tennis betting tips then please follow betfair.betfair Tennis.