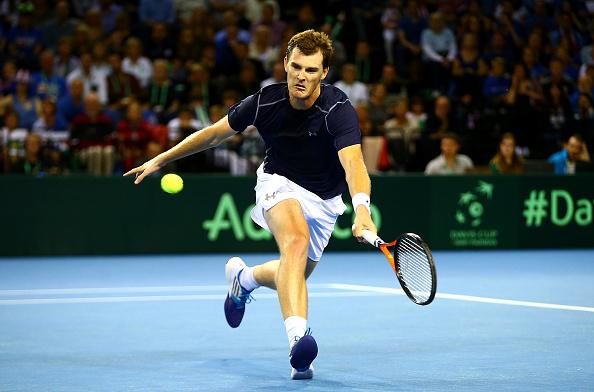 Living in the shadows of a more successful sibling is never easy, but Jamie Murray has managed to ignore the haters and forge his own career as a successful tennis player away from his younger brother, Andy Murray.
Although he's not managed to make quite as much of an impact on the singles circuit as Andy, Jamie Murray is regarded as one of the best doubles players in the world and has been at the top of the British rankings for a number of years. A product of his mother's coaching regime from an early age, the 6ft 3inch Murray plays a left-handed game with an all-round style.
Despite now being a doubles and mixed doubles specialist, Jamie Murray was highly touted as a junior and was ranked second in the world at the age of 13. This ranking, coupled with runner-up finishes in event such as the Junior Orange Bowl, made Murray a target for the Lawn Tennis Association (LTA) and the prestigious Leys School in Cambridge. However, despite working under the tutelage of the UK's top coaches, Murray's singles career hit a plateau. In fact, such was his decline that younger brother Andy publically blamed the LTA for his brother's stunted development.
Fortunately, Murray was able to find his niche in the doubles arena and in 2006 he made the finals of two ATP Tour events. Although he would go on to lose in both matches to top ranked teams from the US (the Bryan brothers who are the most successful doubles team of all time) and Israel, Murray's performances highlighted him as a standout doubles player.
In 2007 Murray partnered with Eric Butorac once again and managed to claim his first title at the AT&T Challenger event. This win was quickly followed up by back-to-back titles on the ATP Tour (SAP Open and the Regions Morgan Keegan Championships); a run which subsequently put Murray in the world's top 50 doubles rankings.
From this point Murray hit a purple patch of form that saw him triumph in the Davies Cup before winning the mixed doubles title alongside Jelena Jankovic at Wimbledon. Despite failing to win another Grand Slam event after Wimbledon, Murray has played alongside some of the finest doubles players in the game over the last decade, including Max Mirnyi, Liezel Huber and John Peers, and created an impressive tennis CV.
In more recent years, Murray's partnership with Peers has remained the most stable with the pairing playing in more than 50 tournaments together and picking up more than six ATP doubles titles during that time.
In fact, on top of appearances in three Grand Slam doubles finals, Murray has scored 13 ATP Tour titles and 12 runner-up finishes; a record which has made him second only to the legendary Bryan brothers.
Away from his own career, Murray has served as a mentor and training partner to his younger brother, Andy, for a number of years. Moreover, he's worked alongside his mother, Judy, to help nurture the next generation of tennis talent in the UK. Interestingly, but also tragically, Murray was also one of the children caught up in the infamous Dunblane school massacre in 1996. Along with Andy, Jamie Murray was one of the children who took cover in a classroom while Thomas Hamilton killed 16 students. Fortunately, neither Jamie nor Any were injured during the incident.
Off the court, Murray married Columbian MBA student Alejandra Gutierrez (now Murray) in 2010 and during his career he's managed to make more than $1.4 million in prize money and largely without the help of mainstream sponsors.
All information accurate up to September 2015. For all the latest news on Tennis and the latest tennis betting tips then please follow betfair.betfair Tennis.