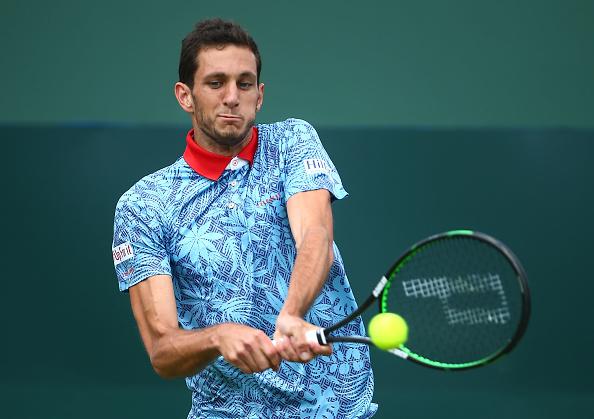 An English tennis player often ranked in the upper echelons of the national game alongside Andy Murray and Aljaz Bedene, James Ward has appeared in a number of Grand Slam events since turning professional in 2006.
Ward's pro debut came back in 2007 and the Open de Tenis Comunidad Valenciana when he qualified as a wild card entry. Despite having only turned pro a few months earlier, Ward was able to come through a tough qualification process but couldn't make it through the opening round.
However, it was from this base that he was able to build up his experience and make it into the 2008 Stella Artois Championships at the famous Queen's Club in London. Being one of the leading tennis events on the annual calendar, Ward was naturally pitted against a world class opponent in the form of Marat Safin.
Although a huge underdog on paper, Ward was able to push the pace in the early games and even managed to take the first set. However, as the match wore on, experience kicked in and Safin ran away with the match, but not before Ward cemented his reputation as a solid pro player on the circuit.
After gradually building up his résumé in 2008 and 2009, Ward finally clinched his first pro level title in 2009 and earned himself a place in British tennis history in the process. Following a tough Davis Cup qualification match with fellow Englishman, Chris Eaton, Ward went on to become the first British player since Tim Henman to win a Challenger title on clay.
Playing his way through the Sarasota Open in Florida, Ward eventually found himself up against Carsten Ball in the final. Winning the match in three sets, Ward dominated in the latter stages and proved that his game had matured to a point where he was now able to push through and continue performing late in a match.
Buoyed by his Challenger title in 2009, Ward reached his first ATP World Tour quarter-final in 2010 after serving his way through the Aegon International in Eastbourne. With Feliciano López and Rainer Schüttler laying in his wake, Ward found himself up against Alexander Dolgopolov. Another young player looking to make a name for himself on the world stage, Dolgopolov played the match of his life to oust Ward in straight sets: 3-6, 4-6.
Despite losing out in his first major ATP event, Ward earned his place in Great Britain's Davis Cup team and scored victories to help the side win its first title in three years. This performance was followed up by more pivotal performances in the Davis Cup in 2011 as well as a semi-final appearance at the Queen's Club Championship.
Outside of the Davis Cup and numerous ATP and Grand Slam appearances, Ward has five titles on the ITF Circuit, including wins in: Irun, Rodez, Manchester, Santander and Kaohsiung. On top of these achievements, Ward has banked three ATP Challenger Tour titles as well as three doubles titles alongside Joshua Goodall and Jamie Baker.
As a pro, Ward stands 6ft 3inches and predominantly uses a single forehand with two-handed backhand style. As an all-rounder Ward is able to perform well on a number of surfaces; however, being a product of the English tennis system, he traditionally performs best on grass court surfaces. This skill set has seen Ward enjoy a lot of success at Queen's and Wimbledon, but that hasn't stopped him from winning titles on the continent. Spain has proved to be a bountiful country for Ward, as has the US.
Overall, Ward has proved his one of the top tennis player in England and while he may not have managed to break into the world's top 50, he's recognised as a solid pro on the international stage.
All information accurate up to September 2015. For all the latest news on Tennis and the latest tennis betting tips then please follow betfair.betfair Tennis.