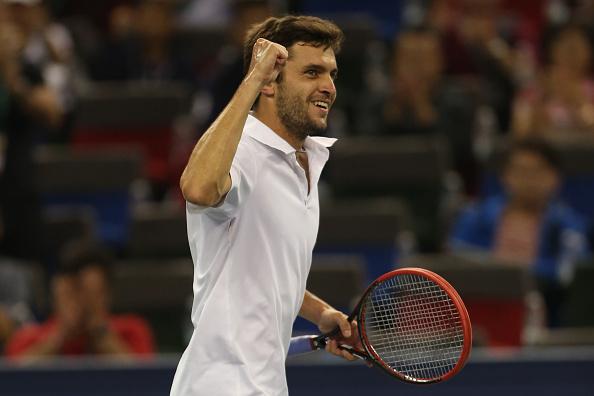 Born in 1984 in Nice, France, Gilles Simon has risen as high as number #6 in the ATP rankings during his career and won more than ten tournaments since turning pro in 2002.
Standing 6ft even and utilising a right-handed forehand with double backhand style, Simon is the son of a French doctor (his mother) and insurance work (his father). After picking up tennis at the age of six, Simon showed a natural flair for the game despite his diminutive stature. Owing to a growth delay, Simon was one of the smallest players on the junior circuit until he experienced a growth spurt in his mid-teens.
During this time Simon regularly used Michael Chang (5ft 9inches) as a model and that's led to him becoming one of the best counter-players in the game. Effective from all areas of the court, Simon has been able to neutralise the strokes of more powerful opponents throughout his career. At the highest level, however, a strictly defensive style is one that often fails which is why Simon has been forced to inject flashes of pace into his game.
Able to turn up the heat and play top spin forehands from midcourt and baseline positions, Simon has a similar unpredictability to Andy Murray and Gael Monfils. However, unlike the aforementioned pros, Simon has perfected the backhand in a way like few others have managed. In fact, according to many tennis experts, the Frenchman's backhand is not only more powerful, but more accurate than his forehand shots.
Standing as a testament to Simon's comparative skill set with Monfils, the pair engaged in one of the longest rallies of all time in 2013. Lasting for an impressive 71 strokes, the exchange is one of the most impressive in Grand Slam history and sits as the most exhaustive in a long line of lengthy rallies fans have watch Simon play. Indeed, thanks to his defensive style, Simon has engaged in multiple 45 stroke+ rallies in major tournaments such as the Marseille Open and the Hamburg Masters.
In terms of accolades, Simon has notched up 12 titles and five runner-up finishes on the ATP Tour. Despite losing out to the game's upper elite, including Andy Murray and Roger Federer, in the final stages of tournaments around the world, Simon has also collected a host of big name scalps. From compatriots such as Jo-Wilfried Tsonga and Gael Monfils to international stars such as Carlos Moya, Dmitry Tursunov and Viktor Troicki, Simon has beaten many of the best players in the world over the last decade.
As well as success in the singles arena, Simon has also competed in doubles matches on both the ATP Tour and in Grand Slam matches. Despite failing to win a title as part of a double act, Simon has still proved to be a strong doubles player, thanks to impressive performances in both the 2008 Olympic Games and on the Davis Cup circuit.
Overall, Gilles Simon has proven on numerous occasions that he is one of the top tennis players in the world. Although he has struggled to threaten the very elite over the past few years, his naturally defensive style his seen him go deep in a number of events and earn in excess of $10 million during his time on the court.
All information accurate up to September 2015. For all the latest news on Tennis and the latest tennis betting tips then please follow betfair.betfair Tennis.