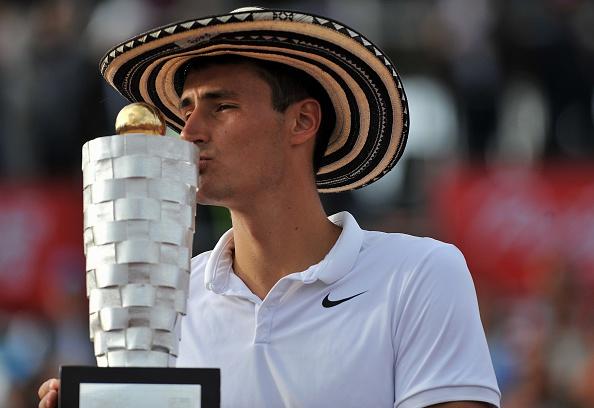 A product of the Australian tennis system, Bernard Tomic has been a staple fixture on the professional circuit since 2008 and during that time he's managed to bank more than $3 million in prize money.
Born in 1992 in Stuttgart, Germany, Tomic's parents were from Croatia and Bosnia, respectively, When Tomic was just three years old his parents decided to relocate to Queensland, Australia and it was there that Tomic's initial brush with tennis came, courtesy of a sports scholarship at the Southport School. This early tuition, combined with an unshakeable confidence, led to Tomic notching up Orange Bowl titles in the under 12s (2004), 14s (2006) and 16s (2007) categories.
During this run of early success in the Orange Bowl event, Tomic also took part in his first ITF Junior event at the Sunsmart 18 and Under Canterbury Championships in New Zealand. Winning the tournament at the first time of asking, this maiden victory acted as a springboard for a run of three additional wins that culminated with a 25-match win streak.
This impressive string of results earned Tomic a place in the 2007 Australian Open junior event at the age of 14 (a record for the youngest participant at the time). Although he was eventually beaten in the second round by Kevin Botti, Tomic's appearance on the world stage at such a young age catapulted him to international fame and caused many experts to tip him as the next world number #1.
Unfortunately, Tomic's junior accomplishments haven't translated in senior success just yet. Although he's managed to capture three ATP Tour titles as well as two Challenger and ITF trophies, Tomic has yet to win a Grand Slam event. Despite qualifying for all of the big four, the German native (playing out of Australia) has only made it as far as the quarter-finals of Wimbledon.
An impressive run towards the final eight, including wins over the likes of Nikolay Davydenko and Robin Soderling, had many thinking that the 2011 edition could prove to be Tomic's breakout performance. Unfortunately, despite being the youngest player since Boris Becker to reach the quarter-final stage of Wimbledon, Tomic was unable to overcome the eventual winner Novak Djokovic.
Although he was unable to capitalise on his Wimbledon performance, Tomic still managed to climb the rankings between 2011 and 2015 to reach a career-high of 24th. This ranking combined with strong performances on the Davis Cup tour and in the Olympics, helped Tomic enter the annals of Australian tennis history.
Away from the court, Tomic has held a number of high profile sponsorship deals with major brands over the last few years. Thanks to his talent on the court and his ability to court the attention of the mainstream media with his brash personality, Tomic famously signed a six-figure deal with IMG at the age of 13. He followed up this partnership with subsequent big money deals with various sporting brands, including Head, Nike and Yonex rackets.
Despite not yet fulfilling the promise he showed as a junior, many experts believe that Tomic will be one of the top ranked players in the game and a potential Grand Slam champion within the next five years.
All information accurate up to September 2015. For all the latest news on Tennis and the latest tennis betting tips then please follow betfair.betfair Tennis.