Rogers Cup 2019: Form guide for this year's men's and women's singles events in Canada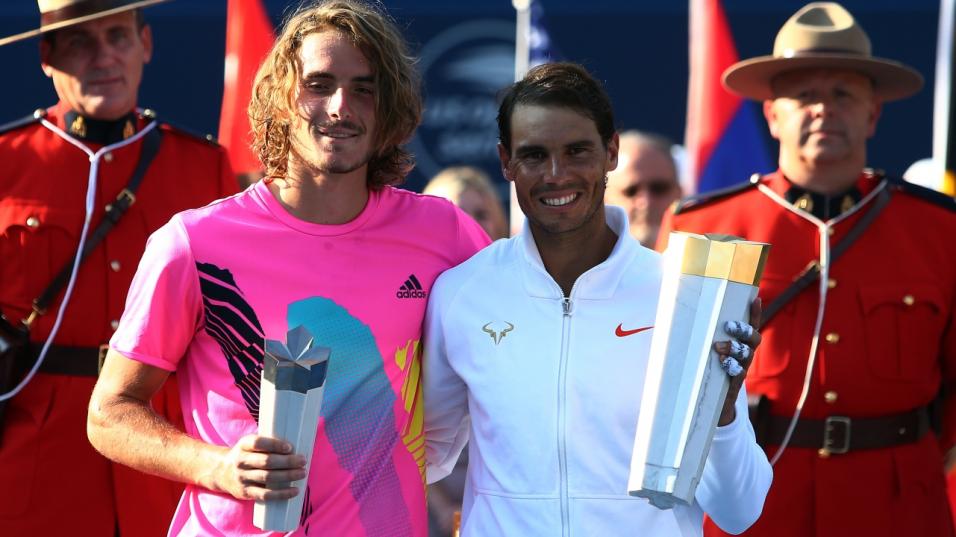 Rogers Cup: In last year's men's final, Rafa Nadal beat Stefanos Tsitsipas who was celebrating his 20th birthday
With the North American hard court season up and running, Andy Swales provides form guides for the two big singles tournaments at the Rogers Cup ...
"The 25-year-old Austrian (Dominic Thiem) is certainly a worthy world No 4, having claimed his maiden Masters Series title earlier this year with a well-deserved victory at Indian Wells."
The big news from Canada is that the two men who served up one of the greatest Wimbledon finals in history, just a few weeks ago, have withdrawn from the forthcoming Rogers Cup in Montreal.
Novak Djokovic and Roger Federer will be the big name absentees when the first of two back-to-back Masters Series events takes place next week at the IGA Stadium.
With the North American hard court season starting to gather pace, this is a huge blow for the organisers, losing two players who between them have won the men's singles title in Canada a total of six times.
This means the top seed is defending champion Rafa Nadal who will be chasing a fifth Rogers Cup title.
Those running the tournament in Quebec will hope Nadal has recovered from his exploits at SW19, and will not be an early casualty in what is his first start since reaching the semi-finals at Wimbledon.
But with two of the big three male players resting up, or perhaps recovering following their exhausting time in London, opportunity certainly knocks for the other hopefuls.
Rafa's Leading Challengers
Taking over the No 2 slot in Canada, and seeded to face Nadal in the final, is Dominic Thiem.
The 25-year-old Austrian is certainly a worthy world No 4, having claimed his maiden Masters Series title earlier this year with a well-deserved victory at Indian Wells where he beat Federer in the final.
After winning on hard court in March, he reached a second successive French Open final in June, only to lose to Nadal again.
But he did take a set off the great man, and may have run out of steam following his five-set semi-final victory over Djokovic - a match which spanned two gruelling days. Thiem arrives in Canada having played successive weeks on clay in Hamburg and Kitzbuhel.
Other players who will feel upbeat about their chances in Montreal are Stefanos Tsitsipas, Kei Nishikori and Karen Khachanov.
Tsitsipas lost last year's final to Nadal, but shocked the Spaniard on clay in Madrid three months ago.
The 20-year-old from Greece suffered a surprising first round exit at Wimbledon, but this should mean he is full of energy and ready to compete for the Rogers Cup.
Nishikori, now 29, can play on all surfaces but would probably select outdoor hard as his favourite.
With two of the big three stars absent, the consistent Japanese player will view this event as a huge opportunity to claim his biggest title to date.
Meanwhile, the tall 23-year-old Khachanov is another who prefers this surface over any other and is chasing the second Masters title of his career.
Halep Defends Women's Crown
And while the men compete in Montreal, the women will be in Toronto - the men's and women's events swap venues every year.
Unlike the men, all the leading players are currently in the draw for the women's singles which takes place at the Aviva Centre.
Defending champion Simona Halep arrives fresh from her remarkable victory at Wimbledon where she denied Serena Williams in a one-sided final.
Halep is the No 4 seed in Ontario behind Ashleigh Barty, Naomi Osaka and Karolina Pliskova.
World No 1 and French Open champion Barty won the last big hard court event in Miami, during April, which was her first title at either Premier Mandatory or Premier 5 level.
Osaka is a hard court specialist who will be chasing her first victory on the surface since winning the Australian Open in January.
Pliskova remains the underachiever of the women's game, despite being the current world No 3.
She has won 14 career titles, including two at this level, and another opportunity beckons in Toronto.
As yet, Serena Williams remains in the draw and is currently the No 9 seed, but she has not won a tournament since returning to the sport in March of last year following the birth of her first child.
One player who may be ready to win again is Elina Svitolina, the 24-year-old from Ukraine whose most recent title came at last year's WTA Finals in November.
Once again, the women's singles is difficult to predict, with momentum likely to play a major factor during the week.
CLICK LINK BELOW TO VIEW FORM IN LAST 10 WOMEN'S HARD COURT EVENTS (GRAND SLAM, PREMIER MANDATORY & PREMIER 5 LEVEL)
Key For Men's Events: 10 - `19 Miami; 9 - `19 Indian Wells; 8 - `19 Melbourne; 7 - `18 Shanghai; 6 - New York; 5 - `18 Cincinnati; 4 - `18 Rogers Cup; 3 - `18 Miami; 2 - `18 Indian Wells; 1 - `18 Melbourne
Twitter: Andy Swales@GolfStatsAlive
Last 10 Hard Court Performances At Either Grand Slam Or Masters Series Level (for selected players)
| Player | 10 | 9 | 8 | 7 | 6 | 5 | 4 | 3 | 2 | 1 |
| --- | --- | --- | --- | --- | --- | --- | --- | --- | --- | --- |
| Rafael Nadal | | SF | RU | | SF | | Won | | | QF |
| Dominic Thiem | Rd-2 | Won | Rd-2 | Rd-2 | QF | | Rd-2 | | Rd-3 | Rd-4 |
| Alexander Zverev | Rd-2 | Rd-3 | Rd-4 | SF | Rd-3 | Rd-2 | QF | RU | Rd-2 | Rd-3 |
| Stefanos Tsitsipas | Rd-4 | Rd-2 | SF | Rd-3 | Rd-2 | Rd-1 | RU | Rd-1 | Rd-2 | Rd-1 |
| Kei Nishikori | Rd-2 | Rd-3 | QF | QF | SF | Rd-2 | Rd-1 | Rd-3 | | |
| Karen Khachanov | Rd-2 | QF | Rd-3 | Rd-2 | Rd-3 | Rd-3 | SF | Rd-3 | Rd-1 | Rd-2 |
| Fabio Fognini | Rd-3 | Rd-2 | Rd-3 | | Rd-2 | | Rd-2 | Rd-3 | Rd-2 | Rd-4 |
| Daniil Medvedev | Rd-4 | Rd-3 | Rd-4 | Rd-2 | Rd-3 | Rd-1 | Rd-3 | Rd-2 | Rd-3 | Rd-2 |
| Kevin Anderson | QF | | Rd-2 | QF | Rd-4 | Rd-3 | SF | QF | QF | Rd-1 |
| Roberto Bautista Agut | QF | Rd-2 | QF | Rd-3 | Rd-1 | | | Rd-2 | Rd-3 | Rd-1 |
| Borna Coric | QF | Rd-2 | Rd-4 | RU | Rd-4 | Rd-2 | Rd-2 | QF | SF | Rd-1 |
| John Isner | RU | Rd-4 | Rd-1 | | QF | Rd-1 | Rd-3 | Won | Rd-2 | Rd-1 |
| Nikoloz Basilashvili | Rd-4 | Rd-2 | Rd-3 | Rd-2 | Rd-4 | | | Rd-2 | Rd-1 | Rd-3 |
| Marin Cilic | Rd-2 | Rd-3 | Rd-4 | Rd-2 | QF | SF | QF | Rd-4 | Rd-3 | RU |
| David Goffin | Rd-4 | Rd-2 | Rd-3 | | Rd-4 | SF | Rd-1 | Rd-2 | | Rd-2 |
| Gael Monfils | | QF | Rd-2 | Rd-1 | Rd-2 | | | | Rd-3 | Rd-2 |
| Milos Raonic | Rd-3 | SF | QF | Rd-1 | Rd-4 | QF | Rd-2 | QF | SF | Rd-1 |
| Stan Wawrinka | Rd-2 | Rd-3 | Rd-2 | Rd-1 | Rd-3 | QF | Rd-3 | | | Rd-2 |
| Felix Auger-Aliassime | SF | Rd-3 | | | Rd-1 | | Rd-2 | | Rd-2 | |
| Matteo Berrettini | Rd-1 | Rd-1 | Rd-1 | | Rd-1 | | | | Rd-2 | Rd-1 |
| Guido Pella | Rd-2 | Rd-3 | Rd-1 | | Rd-3 | | | Rd-1 | Rd-1 | Rd-1 |
| Alex de Minaur | | Rd-2 | Rd-3 | Rd-3 | Rd-3 | | | Rd-1 | Rd-2 | Rd-1 |
| Dusan Lajovic | Rd-3 | Rd-2 | Rd-1 | | Rd-3 | Rd-1 | | Rd-2 | Rd-2 | Rd-1 |
| Diego Schwartzman | Rd-2 | Rd-3 | Rd-3 | Rd-1 | Rd-3 | Rd-1 | Rd-3 | Rd-3 | Rd-2 | Rd-4 |
| Taylor Fritz | Rd-1 | Rd-1 | Rd-3 | Rd-2 | Rd-3 | | | Rd-1 | Rd-4 | |
| Lucas Pouille | Rd-2 | Rd-2 | SF | | Rd-3 | Rd-2 | Rd-1 | | Rd-2 | Rd-1 |
| Benoit Paire | Rd-1 | Rd-1 | Rd-1 | Rd-2 | Rd-2 | Rd-2 | Rd-2 | Rd-3 | Rd-1 | Rd-1 |
| Denis Shapovalov | SF | Rd-4 | Rd-3 | Rd-1 | Rd-3 | Rd-3 | Rd-3 | Rd-4 | Rd-2 | Rd-2 |
| Fernando Verdasco | | | Rd-3 | | Rd-3 | Rd-1 | Rd-2 | Rd-4 | Rd-3 | Rd-2 |
| Gilles Simon | Rd-2 | Rd-3 | Rd-2 | Rd-1 | Rd-2 | | | Rd-1 | Rd-1 | Rd-2 |
| Kyle Edmund | Rd-4 | Rd-4 | Rd-1 | QF | Rd-1 | Rd-2 | Rd-1 | Rd-2 | Rd-2 | SF |
| Jan-Lennard Struff | Rd-1 | Rd-4 | Rd-1 | | Rd-3 | | | Rd-1 | Rd-1 | Rd-2 |
| Laslo Djere | | Rd-3 | Rd-1 | | Rd-2 | | | | Rd-1 | Rd-1 |
| Cristian Garin | | | | | | | | | | |
| Pierre-Hugues Herbert | Rd-1 | Rd-1 | Rd-3 | | Rd-2 | | Rd-2 | Rd-2 | Rd-4 | Rd-1 |
| Sam Querrey | Rd-1 | Rd-2 | Rd-1 | Rd-3 | Rd-1 | Rd-2 | Rd-2 | Rd-3 | QF | Rd-2 |
| Frances Tiafoe | QF | Rd-1 | QF | Rd-1 | Rd-2 | Rd-1 | Rd-3 | Rd-4 | Rd-1 | Rd-1 |
| Radu Albot | Rd-2 | Rd-3 | Rd-2 | | Rd-1 | | | Rd-2 | Rd-1 | Rd-1 |
| Joao Sousa | Rd-3 | Rd-1 | Rd-3 | | Rd-4 | Rd-1 | Rd-1 | Rd-4 | Rd-3 | Rd-2 |
| Reilly Opelka | Rd-3 | Rd-1 | Rd-2 | | | | | | Rd-1 | |
| Hubert Hurkacz | Rd-3 | QF | Rd-1 | Rd-1 | Rd-2 | Rd-1 | | | | |
| Mikhail Kukushkin | Rd-1 | Rd-1 | Rd-1 | Rd-2 | Rd-3 | | | Rd-1 | Rd-1 | Rd-1 |
| Jordan Thompson | Rd-4 | Rd-2 | Rd-2 | | Rd-1 | | | | | Rd-1 |
| Pablo Carreno Busta | | | Rd-4 | Rd-1 | Rd-2 | QF | Rd-2 | SF | Rd-4 | Rd-4 |
| Filip Krajinovic | Rd-3 | Rd-4 | Rd-3 | Rd-1 | Rd-1 | Rd-1 | Rd-1 | Rd-4 | Rd-3 | |
| Andrey Rublev | Rd-3 | Rd-3 | Rd-1 | Rd-1 | Rd-1 | Rd-1 | Rd-1 | Rd-2 | Rd-2 | Rd-3 |
| Ugo Humbert | Rd-1 | Rd-1 | Rd-1 | | Rd-2 | | | | | |
| Daniel Evans | Rd-2 | Rd-1 | Rd-2 | | | | | | | |
| Nick Kyrgios | Rd-4 | Rd-2 | Rd-1 | Rd-1 | Rd-3 | Rd-3 | Rd-1 | Rd-4 | | Rd-4 |