Cincinnati Masters 2019: Form guides for this year's men's and women's events in Ohio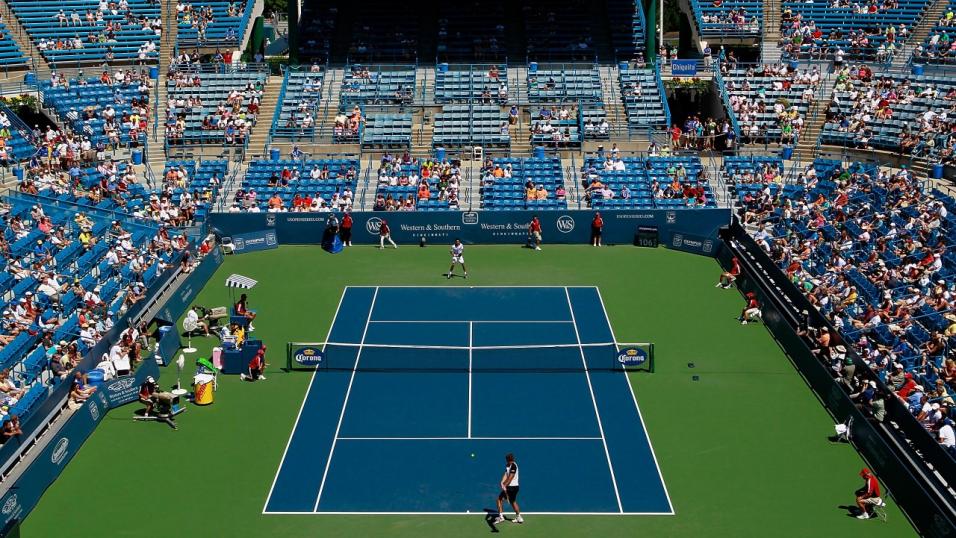 The grandstand court at the Lindner Family Tennis Center in Cincinnati
Andy Swales provides the form guides for this week's two big hardcourt singles tournaments in Cincinnati...
"Keep an eye on the prodigious teenage talents of Canada's Felix Auger-Aliassime who is moving ever closer to his breakthrough moment, and is in the more open half of the draw following Nadal's withdrawal."
Novak Djokovic and Roger Federer are fully rested and back in business, and have travelled to Ohio for this week's Cincinnati Masters.
After side-stepping last week's Masters Series event in Canada, the duo begin their American hard court campaign in the Western & Southern-sponsored tournament, as they step up preparations for the forthcoming US Open which gets underway in New York later this month.
But while Djokovic and Federer are returning to competition this week, they will not be joined by world No 2 Rafa Nadal who has withdrawn from the event.
The Spaniard pulled out of the tournament late on Sunday evening, not long after demolishing Daniil Medvedev in Montreal to claim his fifth Rogers Cup and 35th Masters Series title.
However Djokovic and Federer, who contested last year's final in Cincinnati, are in the same half of the draw and are seeded to meet in the semi-finals.
Federer will be chasing an eighth title in this event, while Djokovic ended a run of five final defeats by winning the trophy at the sixth attempt 12 months ago.
This week's event welcomes the singles return of Andy Murray.
The 32-year-old Scot is a two-time champion here - most recently in 2011 - but will certainly not be contemplating a third title in what will be his first singles outing since his latest hip operation in January.
The three-time Grand Slam winner opens his campaign against experienced Frenchman Richard Gasquet and, if he does somehow manage to win this one, his next opponent would be No 4 seed Dominic Thiem - who gets a first round bye.
One would imagine Murray's sole purpose in Ohio is to check whether his body is in good enough working order to withstand the brutal punishment of playing top level singles tennis on the gruelling ATP Tour.
As for Thiem, he seems to have gone off the boil in recent weeks, following an excellent first half of the year, which brought the Austrian his maiden Masters Series title at Indian Wells, and a second straight final at Roland Garros.
Last week's Rogers Cup in Canada was good for two 23-year-old Russians - Daniil Medvedev and Karen Khachanov.
The pair faced each other in the semi-finals, with Medvedev clinching victory by winning the second set tie-break 8-6.
And keep an eye on the prodigious teenage talents of Canada's Felix Auger-Aliassime who is moving ever closer to his breakthrough moment, and is in the more open half of the draw following Nadal's withdrawal.
Check out latest betting ahead of this week's men's and women's singles events in Cincinnati
In the women's singles, Canada's Bianca Andreescu will be the talk of the town following her victory on home soil on Sunday.
At the age of just 19, it was her second big title of the season having already won the Premier Mandatory tournament at Indian Wells in March.
Even though her success at the weekend arrived when Serena Williams retired early in the opening set, it was still a momentous occasion for the teenager from Ontario.
And because the women's singles draw for Cincinnati was made before she had completed her Rogers Cup triumph, Andreescu was not among the world's top 16 and therefore unseeded. She started last week at No 27 but is now the world No 14.
If she can beat Ukraine's Lesia Tsurenko in her opening match - which may not be easy following the emotions of winning in Toronto over the weekend - she will face the No 3 seed Karolina Pliskova in round two. Pliskova was the champion here three years ago.
Naomi Osaka is likely to be among the main challengers this week, which should always be the case when tournaments are staged on outdoor hard courts, while Simona Halep will be keen to end a run of three final defeats in four years (2015-17-18).
Petra Kvitova is back in action after being the highest-ranked absentee last week in Canada.
Serena Williams is still in the draw for this week's event, although her retirement (with cramp) in the final of the Rogers Cup might not bode well for the 23-time Grand Slam champion who will be desperate to be fit for the US Open in a few weeks' time.
Click here to view form in last 10 women's hard court events (Grand Slam, Premier Mandatory & Premier 5 Level)
Key For Men's Events: 10 - `19 Montreal; 9 - `19 Miami; 8 - `19 Indian Wells; 7 - `19 Melbourne; 6 - `18 Shanghai; 5 - `18 New York; 4 - `18 Cincinnati; 3 - `18 Toronto; 2 - `18 Miami; 1 - `18 Indian Wells
Twitter: Andy Swales@GolfStatsAlive
Last 10 Hard Court Performances At Either Grand Slam Or Masters Series Level (for selected players)
| Player | 10 | 9 | 8 | 7 | 6 | 5 | 4 | 3 | 2 | 1 |
| --- | --- | --- | --- | --- | --- | --- | --- | --- | --- | --- |
| Novak Djokovic | | Rd-4 | Rd-3 | Won | Won | Won | Won | Rd-3 | Rd-2 | Rd-2 |
| Roger Federer | | Won | RU | Rd-4 | SF | Rd-4 | RU | | Rd-2 | RU |
| Dominic Thiem | QF | Rd-2 | Won | Rd-2 | Rd-2 | QF | | Rd-2 | | Rd-3 |
| Alexander Zverev | QF | Rd-2 | Rd-3 | Rd-4 | SF | Rd-3 | Rd-2 | QF | RU | Rd-2 |
| Stefanos Tsitsipas | Rd-2 | Rd-4 | Rd-2 | SF | Rd-3 | Rd-2 | Rd-1 | RU | Rd-1 | Rd-2 |
| Kei Nishikori | Rd-2 | Rd-2 | Rd-3 | QF | QF | SF | Rd-2 | Rd-1 | Rd-3 | |
| Karen Khachanov | SF | Rd-2 | QF | Rd-3 | Rd-2 | Rd-3 | Rd-3 | SF | Rd-3 | Rd-1 |
| Fabio Fognini | QF | Rd-3 | Rd-2 | Rd-3 | | Rd-2 | | Rd-2 | Rd-3 | Rd-2 |
| Daniil Medvedev | RU | Rd-4 | Rd-3 | Rd-4 | Rd-2 | Rd-3 | Rd-1 | Rd-3 | Rd-2 | Rd-3 |
| Roberto Bautista Agut | QF | QF | Rd-2 | QF | Rd-3 | Rd-1 | | | Rd-2 | Rd-3 |
| Borna Coric | Rd-2 | QF | Rd-2 | Rd-4 | RU | Rd-4 | Rd-2 | Rd-2 | QF | SF |
| John Isner | Rd-2 | RU | Rd-4 | Rd-1 | | QF | Rd-1 | Rd-3 | Won | Rd-2 |
| Nikoloz Basilashvili | Rd-3 | Rd-4 | Rd-2 | Rd-3 | Rd-2 | Rd-4 | | | Rd-2 | Rd-1 |
| Marin Cilic | Rd-3 | Rd-2 | Rd-3 | Rd-4 | Rd-2 | QF | SF | QF | Rd-4 | Rd-3 |
| David Goffin | Rd-1 | Rd-4 | Rd-2 | Rd-3 | | Rd-4 | SF | Rd-1 | Rd-2 | |
| Gael Monfils | SF | | QF | Rd-2 | Rd-1 | Rd-2 | | | | Rd-3 |
| Stan Wawrinka | Rd-2 | Rd-2 | Rd-3 | Rd-2 | Rd-1 | Rd-3 | QF | Rd-3 | | |
| Felix Auger-Aliassime | Rd-3 | SF | Rd-3 | | | Rd-1 | | Rd-2 | | Rd-2 |
| Matteo Berrettini | | Rd-1 | Rd-1 | Rd-1 | | Rd-1 | | | | Rd-2 |
| Guido Pella | Rd-3 | Rd-2 | Rd-3 | Rd-1 | | Rd-3 | | | Rd-1 | Rd-1 |
| Alex de Minaur | Rd-1 | | Rd-2 | Rd-3 | Rd-3 | Rd-3 | | | Rd-1 | Rd-2 |
| Dusan Lajovic | Rd-1 | Rd-3 | Rd-2 | Rd-1 | | Rd-3 | Rd-1 | | Rd-2 | Rd-2 |
| Diego Schwartzman | Rd-2 | Rd-2 | Rd-3 | Rd-3 | Rd-1 | Rd-3 | Rd-1 | Rd-3 | Rd-3 | Rd-2 |
| Taylor Fritz | Rd-1 | Rd-1 | Rd-1 | Rd-3 | Rd-2 | Rd-3 | | | Rd-1 | Rd-4 |
| Lucas Pouille | Rd-1 | Rd-2 | Rd-2 | SF | | Rd-3 | Rd-2 | Rd-1 | | Rd-2 |
| Benoit Paire | Rd-1 | Rd-1 | Rd-1 | Rd-1 | Rd-2 | Rd-2 | Rd-2 | Rd-2 | Rd-3 | Rd-1 |
| Denis Shapovalov | Rd-2 | SF | Rd-4 | Rd-3 | Rd-1 | Rd-3 | Rd-3 | Rd-3 | Rd-4 | Rd-2 |
| Fernando Verdasco | | | | Rd-3 | | Rd-3 | Rd-1 | Rd-2 | Rd-4 | Rd-3 |
| Gilles Simon | Rd-1 | Rd-2 | Rd-3 | Rd-2 | Rd-1 | Rd-2 | | | Rd-1 | Rd-1 |
| Kyle Edmund | Rd-2 | Rd-4 | Rd-4 | Rd-1 | QF | Rd-1 | Rd-2 | Rd-1 | Rd-2 | Rd-2 |
| Jan-Lennard Struff | Rd-2 | Rd-1 | Rd-4 | Rd-1 | | Rd-3 | | | Rd-1 | Rd-1 |
| Laslo Djere | Rd-1 | | Rd-3 | Rd-1 | | Rd-2 | | | | Rd-1 |
| Cristian Garin | Rd-3 | | | | | | | | | |
| Pierre-Hugues Herbert | Rd-1 | Rd-1 | Rd-1 | Rd-3 | | Rd-2 | | Rd-2 | Rd-2 | Rd-4 |
| Sam Querrey | | Rd-1 | Rd-2 | Rd-1 | Rd-3 | Rd-1 | Rd-2 | Rd-2 | Rd-3 | QF |
| Richard Gasquet | Rd-3 | | | | Rd-2 | Rd-3 | Rd-1 | | Rd-2 | |
| Frances Tiafoe | | QF | Rd-1 | QF | Rd-1 | Rd-2 | Rd-1 | Rd-3 | Rd-4 | Rd-1 |
| Radu Albot | Rd-2 | Rd-2 | Rd-3 | Rd-2 | | Rd-1 | | | Rd-2 | Rd-1 |
| Joao Sousa | | Rd-3 | Rd-1 | Rd-3 | | Rd-4 | Rd-1 | Rd-1 | Rd-4 | Rd-3 |
| Reilly Opelka | | Rd-3 | Rd-1 | Rd-2 | | | | | | Rd-1 |
| Hubert Hurkacz | Rd-3 | Rd-3 | QF | Rd-1 | Rd-1 | Rd-2 | Rd-1 | | | |
| Mikhail Kukushkin | Rd-1 | Rd-1 | Rd-1 | Rd-1 | Rd-2 | Rd-3 | | | Rd-1 | Rd-1 |
| Jordan Thompson | Rd-1 | Rd-4 | Rd-2 | Rd-2 | | Rd-1 | | | | |
| Pablo Carreno Busta | | | | Rd-4 | Rd-1 | Rd-2 | QF | Rd-2 | SF | Rd-4 |
| Filip Krajinovic | | Rd-3 | Rd-4 | Rd-3 | Rd-1 | Rd-1 | Rd-1 | Rd-1 | Rd-4 | Rd-3 |
| Andrey Rublev | | Rd-3 | Rd-3 | Rd-1 | Rd-1 | Rd-1 | Rd-1 | Rd-1 | Rd-2 | Rd-2 |
| Ugo Humbert | | Rd-1 | Rd-1 | Rd-1 | | Rd-2 | | | | |
| Dan Evans | Rd-2 | Rd-2 | Rd-1 | Rd-2 | | | | | | |
| Nick Kyrgios | Rd-1 | Rd-4 | Rd-2 | Rd-1 | Rd-1 | Rd-3 | Rd-3 | Rd-1 | Rd-4 | |
| Pablo Cuevas | | Rd-1 | | Rd-2 | | | | | | Rd-4 |
| Andy Murray | | | | Rd-1 | | Rd-2 | Rd-1 | | | |
| Marton Fucsovics | Rd-1 | Rd-2 | Rd-2 | Rd-2 | Rd-2 | Rd-1 | Rd-3 | Rd-2 | Rd-1 | Rd-2 |
| Nicolas Jarry | | Rd-1 | Rd-2 | Rd-1 | Rd-3 | Rd-2 | | | Rd-2 | |
| Lorenzo Sonego | | Rd-2 | | | | Rd-2 | | | | |
| Grigor Dimitrov | Rd-1 | Rd-3 | | Rd-4 | | Rd-1 | Rd-3 | QF | Rd-3 | Rd-2 |
| Cameron Norrie | Rd-2 | Rd-1 | Rd-1 | Rd-1 | | Rd-2 | | | Rd-1 | Rd-1 |
| Juan Ignacio Londero | | | | | | | | | | |
| Martin Klizan | | Rd-1 | Rd-2 | Rd-1 | | | | | | |
| Miomir Kecmanovic | | Rd-2 | QF | Rd-1 | | | | | Rd-1 | |
| Marco Cecchinato | Rd-1 | Rd-3 | Rd-2 | Rd-1 | Rd-3 | Rd-1 | Rd-1 | Rd-1 | | |
| Federico Delbonis | | Rd-3 | Rd-1 | Rd-1 | | Rd-1 | | | | Rd-2 |
| Jo-Wilfried Tsonga | Rd-1 | | | Rd-2 | | | | | | |
| Feliciano Lopez | Rd-1 | Rd-2 | Rd-2 | Rd-1 | | Rd-1 | | | Rd-2 | Rd-4 |
| Casper Ruud | | Rd-1 | | | | Rd-1 | | | | |
| John Millman | Rd-2 | Rd-2 | Rd-1 | Rd-2 | | QF | | | Rd-2 | |
| Adrian Mannarino | Rd-3 | Rd-2 | Rd-2 | Rd-1 | Rd-1 | Rd-1 | Rd-2 | Rd-1 | Rd-2 | Rd-3 |