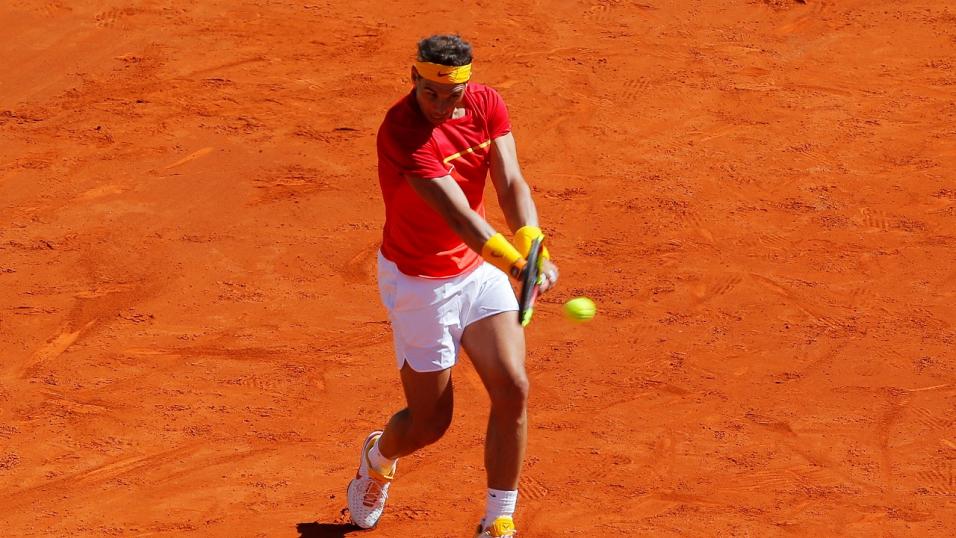 King of the clay - Rafael Nadal back in action at Valencia last week
Rafael Nadal returns to his favourite clay courts this week but Ralph Ellis thinks it's too soon to back him at big odds-on...
"Behind all the bullish noises there must be great fears for anybody backing him either this week or at [1.73] for his defence of the French Open further down the line."
Rafael Nadal and Roger Federer like to paint their rivalry as a friendly one. They smile and say nice things about each other.
Scratch the surface, though, and you suspect there's a bit of niggle behind it too. I can remember before they met in one Wimbledon final asking Federer about Nadal's habit of slowing play down every time he gets in trouble, bouncing the ball forever before hitting his serve.
I thought I'd get an anodyne answer, instead the Swiss calmly talked about how the umpire needed to be aware of it and put a stop to it, knowing the headlines would ramp up a bit of pressure before they walked on court next day.
Today it's Nadal's turn to have a sly dig. He's turned up in Monte Carlo for the start of the clay court season clearly feeling very bullish about his chances and has chipped at his old adversary's decision to skip this part of the campaign and go straight to grass.
"He told me he would love to play me again in five sets on clay - and then a few days later he will not play in even one event," said the Spaniard. "So there's a bit of controversy."
Nadal will be going for his 11th Monte Carlo Masters title this week, and has not surprisingly been installed as [1.62] favourite.
He's 32 in June
He says he's fully fit, has been practising well, and showed good signs a week ago helping Spain to a Davis Cup quarter-final win over Germany in Valencia. He looked happy to be back on clay, as you might expect from the man who has been the king of the red court circuit for some 14 years.
Behind all the bullish noises, however, there must be great fears for anybody backing him either this week or at [1.73] for his defence of the French Open further down the line.
He may be world number one, he may be happiest on clay, he may be chasing an 11th title not only in Monaco but then at Barcelona and Roland Garros. But he will be 32 in June, his joints have taken a horrendous pounding from playing so much tennis for so many years, and his recent fitness record would fill you with dread.
He's withdrawn, retired or defaulted from every ATP event he has played since the Shanghai Masters in October. He pulled out of the Australian Open injured, he didn't turn up at Acapulco, Indian Wells or Miami.
Djokovic lies in wait
IN Australia it was his knees, more recently it has been a hip problem. How will any of that stand up to the rigours of what is to come?
He starts on Wednesday in Monte Carlo against the winner of this afternoon's contest between Aljaz Bedene and Mirza Basic, but his quarter of the drawer is seriously tricky.
Potential opponents Dominic Thiem and Borna Coric have both beaten him multiple times in the past, and then there's the prospect of a meeting with Novak Djokovic, even if the Serb's form and mental attitude is as unknown as Nadal's true fitness.
All in all there are just too many unknowns. Time to press the lay button, I'd say. And then wonder what a smiling Roger Federer will be making of it all.