French Open: Glare of history too much for Djokovic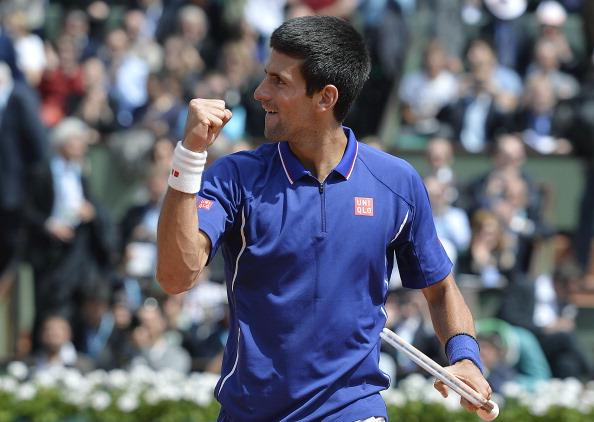 Djokovic may be the best in the world, but history hinders him from winning his first French
His desperate search for his place in history may mean Novak Djokovic is unable to lift his first French Open title, writes Jack Houghton...

"Do you really want to be taking odds-on about a player who has wilted under the glare of history so often in the past?"
Before the Australian Open in 2011, Andy Murray was a two-time grand-slam finalist, and he duly went on to qualify for his third.

Prior to what would turn out to be eventual defeat at the hands of Djokovic, I wrote that Murray's biggest obstacle might not be the Serb, but instead could be the weight of history: statistics showed that grand-slam winners were far more likely to win the most-coveted of titles on their first attempt, and that those who didn't were far more likely to remain title-less thereafter. In other words, getting to lots of finals, counter-intuitively, did not improve a player's chance of being crowned a grand-slam champion.

With the French Open starting on Sunday, I've found myself returning to similar data.

Djokovic, fast closing in on being a viable candidate for Greatest of all Time, will always fall short of being included in that debate if he is unable to add French Open glory to his increasingly impressive haul of other tournaments. He will instead, and perhaps unjustly, be lumped with a litany of champions - Sampras, Connors, McEnroe, Edberg, Becker - considered great but one-dimensional.

This sense of his place in the sport's pantheon is clearly something that plays on Djokovic's mind. His display of emotion after his defeat in the final to Wawrinka last year may have endeared him to the fickle Parisian crowd, but it also laid bare to all watching how much a title at Roland-Garros means to him.

Some, like two-time French Open champion Jim Courier, have suggested that Djokovic's openness about his desire for French glory has impeded his ability to do what is needed to win tournaments: forget about winning them and instead focus on each-and-every point.

The idea that the best players have this ability to focus on the process, rather than the outcome, is fast becoming a well-worn cliché of amateur sports' psychology, but, aside from that bit of analysis that informed my opposition to Murray in 2011, I wondered if there was any statistical way of showing that it becomes harder, not easier, to win a tournament the more times you attempt to.

One straightforward way of doing so is by counting how long it takes the average French Open winner to win their first title. Taking Jan Kodeš' win in 1970 as a start-point, the average champion wins their first French Open on their sixth or seventh time of asking. This is Djokovic's 12th attempt, more than any other previous French champion.

It's worth pointing out, though, that it took both Federer and Wawrinka 11 attempts to register their first French Open win. The historical anomaly of Rafa Nadal perhaps just means that it is unfair to judge contemporary players too harshly because, to all intents and purposes, there wasn't a French Open title up for grabs for the best part of a decade.

Of concern for Djokovic fans, though, must be that, on the two occasions when Nadal was eventually absent from the French Open final, it was first Federer, in 2009, and then Wawrinka last year, who were able to claim the vacated throne.

Those who are backing Djokovic at the currently available [1.88] are perhaps confident in their charge's dominance in the biggest tournaments in recent months: he has a 21-match winning streak to defend at grand-slam tournaments and, anyway, Djokovic has a superb 80% win rate on clay across his career, which shows that it holds few fears for him, evidenced by him making three of the last four finals at Roland-Garros.

At those odds, though, I'd rather be a layer, or at least look for a better-priced option.

Nadal's resurgence in Monte Carlo and Murray's win in Rome both suggest that this year's tournament may be more competitive than last year's and, do you really want to be taking odds-on about a player who has wilted under the glare of history so often in the past?
Bet game-by-game on every match of the French Open with Betfair
Tennis betting on the Betfair Exchange just got bigger and better! We are offering in-play game-by-game betting on every match of the men's and women's singles tournaments at the 2016 French Open.