French Open 2018: Stats and Form for the Roland Garros women's singles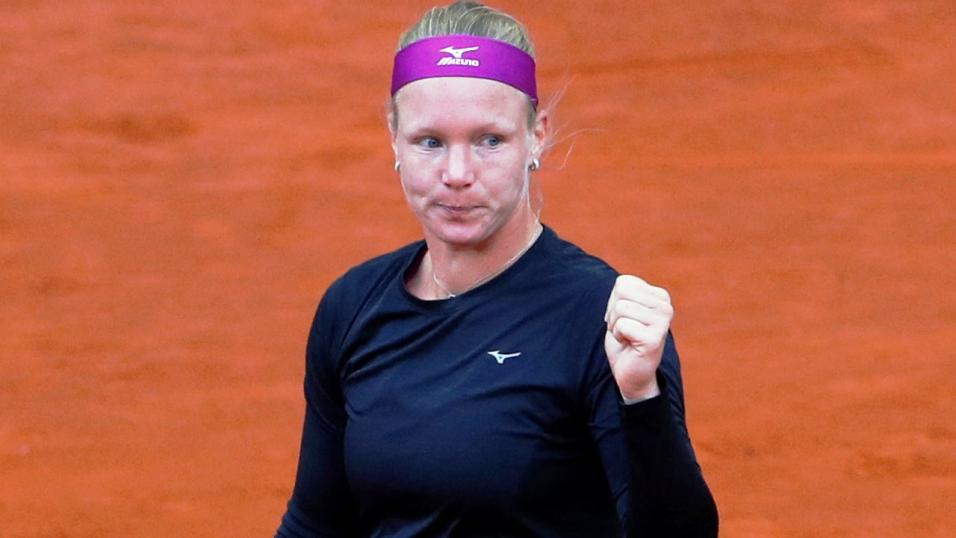 Kiki Bertens may not be a household name but don't be surprised if she goes deep into the second week in Paris.
All aboard for a wide open women's singles event in Paris. Andy Swales provides the stats for Roland Garros 2018 ....
"If you remove Serena from the equation, and analyse the last eight years, then no other woman has won more than two Slam singles titles since the Australian Open of 2010."
After missing the last four Grand Slams, Serena Williams is among the list of entries for the forthcoming French Open, which starts in Paris this Sunday.
The 36-year-old is making her first Slam appearance since winning in Melbourne 16 months ago.
During the intervening period, Serena has given birth to her first child and has hardly picked up a competitive racket in anger, while preferring to focus on family responsibilities.
Since beating sister Venus in Australia in January 2017, she has played just four matches on the WTA Tour, winning two and losing two.
All four were on hard court - at Indian Wells and Miami in March of this year - so we have to believe she is unlikely to register Slam success No 24 in the French capital.
No Clear Favourite
So if Serena isn't going to win, then who?
In the absence of Serena this past year and more, women's tennis has never been so intriguing.
With no one assuming the mantle of dominant player in the women's game, then who can the punters' expect to challenge for the title in Paris over the next couple of weeks?
If you remove Serena from the equation, and analyse the last eight years, then no other woman has won more than two Slam singles titles since the Australian Open of 2010.
And in the history of women's tennis, I can't imagine any other eight-year period in which the second most successful player in terms of Slam victories had won just two of the big four titles.
Sure enough Venus Williams and Maria Sharapova have claimed seven and five titles respectively during their careers, but the 37-year-old American last won one in 2008, since when the younger Russian has added only two to her CV.
Since a teenage Ana Ivanovic won in Paris 10 years ago next month, the only woman to win as many as three Slam titles - other than Serena - is the now-retired Kim Clijsters.
That is why predicting a champion at Roland Garros appears to be difficult. There may be a number of serious contenders but no clear favourite.
Looking Strong
As for those who already have a Slam or two in the bag, some are showing signs of promise although not entirely convincing.
However, two-time Wimbledon champion Petra Kvitova is heading in the right direction again.
The 28-year-old has won twice on clay since mid-April, including the prestigious Madrid Open earlier this month when she beat Kiki Bertens in the final.
It was her fourth title of 2018 which means she should be in great shape by the time she arrives at SW19 to compete on her favourite surface.
Her best run in Paris was to the semi-final stage six years ago, when she lost to Maria Sharapova.
Bertens, the beaten finalist in Spain, is also a winner on clay this season and could be a serious threat in early June.
Usual Suspects
As for those still hoping to win a Slam for the first time, then Simona Halep, Karolina Pliskova and Elina Svitolina can't be ignored.
All three have played pretty well on clay this spring, with Pliskova and Svitolina winning big titles in Stuttgart and Rome respectively.
They all reached the last eight in Paris 12 months ago when Halep suffered the second of her three Slam final defeats.
With no obvious favourite, then momentum is going to be crucial.
Last year's champion Jeļena Ostapenko improved as the tournament went on and the same might happen again this time.
The key is to identify that player as soon as possible and get your money on them.
With no Grand Slam baggage to weigh her down, that player could be Bertens who is currently enjoying the best form of her life, and was a semi-finalist in Paris two years ago.
Twitter: Andy Swales@GolfStatsAlive
Check the leading players' Roland Garros and Grand Slam form below by clicking on form data...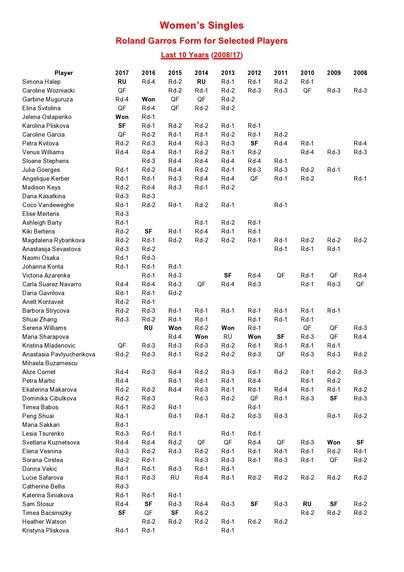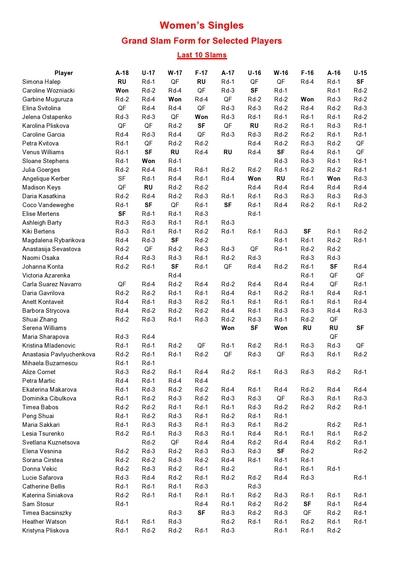 Discover the latest articles
Read past articles