Wimbledon 2018: Nadal is the worst grass player in the world (well, almost)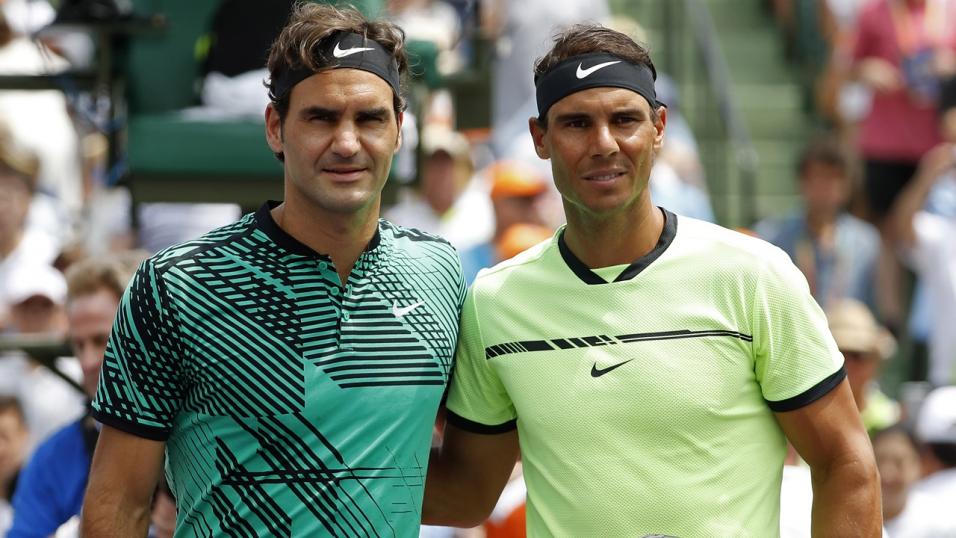 The best grass player in the world (left) and the worst (right)
It might not be the most accurate of answers, writes Jack Houghton, but there's an offbeat way of looking at the men's game which makes Nadal look pretty poor on the green stuff...
"One reason for Nadal (nearly) topping this unusual measure of grass-court ineptitude is that he's got such a high average Elo rating..."
Quiz question. Who is the worst grass player in the world?
Okay, that's not a great question. Let's try and be more specific. Taking the top 150 players in the men's professional game, who is the worst player on grass?
Well, the answer to that is still debatable, but some may reasonably argue that it's Horacio Zeballos. According to my grass-only Elo ratings, he's rock bottom, losing 14 of the 19 career games he's played on the surface, with four of his victories coming in Wimbledon qualifying rounds.
But here's another answer to the question: Rafael Nadal.
That's right, I would argue that the two-time Wimbledon champion is currently the worst grass player in the world.
You see, it all depends how you measure "worst". Horacio Zeballos is rubbish on the green stuff in an absolute sense; Nadal, though, is rubbish in relative terms.
Here's the rationale. For the best 150 male players in the world, I calculated the difference between their headline Elo rating and their grass-only rating. The results make for interesting reading. Rafa Nadal is a 600-points worst player on grass than he is on average across all surfaces (for transparency, I should say that Diego Schwartzman is (slightly) worse still on this measure, but he wouldn't have had the same kind of impact if he had been the answer to my quiz question).
To put this in context, that means that, if looking purely at the numbers, were the average Rafa to play the grass-court Rafa in a match, average Rafa would be a [1.02]-shot, with around a 98% chance of winning.
The numbers, of course, probably shouldn't be taken on face value. One reason for Nadal (nearly) topping this unusual measure of grass-court ineptitude is that he's got such a high average Elo rating, with his recent 11th French Open title seeing him become the best Elo-rated player in the world again, a status that is also recognised by the ATP, who have him as World Number 1 after Federer failed to claim the top spot by losing in the final at Halle to Borna Coric.
Another reason is that Nadal has had a particularly tough time on grass in recent years. He last reached the Wimbledon final in 2011, losing to Novak Djokovic. Since then, he's lost eight out of 21 grass matches, including ignominious Wimbledon exits to Rosol, Darcis, Kyrgios, Brown, and Muller. By way of comparison, Federer, in the same period, has lost only 10 of 81 matches, with all-but a couple of those defeats coming at the hands of high-profile players in the latter stages of tournaments.
A punter could be forgiven for viewing Nadal - seemingly resurgent at the French Open - a cracking bet at [9.20] to claim another Wimbledon title, but it's worth remembering that he was similarly resurgent on clay in 2012, 2013, 2014 and 2017, but without that form transferring to grass.
Nadal may look better value than Federer ([3.15]) when considering the bare odds, but the Swiss star is a much sounder bet. Federer receives top seeding - despite not being World Number 1 - and, as I wrote about last year, a high seeding can have a dramatically positive effect on a player's chance - we'll know more when the draw is made on Friday 29th June. Whatever that brings, though, it's unlikely Federer will face genuine opposition before the second week, and quite possibly not until the semi-final.
If anyone is looking for a bet at longer odds, Marin Cilic has strong claims at around [8.20] based on his excellent grass form last year, which he continued at Queen's Club this season, and Feliciano Lopez, likely available at upwards of [200.0], who may not feature in many previews this year, but is one of the more able grass players on the circuit who, unlike his younger competitors, seems to be producing his best in recent years.
Recommended bets
Back Roger Federer @ [3.15]
Back Marin Cilic @ [8.20]
Back Feliciano Lopez @ [200.0]