Shanghai Masters Outright Preview: Del Potro's stats make him worth chancing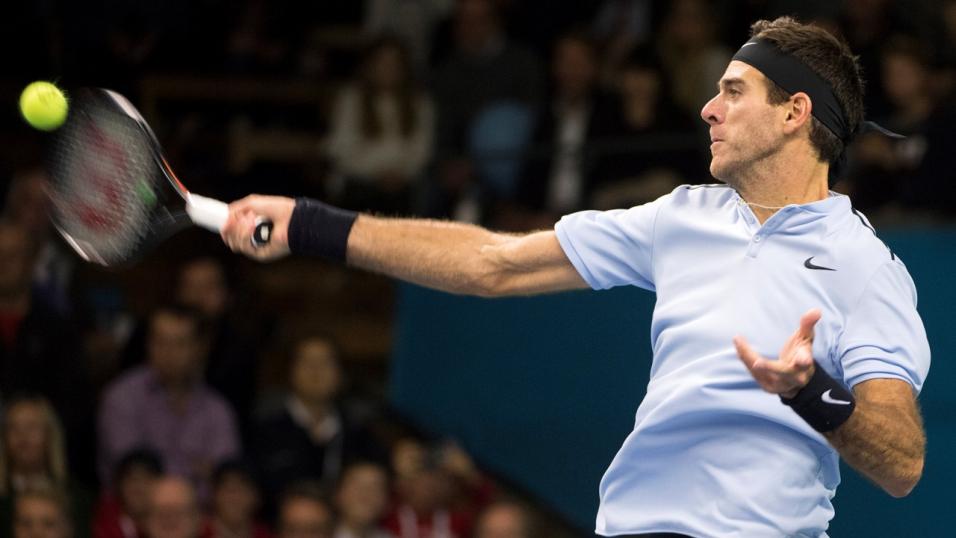 Juan Martin Del Potro has the best six-month hard court data in the field...
The Shanghai Masters is the penultimate Masters 1000 event on the ATP Tour this season, and with his preview of the action is our tennis columnist Dan Weston...
"Probably the most likely challenger to the two favourites is Del Potro, who is 15-3 on hard court in the last six months, and running at 88.3% hold/30.2% break (118.5% combined)."
Quick conditions anticipated in Shanghai
Concluding the tournaments in Asia this week is the Shanghai Masters, which takes place in rather quick conditions, suitably assisting in preparing the players for next week's indoor events in Europe.
Across the last three seasons, ATP players have held serve 81.9% in Shanghai, a figure which is 2.8% more than the ATP hard court mean over the same time period. In addition, 0.64 aces per game were served here - a very high figure for an outdoor hard court venue - which is considerably higher than the 0.55 hard court average.
Such data gives us pretty solid expectations that strong servers will benefit from conditions and we can also look towards certain match-ups giving high likelihoods of first-set tiebreaks which, if the situations arise, I'll discuss in my daily previews.
Elite players have dominated the tournament
A look at the winners list of the event since 2009, when the tournament replaced the Madrid indoor event on the calendar, doesn't give much hope to outsiders. Since Nikolay Davydenko won the inaugural trophy, proceedings have been dominated by just three players - Andy Murray, Novak Djokovic and Roger Federer - who have taken multiple titles between them.
Indeed, rather few of the traditional non-elite players have even made the final. David Ferrer, Juan Martin Del Potro, Gilles Simon, Jo-Wilfried Tsonga and Roberto Bautista-Agut have all made solitary finals, but are yet to trouble the engravers of the trophy. As for Rafa Nadal, he's made two finals but has failed to take a set in either, and suspicions that he is not at his best in quick conditions would have made him an easy swerve over the coming seven days - but the Spaniard hasn't even travelled to China to participate.
With Murray also absent, and nowhere near his peak in any case, this leaves Federer and Djokovic of the traditional elite four in the field, and unsurprisingly, both take their place at the forefront of the market. With the Sportsbook, Djokovic has favourite status at 7/4, with Federer slightly further back at 7/2.
Djokovic with the statistical edge over Federer
Looking at the last six months of hard court data, these prices are about right. Djokovic has the statistical edge, holding serve 88.6% of the time, while breaking opponents 29.1% (117.7% combined) and these numbers aren't far from his peak levels. Federer is a little further back at 92.4% and 21.2% respectively (113.6%), which would make him a slight underdog to Djokovic in any head-to-head match, even when factoring in his known taste for quick conditions.
Djokovic and Federer's draws aren't hugely dissimilar. Federer has Kei Nishikori, Dominic Thiem and Del Potro as the main seeds in his half of the draw, while Djokovic has Marin Cilic, Alexander Zverev and Kevin Anderson in his. There's probably a case for saying Federer has a marginally easier bracket - Nishikori isn't at his best, while Thiem's record in Asia post-Wimbledon has been highlighted previously, but there really isn't much in it.
Del Potro with the best hard court data in the field
With the two heavy favourites for the event looking pretty accurately priced, is there much value on those with bigger prices, particularly from an each-way perspective?
In truth, it's tough to advocate much of the rest of the field. Zverev hasn't been playing well for a few months, while Thiem and Nishikori have already been discussed. Probably the most likely challenger to the two favourites is Del Potro, who is 15-3 on hard court in the last six months, and running at 88.3% hold/30.2% break (118.5% combined).
These are better numbers than either Djokovic or Federer can boast and although I'd prefer a little bigger price, perhaps there is some merit to chancing Del Potro each-way at 8/1. He plays the final in Tokyo today, but I'm not hugely worried about fatigue, with Fabio Fognini's walkover in the semi-final meaning Del Potro has played just six sets this week.
Recommended bets