Rogers Cup Day Six: Anderson can continue upward curve and make the final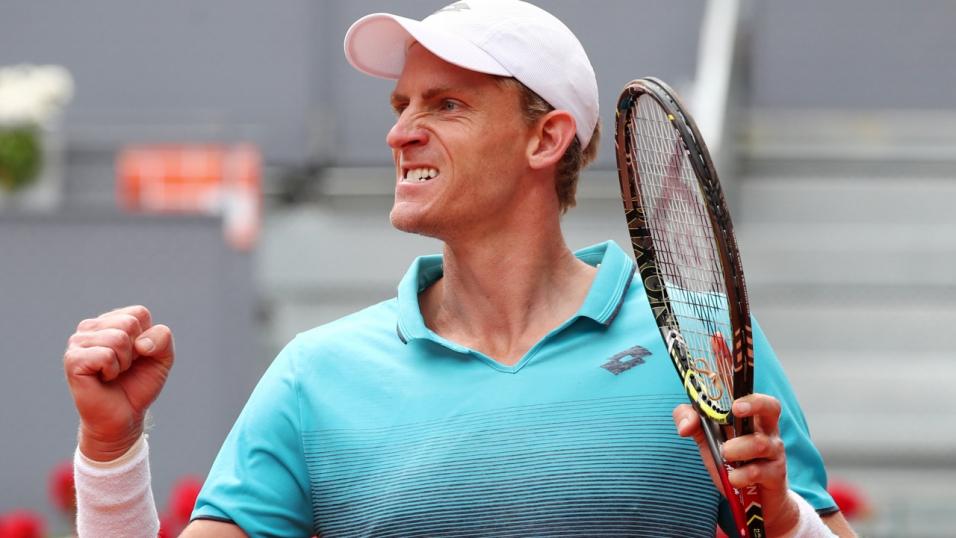 Kevin Anderson is value to be celebrating tonight...
After quarter-final drama last night in Canada, it's semi-final day at the Rogers Cup this evening. Returning to discuss the matches is our tennis columnist, Dan Weston...
"In the last 12 months on hard court, he's held serve more (90.6% to 83.8%) and broken more (19.1% to 16.5%) than his rival today, and I priced the big-serving South African at [1.46] to make the final."
Frustrating evening for outright selections
Night owls who stayed up for action last night in Toronto were treated to drama, although it was a disaster for our outright selections, albeit in rather frustrating circumstances.
Marin Cilic actually won 51% of points in the match in his three-set defeat to Rafa Nadal, and capitulations late in each of the last two sets was the main issue for the Croat. Unfortunately for Cilic, it appears that he has problems getting over the line against elite level players, and he does still need to address these issues - he's got the ability to get to the finals of major tournaments but currently does rather need the draw to open up a bit for him, as it did in Wimbledon 2017.
Alexander Zverev wasted two match points in the second set tiebreak against Stefanos Tsitsipas, as well as being broken serving for the match in set two as well, and these lapses proved costly, with the Greek youngster progressing 6-4 in the final set. It's pretty rare for a player to win more points in the match and lose, and we were 'treated' to this twice yesterday, with Zverev joining Cilic with this ignominious stat.
Anderson with a statistical edge over Tsitsipas
The other two quarter-finals were markedly more straightforward, so the first match on tonight's schedule is Kevin Anderson versus the aforementioned Tsitsipas.
For this, Anderson is a solid [1.56] market favourite, and I actually make this value. In the last 12 months on hard court, he's held serve more (90.6% to 83.8%) and broken more (19.1% to 16.5%) than his rival today, and I priced the big-serving South African at [1.46] to make the final.
Despite being 32 years of age, Anderson appears to be having something of a career turnaround in the last year or so, and is fully deserving of his place in the top 10, based on the data he has produced during this time period.
Anderson also with the advantage of less court time last night
While Tsitsipas is very likely to also be a top 10 player in the future, and could quite conceivably have a better career than Anderson has managed eventually, the 19-year-old Greek still has some improving to do, and a further positive for a selection of Anderson tonight is the fact that he disposed of Grigor Dimitrov in just 67 minutes yesterday, while Tsitsipas needed almost two-and-a-half hours to get the better of Zverev - Anderson should be the fresher player on court for this.
Nadal dominates Khachanov head to head
Following this match, Rafa Nadal is a [1.23] favourite to make the final by defeating Karen Khachanov, and there's some fascinating areas to discuss in advance.
Firstly, Nadal has played the Russian three times since July 2017, and won all three without losing a set, but the data from these has been very interesting. In reality, he's utterly schooled Khachanov, holding 94.1% and breaking 35.5%, so it's fair to suggest that Khachanov hasn't got near Nadal in these previous head-to-head meetings.
Nadal with struggles so far at the Rogers Cup
This is a huge negative for Khachanov supporters, who will conversely be heartened by the fact that Nadal has rather stumbled his way to this phase, needing to tough out wins over both Cilic last night and Stan Wawrinka on Thursday without being remotely dominant. Nadal's serve at the Rogers Cup this year so far has not been impressive, holding just 77.1% of the time, but his return game is still at a high level, breaking opponents 35.3% of the time.
The reality is that even a 70-80% Nadal should be too good for Khachanov this evening, and I feel that the 22 year old Russian is going to have to play lights out to have a chance of making Sunday's final.
***
Follow Dan on Twitter @TennisRatings
Recommended bets
Back Kevin Anderson at [1.56]