ATP Cincinnati Masters Day Seven Tips: Djokovic a solid favourite to end Medvedev run of finals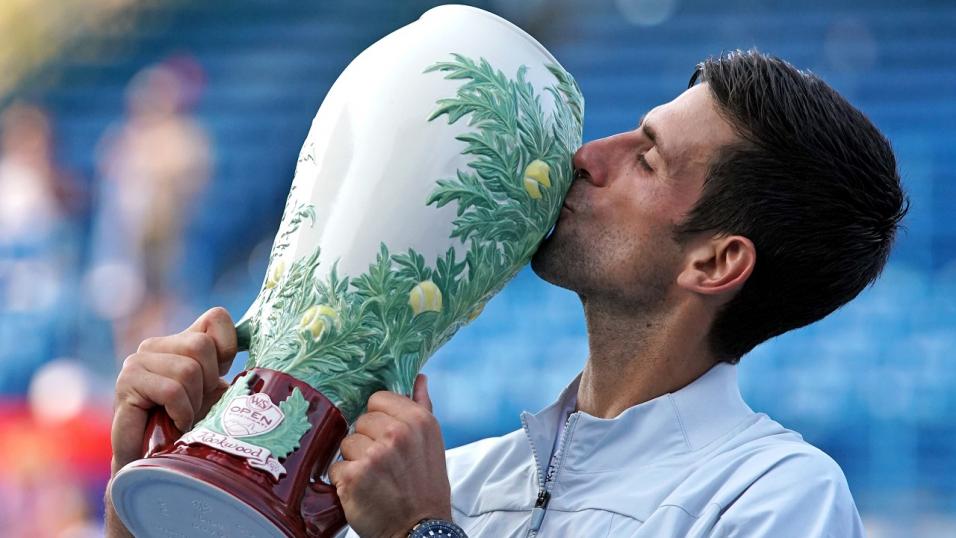 Novak Djokovic is two matches away from retaining his Cincinnati title...
The Cincinnati Masters is now at the semi-final stage, and there are two rather different, but intriguing clashes for our tennis columnist, Dan Weston, to preview...
"Djokovic is back to his stratospheric best, running at in excess of 112% combined service/return points won across the last 12 months on hard court and almost 114% this year."
Djokovic and Medvedev win to setup semi-final
Yesterday's action in the Cincinnati Masters yielded the expected semi-final line-up in the top half of the draw, with strong favourites Novak Djokovic and Daniil Medvedev getting through relatively unscathed in straight-set victories.
Medvedev's 6-2 6-3 victory over fellow Russian prospect Andrey Rublev now means he's won every match via a 2-0 scoreline here this week, and has won five of his eight sets competed by a 6-1 or 6-2 scoreline. While it's logical to think he might be fatigued after his exertions in previous weeks (final in Washington, final in Montreal and now semi-final here in back to back-to-back weeks), he's certainly done himself some favours with the manner of his victories and avoiding spending unnecessary time on court.
Medvedev needing a strong start
World number one Djokovic has also won every match in straight sets this week, albeit via one less match given his opening round bye, but he's been pushed to 5-5+ in two of his three first sets and one suspects that a strong start by Medvedev here will be absolutely critical to his chances of success.
Both players improving in 2019
Djokovic is the strong market favourite at [1.36], which isn't at all surprising given his long-term and short-term levels. After a tricky first half of 2018, Djokovic is back to his stratospheric best, running at in excess of 112% combined service/return points won across the last 12 months on hard court and almost 114% this year. Medvedev is at 106% and 110%, respectively, which both evidences the gap between the duo, but also the giant strides that Medvedev has made this year - 110%+ is elite level.
This rubber-stamps my assertion that Medvedev looks to be the most realistic non-elite three contender at the US Open, which starts in nine days time, and he'll certainly be grateful for a week off next week. However, what better time to put down a marker with a victory over Djokovic, who he also defeated last time they met, on the slow clay of Monte Carlo in April - all of their four head-to-head meetings have been pretty competitive.
Despite this, my model largely agreed with the market line - it went [1.32] Djokovic.
Gasquet and Goffin in rare territory
Not many would have predicted the second semi-final when the draw was made, with Richard Gasquet and David Goffin competing to reach a rare Masters 1000 final. We have to go back to Toronto in 2012 to find the last time Gasquet reached a Masters final (his previous two were in 2005 and 2006) while Goffin has never done so - his highest profile final was the World Tour Finals in 2017. He's lost his four Masters 1000 semi-finals, including a retirement loss to Roger Federer here last year.
Goffin is [1.51] to reach that maiden Masters 1000 final, which I make a little short but not unduly so. He'll have been boosted by not needing to even step on court yesterday, with opponent Yoshihito Nishioka withdrawing from their quarter-final in advance, while Gasquet toughed out an excellent three-set victory over Roberto Bautista-Agut.
Gasquet needing serve improvement to succeed
Now at 33 years of age, you'd think Gasquet was running out of time to get his first Masters trophy, but he's deservedly the underdog here. In their two head-to-head meetings previously, he's struggled on serve (60% service points won), and this is a recurring theme, with his service points won percentage in the last 12-18 months falling around 4-5% from peak levels earlier in the decade. This isn't surprising given his age, but does illustrate the area where Gasquet will need to perform well in if he is to get an underdog victory tonight.
***
Follow Dan on Twitter @TennisRatings