Madrid Open Womens Betting: Could a change of coach be bringing Maria back to her best?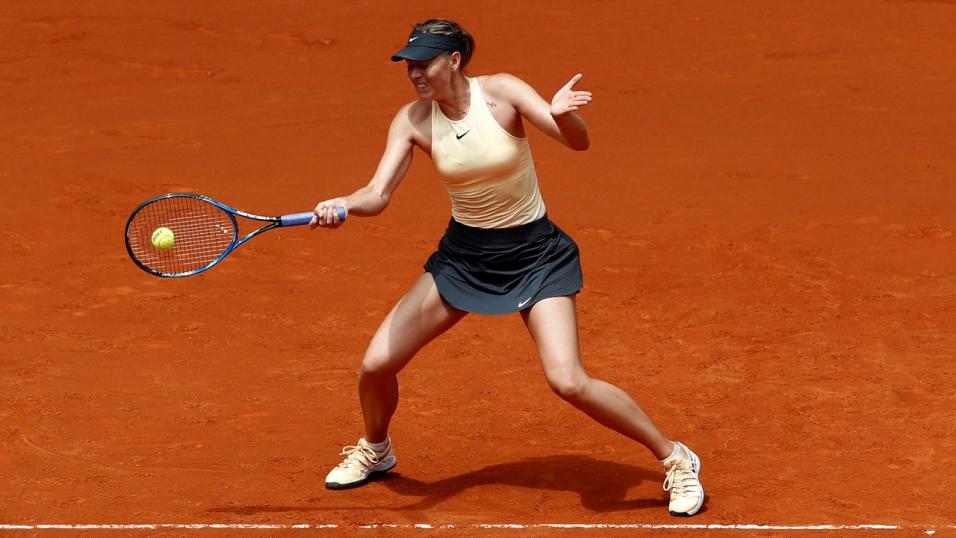 Working at it . . . Maria Sharapova in action in Madrid
Maria Sharapova's comeback has not gone smoothly but Ralph Ellis thinks there are signs that she might be turning a corner...
"After a couple of decent wins in the first two rounds at the Madrid Open it might just be worth backing her to collect the title at her current price of 8.07/1."
I'm not sure the controversy around Maria Sharapova's 15-month ban for a doping violation will ever go away. There are still those who consider that she's been exposed as a lifetime cheat.
I'm not even sure where I stand on it myself. If you remember she failed for the use of meldonium, a heart drug for angina patients which just happens to give athletes greater endurance. She'd been taking it for ten years, legally, but didn't know it had been added to the banned list.
She said it was for a medical condition, others thought she'd been exploiting the rules. Make your own mind up.
But do you know what? A year after she's returned I'm beginning to admire Maria's stubborn determination to drag herself back to the top of the women's game.
Aged 31, she's got millions in the bank and a nice few sidelines in fashion design to be able to walk away from the tennis courts. But she won't do it without first putting herself back at the top of the game.
A change of coach
It hasn't been easy. A semi-final in her first tournament back in Stuttgart last April promised a triumphant return but instead she stumbled through injuries, poor form, and probably loss of confidence. A single WTA title in Tianjin in China was hardly the glittering comeback she'd imagined.
But here we are, in Madrid this week, and Sharapova is still digging in and searching for some success and at last there are some signs it may come.
And after a couple of decent wins in the first two rounds at the Madrid Open it might just be worth backing her to collect the title at her current price of 8.07/1.
She's ditched coach Sven Groeneveld, even though he'd stuck loyally beside her during her 15-months enforced absence, and gone back to Thomas Hogstedt, the man who famously first taught her how to play and win on clay.
Until the Swede, now 54, began working with her in 2010 she'd famously considered herself a "cow on ice" when it came to playing on the red stuff. He made such a difference she won the 2012 French Open to complete a career Grand Slam.
She's moving more smoothly
Changing coaches when the season is already so far under way isn't normally a good policy. It takes time to adapt to new ideas. But Maria is stubborn again: "There's never a bad time to make a good change" she says.
There are good signs. Her serve return percentages are dramatically increased, a product of playing more matches after a spell that included a couple of first round defeats.
And on the evidence of her 7-5 6-1 second round win in Madrid over Irina-Camelia Begu she's begun moving more smoothly too, and looks to have shaken off the wrist injury that has troubled her in the early part of the season.
Next up is Kristina Mladenovic in the third round which could be a tricky Wednesday morning encounter - the French girl was the one who beat her in that semi-final in Stuttgart on her return a year ago.
But if she justifies her status as 1.594/7 odds-on favourite for that match then she really ought to fear nobody in the rest of the draw, and suddenly 15.5 for her to win the French Open might look worth a punt too.
The controversy is never going to go away. Nor it seems is Maria Sharapova herself, and do you know what? That might not be the worst thing for the game as a whole.
Discover the latest articles
Read past articles