Cincinnati Masters Day Seven: Cilic capable of continuing winning run against Djokovic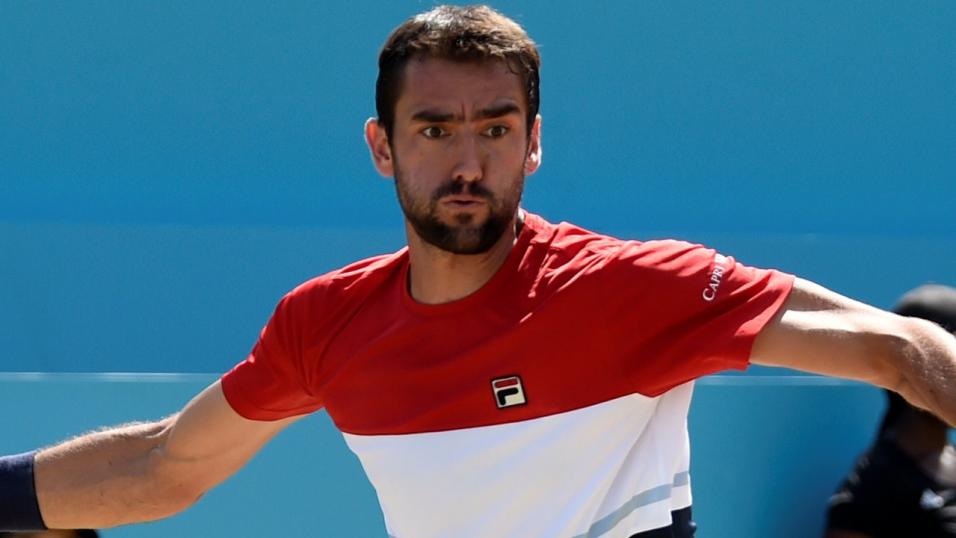 Marin Cilic can continue his head to head turnaround...
The semi-finals of the Cincinnati Masters take place tonight, and after all rescheduled matches were completed last night, our tennis columnist, Dan Weston, is back with his preview...
"In fact, when looking at 12 month hard court data, there really isn't much to split the duo. Cilic has held 4.2% more (86.5% to 82.3%) while Djokovic has a 3.1% edge on return (breaking opponents 27.1% to 24.0%)."
Djokovic with dominant head to head lead over Cilic
Action gets underway at 1900 UK time tonight, with Novak Djokovic facing Marin Cilic in the first semi-final, prior to Roger Federer's meeting with David Goffin, with both of the pre-match favourites having a dominant head to head record.
For the first, Djokovic takes a 14-2 head to head lead into his meeting with Cilic, and it's worth running through the statistics from these, from several angles. The main issue for Cilic is that he's only been able to hold serve 66.5% in these match-ups with Djokovic, while the former number one has managed to do so 89.6% of the time.
Cilic also having had issues in historical hard court match-ups
Given such a discrepancy, it's unsurprising that Djokovic has been able to defeat Cilic on numerous occasions, and Cilic is 0-8 on hard court too, holding serve 64.1% with Djokovic being able to do so 89.4% of the time. So, it is evident that Djokovic has been able to get the better of Cilic across a variety of surfaces.
Cilic with two wins in recent matches played in quick conditions
However, those stats only tell part of the story. The head to head actually did read 14-0 to Djokovic until the end of October 2016, when Cilic triumphed indoors in Paris. Having got the better of the Serb for the first time, Cilic again triumphed in the final of Queens this year, on grass. So, Cilic has won their last two meetings (holding 89.3% in these matches) and since Djokovic's injury-related decline, he certainly looks to be more competitive in their matches. It's also worth noting that both were in quicker than average conditions, again on display here this week.
Djokovic with huge statistical drop-off from peak levels
This injury-related decline has been demonstrated in Djokovic's hard court data. This year, Djokovic has held serve 82.3% and broken opponents 27.1% (109.4% combined) and this is a long way below his peak, which ran at 86.6%/36.4% (combined 123.0%), in 2016, and 88.6%/36.7% (125.3%) in 2015. Despite winning Wimbledon last month, he's not nearly the player that he once was, at least currently.
In fact, when looking at 12 month hard court data, there really isn't much to split the duo. Cilic has held 4.2% more (86.5% to 82.3%) while Djokovic has a 3.1% edge on return (breaking opponents 27.1% to 24.0%) so the current market lines of [1.54] about Djokovic are influenced in some way, either by the head to head history, mostly recorded when he was at his peak, or due to his reputation.
Either way, it's tough to make a case for him at these prices and for a small stake, Cilic can be recommended at [2.82].
Goffin also with serve issues in previous Federer match-ups
For the night owls later on, Federer takes a 6-1 head to head lead into his match, although as with Cilic, the losing player, this time Goffin, won their last meeting.
This was Goffin's three-set win in the semi-finals of the World Tour Finals at the O2 last season, when Federer lost from a starting price of [1.09]. This result came from nowhere, in truth, with Goffin unable to hold serve more than 60% in the head to head meetings in the previous three years. All time, he has a similar issue holding serve against Federer, as Cilic did previously against peak Djokovic.
Federer with stunning service number this week
Having said this, unlike Cilic, I don't make Goffin any value as a pre-match underdog here, and agree with the market prices, which have Federer at [1.25], at the time of writing. Federer is yet to be broken all week, winning a magnificent 79.5% of service points, and while his return data is unspectacular, it doesn't need to be anything better with service point numbers in this stratospheric realm.
***
Follow Dan on Twitter @TennisRatings
Recommended bets
Back Marin Cilic at [2.82]