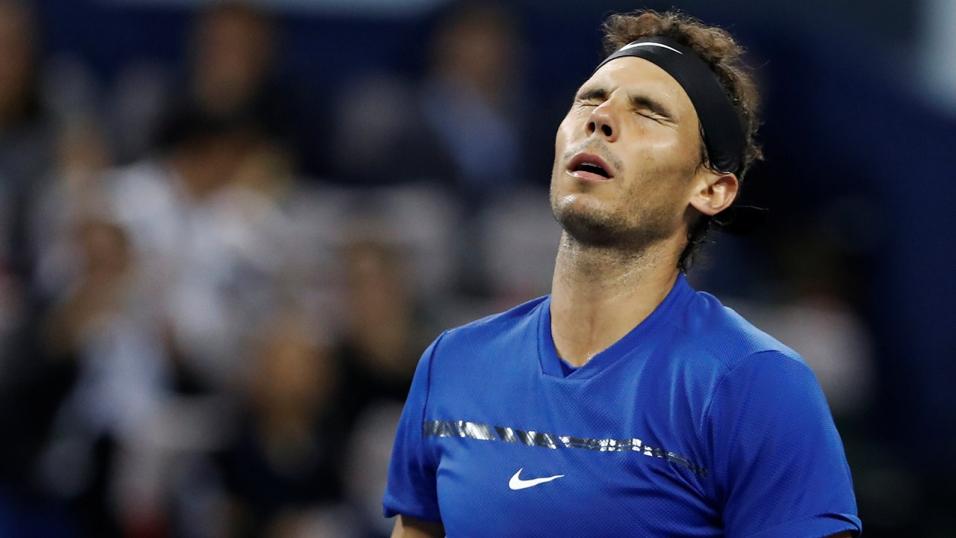 Rafa Nadal makes his return to ATP Tour action this week...
The ATP Tour rolls on with another three events in week nine, so our tennis columnist, Dan Weston, returns to run through the three tournaments in the run up to the March Masters events played in the USA...
"While Marcos Baghdatis' data is still strong, his advancing years make inconsistency more inevitable. Having said this, his hold/break data is the best in the quarter, ahead of other players such as Evgeny Donskoy and Damir Dzumhur. For a small stake, the Cypriot can be chanced each-way at a generous 50/1."
Virtually 24 hour action in week nine on the ATP Tour
There are two 500 level hard court events in the coming week - Acapulco and Dubai - while the clay-courters can grind on the dirt in the 250 in Sao Paulo, Brazil. With such an array of tournaments, traders can enjoy virtually 24 hour tennis action in the coming week.
Both the 500s feature a 32 man draw with no seeds receiving first-round byes, so winners in both events will have to win five matches to take the title - possibly a factor not recognised by many when looking at outright value. With this in mind, obviously a favourite should be a bigger price than if they received a first-round bye in a similar 28 man field.
Top seeds Dimitrov and Pouille with much to prove outdoors
Starting in Dubai, where the outdoor hard court matches begin early on Monday morning, Grigor Dimitrov takes the honours as the top seed, with Lucas Pouille second seed. Pouille has to travel from Marseille today, where he faces Karen Khachanov in the final, and it would be a surprise if he could shrug off this accumulated fatigue - not to mention the fact that he has a much better record indoors - and make a run deep into the tournament.
Last year, Andy Murray defeated Fernando Verdasco in the final, but neither will be present this time, with Murray absent from tour with injury, and Verdasco currently in South America, where he faces Diego Schwartzman in the final in Rio de Janeiro tonight - he plays in Acapulco this coming week.
Elite players missing this year in Dubai
Over the last decade, winners in Dubai assemble something of a who's who of the tennis world, with only Murray, Stan Wawrinka, Roger Federer (three titles) and Novak Djokovic (four) triumphing since 2009 but with injury doubts affecting all but Federer, who has decided to rest, we will see a lower profile winner in the coming week.
Across the last three years, a mere 76.2% of service games were held here, a figure which is 3.1% below the ATP surface mean, so it seems fair to suggest conditions are likely to be slow. Just 0.45 aces per game were recorded, a figure more in line with clay events.
Baghdatis can be chanced at a generous price
Top seed Dimitrov is the market favourite, at what looks like a short price at 13/8 with the Sportsbook, and while that's not a particular surprise, it's worth noting that like Pouille, he's got better data indoors. In truth, the event looks quite open, and the bottom quarter is one which looks extremely open.
Pouille's bottom quarter looks of very mediocre quality, with the travelling Khachanov another contender, and it looks like a solid plan to pick a player from the third quarter as an each-way prospect.
In this quarter, Viktor Troicki looks in awful touch, and while Marcos Baghdatis' data is still strong, his advancing years make inconsistency more inevitable. Having said this, his hold/break data is the best in the quarter, ahead of other players such as Evgeny Donskoy and Damir Dzumhur. For a small stake, the Cypriot can be chanced each-way at a generous 50/1.
Nadal returns to tour this week in Acapulco
The other hard court 500, in Acapulco, sees the return to action of Rafa Nadal, and it will be interesting to assess the Spaniard's level following his retirement at the Australian Open. He faces out-of-form Feliciano Lopez, in his opener.
Despite these fitness concerns, he is still the 12/5 outright favourite to take the title, with Juan Martin Del Potro, Alexander Zverev and Dominic Thiem either below or in and around the 10/1 price mark. As with Dubai, conditions look likely to be on the slow side - not being of benefit to the big-servers in the entry list.
The main threat in Nadal's top quarter looks like being Sam Querrey, who despite strong hold/break data on hard court, is still rather inconsistent, while second seed Zverev sees John Isner as a threat in the bottom quarter, along with a number of competent but unspectacular players, such as Ryan Harrison, Peter Gojowczyk and Steve Johnson, as well as Schwartzman and Verdasco, who by quirk of fate meet in the first round in Acapulco having met tonight in the final of Rio.
With Nadal's fitness questionable, and there being a number of strong players across the field, it's tough to pick a value outright here, so I'll move on to the final event of week nine, played on clay in Sao Paulo.
Slow conditions anticipated in Brazil
Conditions in Brazil are likely to be slow again - just 74% of service games have been held in the last three years - and should suit return-orientated players competent on clay. Pablo Cuevas has won the last three events, while finalists in recent years also include Albert Ramos, Pablo Carreno-Busta, Federico Delbonis and Paolo Lorenzi.
Four players get first-round byes - Ramos and defending champion Cuevas, as well as Gael Monfils and Fabio Fognini, and it's realistic to think that these players should have a big chance to make the latter stages. Of the unseeded players, the Argentine duo of Guido Pella and Federico Delbonis have the best hold/break data on the surface.
Monfils can take advantage of a straightforward quarter
Monfils has a very straightforward quarter, with his likely route to the final being bye, Bellucci, Kicker, Ramos and although the Sportsbook is still yet to price this up, his status at the forefront of the market should be totally merited - he has solid clay data and fits the return-orientated dynamic. Fognini has also received a generous draw in quarter four, but his hold/break data on his preferred surface is not nearly as impressive as the Frenchman, or Ramos.
With this in mind, taking Monfils as the favourite looks a decent plan, as well as Baghdatis as an outsider in Dubai for the coming week.