ATP Week 42 Preview: Klizan capable at a big price in Moscow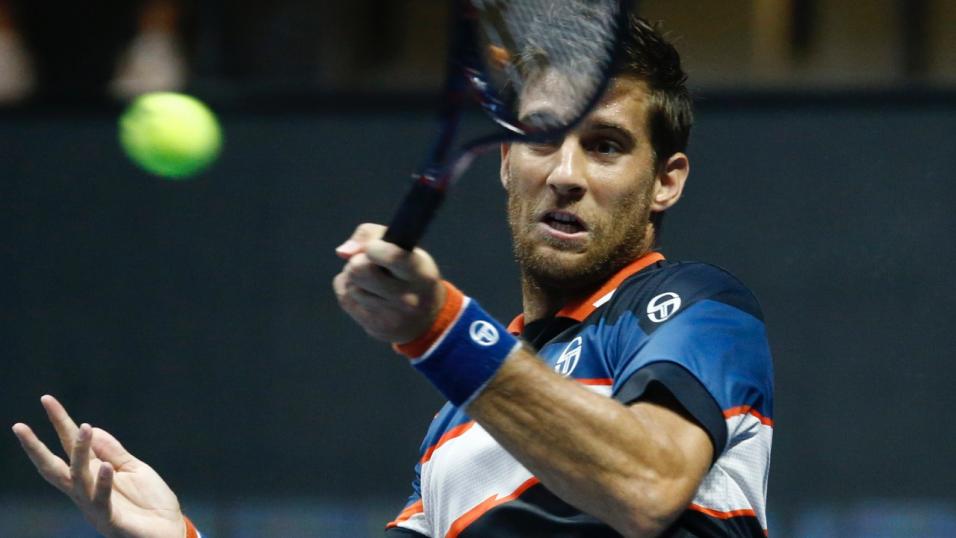 Martin Klizan is very capable indoors...
Following several weeks in Asia, the ATP Tour moves back to Europe with the Indoor Hard season bringing 2018 to a conclusion. Our tennis columnist Dan Weston previews the week's action...
"The Slovakian's record indoors is pretty solid, winning 60% of his main tour matches on the surface in the last three years (combined hold/break of 103.5%), and in a weak top half of the draw, can be backed each-way at general market prices of around 16/1."
Indoor season fully begins on the ATP Tour
After the high profile Shanghai Masters last week, it's back to 250 level action on the ATP Tour in the next seven days with players competing across three indoor hard events in Antwerp, Moscow and Stockholm.
Slow conditions anticipated in Antwerp
In Antwerp, Kyle Edmund takes the top seed berth and enjoys a first round bye along with Richard Gasquet, Milos Raonic and Diego Schwartzman. The tournament started in 2016, with Gasquet the inaugural champion, defeating Schwartzman in the final and the diminutive Argentine was also the runner-up last year to Jo-Wilfried Tsonga.
Schwartzman's success here is less surprising when the extremely slow venue conditions are brought into the equation. Across the ATP Tour in the last three years, indoor hard court venues have featured service holds in 80.3% of games, yet in this event at Antwerp this number drops to 77.6%. In addition, a mere 0.50 aces per game were served, a figure well down on the tour mean of 0.57.
With this in mind it's difficult to give much bias towards any individual player dynamic. With such low hold numbers indicating slow conditions for an indoor court, big-servers should certainly derive little additional benefit as they might do at a standard indoor venue. It seems reasonable to judge each player on their merits across the coming week here.
Raonic looking short-priced given tricky draw
Raonic takes favourite status with the Sportsbook at 7/2, with top seed Edmund at 5/1 and Gasquet next in line at 13/2. The French duo of Tsonga and Gael Monfils are further back at 17/2, with the remainder of the field in double-digit prices.
The price on Raonic looks skinny, given a potentially tricky run to the latter stages in the bottom half of the draw. Vasek Pospisil/Leonardo Mayer is a far from guaranteed win in his opener, before likely facing Monfils or Tsonga, and then Schwartzman, who has had such venue success.
Indeed, the top half of the draw looks weaker, with Edmund and Gasquet the main seeds. Edmund has a gift top quarter, with only Robin Haase really capable of testing the Brit, but hasn't played much indoors in the last 18 months, with just six main tour matches in that time period. In truth, I'm not over-enthused by any options here in Belgium.
Isner favourite in quicker conditions of Stockholm
Moving on to Stockholm, John Isner is the tournament favourite at 10/3, with Fabio Fognini, Lucas Pouille, Stefanos Tsitsipas and Denis Shapovalov his main market rivals - Isner, Tsitsipas and Fognini have first-round byes, along with Jack Sock.
Conditions in Sweden are looking likely to be quicker than that in Belgium, with 80.9% of service games being held in Stockholm across the last three years. It's still not supremely quick for an indoor court however - medium paced looks a fair assessment.
Venue winners fitting a big-server profile
Big-serving top players have dominated the event this decade, with titles going to Roger Federer, Tomas Berdych (3), Juan Martin Del Potro (2), Grigor Dimitrov and Gael Monfils, and this gives us some insight into profiling potential winners.
Pouille with stellar indoor numbers
While top players are notable for their absence, we should hunt for a big-server with a strong indoor record, and one player stands out by an absolute mile - Lucas Pouille.
Across the last 18 months indoors, the Frenchman has held 87.4% and broken 21.7% (combined 109.1%), winning 13 of 17 matches, and these numbers are far in excess of any rival in the field. The slight problem is that he hasn't been in good touch of late, and didn't make the trip to Asia - he's played just one five-set match in the Davis Cup (ironically a win, indoors) since the end of August at the US Open.
He's also in top seed Isner's quarter of the draw, and with Denis Shapovalov - a player with a noted taste for quick conditions - also in the top half, this bracket looks stronger than the bottom half, which features Stefanos Tsitsipas (a player with much to prove indoors) and Fabio Fognini as seeds with byes.
With doubts over Pouille, this event looks another leave-alone.
Slow conditions also expected in Moscow
Finally, over in Moscow, there are no market prices, with the Sportsbook still to update. The winners list is a little more diverse than the very profiled victors in Stockholm, with only Marin Cilic being a repeat winner this decade here. In addition, the decade winners have been a mix of big-servers and return-orientated players, which initially would lead me to believe that conditions are unlikely to be absurdly quick.
A glance at the venue data in recent years makes this evident as well - just 76.8% of service games were held here, and a mere 0.42 aces per game served, which is a figure more akin to a clay venue. I do not anticipate big servers deriving any benefit whatsoever from conditions in Moscow in the coming week.
Taking on Cecchinato in the top half looking a solid plan
Treating each player in the field on their merits, again, is recommended, and the top half of the draw looks a dire affair. Marco Cecchinato, who has barely won an indoor hard match in his entire career, somehow takes top seed berth, with Filip Krajinovic joining him as a seed with a bye.
Klizan capable of a strong display
The player I like in this top half of the draw is Martin Klizan. He looks in reasonable touch, having made the final in St Petersburg (another indoor event) last month, and having lost to Taylor Fritz in three sets in the Shanghai qualifiers last week, has had plenty of time to fly back to Europe to acclimatise.
The Slovakian's record indoors is pretty solid, winning 60% of his main tour matches on the surface in the last three years (combined hold/break of 103.5%), and in a weak top half of the draw, can be backed each-way at general market prices of around 16/1. Alternatively, an order can be placed on the Exchange to back him at around these prices, with a view to trading out prior to the final.
With Karen Khachanov, Daniil Medvedev, Nick Kyrgios all major threats in the opposite bottom half, it definitely makes sense to take on the likes of Cecchinato in the top segment.
***
Follow Dan on Twitter @TennisRatings
Recommended bets