ATP Cincinnati Masters Day Six Tips: Djokovic now heavy favourite to lift trophy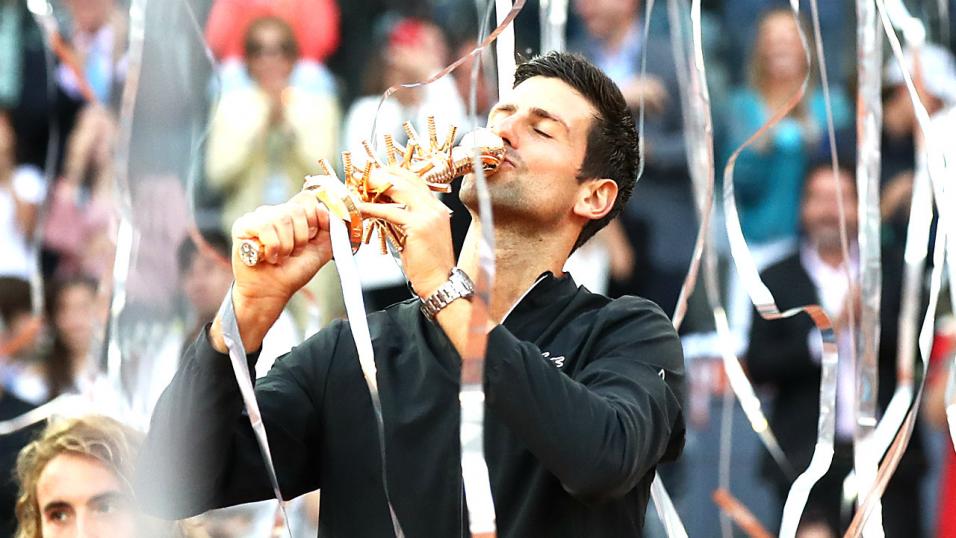 Novak Djokovic is again favourite to be celebrating a trophy...
There's quarter-final action at the Cincinnati Masters this evening and Dan Weston tries to see if there's any value to be had...
"The Serb has a 20% edge in combined hold/break numbers over Pouille across the last 12 months against a generally higher calibre of opposition, and a shock result here is a real long-shot."
Rublev shocks Federer in deserved victory
Andrey Rublev provided a huge shock in yesterday's last 16 matches, defeating Roger Federer in straight sets in just over an hour, and with the Russian winning 57% of total points in the match it is difficult to dispute that he deserved his victory - he also won 82% of points on first set in what was a pretty mediocre display on return for the Swiss legend.
This probably wasn't in Federer's script when he worked out his US Open preparation, although he seemed unperturbed in his post match interview stating 'I played 45 matches this year, so I think I should be fine'.
Djokovic odds slashed to lift trophy
Main rival Novak Djokovic progressed to the semi-finals. As predicted in yesterday's preview, Pablo Carreno-Busta made him work for it to an extent, and could have pushed him even further if he could have converted any of his four break point chances.
Federer's defeat certainly opens the draw up for Djokovic - they were seeded to meet in the semi-finals tomorrow - and the outright market on the Exchange has adjusted to this, pricing the world number one now at [1.53] to lift the trophy on Sunday evening.
Pouille unlikely to spring a surprise
Djokovic again plays the match best suited for night owls as he faces Lucas Pouille in the early hours of Saturday morning for European viewers, and the the tournament favourite is pretty accurately priced at [1.07] against the Frenchman, and repeat his semi-final thrashing of Pouille from the Australian Open in January.
That day, Djokovic was priced at a similar line, and I don't see anything much has changed. The Serb has a 20% edge in combined hold/break numbers over Pouille across the last 12 months against a generally higher calibre of opposition, and a shock result here is a real long-shot.
Unfortunately, the markets are accurate again with its pricing of the other matches as well. We've done extremely well across this week in Cincinnati and last week in Montreal, suffering only one loss in total, but I don't want to go down the road of trying to find value where I perceive none exists.
Gasquet needing to overturn dominant head to head
In the early match, Richard Gasquet is perhaps a touch under-rated at [4.40] when looking at basic hold/break numbers for his match against Roberto Bautista-Agut, but the 4-1 head to head lead in the Spaniard's favour is probably worth considering here.
Four four of the five matches have been played on hard court and Bautista-Agut won both their meetings this year in straight sets. They actually met last week in Canada as well, with Gasquet priced similarly before losing 7-5 7-5 although that doesn't necessarily paint an accurate picture of how the match played out.
Looking at the stats from that match, Bautista-Agut could have put the match to bed earlier in the second set, converting just three of 12 break points overall, and he won 57% of points in the match. Gasquet won just 82% combined service/return points in the match, and this, plus the high percentage of points won in the match by Bautista-Agut would generally point to a bigger gap between the two players in the scoreline.
Interestingly, Gasquet has also struggled on serve in their five previous meetings, holding just 66% of the time, and unless he can dramatically improve these numbers, it's tough to see him celebrating a semi-final berth this evening.
Goffin accurately priced against Nishioka
After knocking out our outright pick, Alex de Minaur, last night, qualifier Yoshihito Nishioka faces David Goffin in what looks likely to be a rather return-orientated encounter, even in these quick conditions.
Both players break in the high 20%s on hard court in the last 12 months, and my numbers suggest Nishioka is likely be more prone to lose break leads if in front in the match, which could be something for in-play traders to consider. Goffin is a [1.57] favourite to win, which looks pretty much spot on.
Medvedev strong favourite to continue run of form
Finally, Daniil Medvedev is again in action after a tough schedule which has seen him make the finals of Washington and Montreal in the last two weeks, before the latter stages again here in Cincinnati.
Today, the Russian plays his fellow countryman Andrey Rublev, and Medvedev is [1.39] to continue his excellent run of form. I've already stated that I think he's the most realistic challenger to the elite three at the US Open in just over a week's time, and it will also be interesting to see how Rublev copes with the comedown following the biggest win of his career against Federer last night.
Medvedev is yet to drop a set this week and has won four of six by a 6-1 or 6-2 margin, so fatigue doesn't appear to be a major issue as yet, and I think the market price accurately reflects his likelihood of progression.
***
Follow Dan on Twitter @TennisRatings