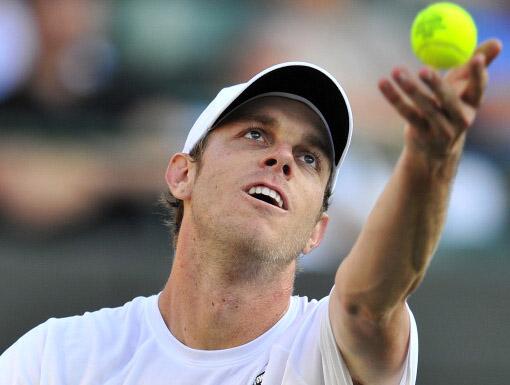 Sam Querrey represents each-way value in Cincinnati...
Big tennis tournaments come thick and fast at this time of the season, and immediately following the Montreal Masters, the Cincinnati Masters gets underway. Our tennis columnist, Dan Weston, returns to check out whether anyone can challenge Roger Federer...

"Querrey also has a superb 16-6 record on hard courts this year, holding serve 82.5% and breaking opponents 25.1% (combined 107.6%) and at 66/1 with the Sportsbook, looks to be as good an outside chance as any, in what is the weakest part of the draw."
Depleted field again in Cincinnati Masters

The coming Masters event in Cincinnati features a very similar depleted field to that in the past week in Montreal, with Andy Murray, as well as season-long absentees Novak Djokovic and Stan Wawrinka, all again absent from action.

That action starts tonight, with two first-round matches bizarrely scheduled despite the Montreal final taking place at 9pm UK time this evening, with Ryan Harrison taking on Gilles Muller and John Isner facing Victor Troicki.
Serve orientated players expected to thrive in quick conditions

Both of these matches should give watchers a solid insight into the likely conditions in Ohio, with serve expected to dominate both in these matches and the tournament as a whole, as historical tournament numbers demonstrate.

At the venue in 2015, 82.2% of service games were held, and this figure was similar in 2016 at 82.1%, so with these numbers around 3% higher than the ATP hard court mean, we can expect conditions to be fast and to be of benefit to serve-orientated players.
Federer with historic venue success

This is well demonstrated by the winners list, which features six titles for Roger Federer in the last ten years, while Andy Murray (twice), Rafa Nadal and Marin Cilic (the defending champion) also claiming the trophy. Both Cilic and Federer adore pacy conditions and this may give some idea as to their success at the venue, and it's also worth mentioning that other serve orientated players in Andy Roddick, John Isner and Mardy Fish have also made the final in Cincinnati in recent years.

Unsurprisingly, given this historical venue success, as well as being in superb form, Federer is the 6/4 tournament favourite, but it's difficult to consider whether he is value at this price in advance of the Montreal final, and it will be interesting to see if he will give maximum effort this week - two finals in consecutive weeks with just a week rest prior to the US Open may not be advantageous.

A final for Zverev next week would be his third consecutive week with maximum matches and again, it's tough to consider a repeat of his success in Montreal on that basis, particularly given that he is in Federer's draw.
Opposing Nadal again our strategy

As with Montreal, looking for value in top seed Rafa Nadal's half of the draw seems a decent plan - despite the doubts over Federer and Zverev, it's difficult to want to oppose them - and my suspicion that Rafa cannot retain close to his clay court level away from the surface is proving correct currently.

The seeded players in Rafa's half of the draw with a bye are Jo-Wilfried Tsonga, Dominic Thiem and Kei Nishikori, and the latter two in particular do not feature highly in my reckoning.

Thiem's record post-Wimbledon in his career is horrendous - he is almost certainly a victim of his own scheduling, which is far too demanding, while a quick hard court will not suit the Austrian either - while Nishikori's fitness so frequently is not aligned with his prodigious talent.

Tsonga, being a serve-orientated player, should benefit from conditions but the fact he's been beaten in consecutive matches by Sam Querrey is a worry, and he also has a tough quarter featuring Ivo Karlovic, David Goffin and Nick Kyrgios.

Kyrgios could well be the player to come through here, although as with Goffin, his fitness is hugely questionable, but prior to his defeat against the younger Zverev brother in Montreal, looked much-improved from his recent woeful showings.
Outsider Querrey can come through the weak second quarter

The second quarter of the draw looks the weakest (Thiem and Nishikori are the seeds) and it is far from inconceivable that Querrey could come through this section of the draw. The American is in excellent form, having a good showing at Wimbledon prior to winning Los Cabos, and his mediocre showing last week in Canada can be forgiven following the fatigue arising from his triumph in Mexico.

Querrey also has a superb 16-6 record on hard courts this year, holding serve 82.5% and breaking opponents 25.1% (combined 107.6%) and at 66/1 with the Sportsbook, looks to be as good an outside chance as any, in what is the weakest part of the draw.

Recommended Bets
Back Sam Querrey each-way at 66/1

***

Follow Dan on Twitter @TennisRatings