ATP Week 43 Preview: Dimitrov can be chanced at a big price in Vienna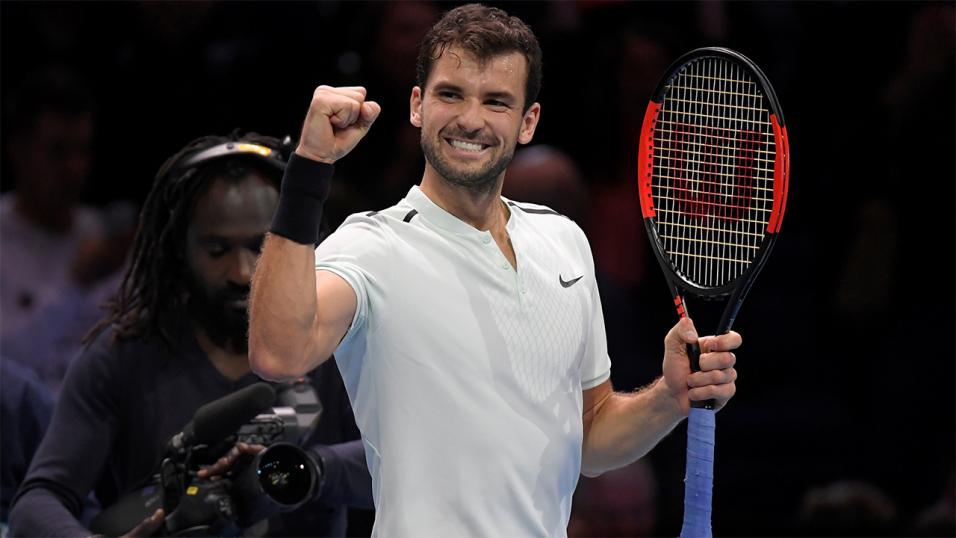 Grigor Dimitrov has a superb record indoors...
With just two weeks remaining of the main ATP season, there are indoor events at Basel and Vienna in the coming week. Our tennis columnist, Dan Weston, takes a look at the action...
"Dimitrov also boasts a magnificent indoor record, far better than he can manage outdoors. Consistently through his career, he's been better with a roof, and is 13-3 in the last 18 months indoors, with a combined hold/break percentage of 109.4%."
Next-Gen take all the ATP titles last week
Last week was a week to celebrate for the 'Next-Gen' of the ATP Tour, with Karen Khachanov, Kyle Edmund and Stefanos Tsitsipas taking titles across the indoor hard courts of Europe. Statistically, Khachanov looks the best of the trio indoors and on hard court, with the Russian player showing dramatic improvement in recent months, with his combined hold/break percentage running over 110% in the last six months.
Tsitsipas potentially over-rated in the near future
Edmund's data currently looks solid rather than spectacular, although that could be negatively impacted by some injury issues in recent months, but Tsitsipas is a player worth discussing. Actually, his hard/indoor data isn't that strong - barely running at over 100% combined - and I have a suspicion he may prove to be over-rated by the market, in the short-term at least.
The Greek youngster, Tsitsipas, takes his place in the Basel draw this week, with Edmund and Khachanov taking the opposite route to Vienna, in advance of next week's Paris Masters.
Federer a strong favourite to lift 9th Basel title
In Basel, Roger Federer takes top seed billing in his home country, and also is the tournament favourite, at 9/5 with the Sportsbook. Alexander Zverev, Marin Cilic, Stan Wawrinka and the aforementioned Tsitsipas, are the other market leaders, in single-digit outright pricing.
Wawrinka with no historical success in home indoor event
It's harder to disagree with both Zverev and Cilic's inclusion as market leaders, but I'm less convinced of the viability of both Tsitsipas, who has these mediocre statistics, and could also potentially be fatigued, and Wawrinka.
The Swiss veteran's data hasn't been great either, since his return to tour (something I've discussed on numerous occasions here previously) and he hasn't performed superbly in this indoor event in his home country, even at his peak - he's not reached the final in the last decade, and is a woeful 11-13 in his career at this tournament and is 2-6 in his last eight outings here.
Medium-paced conditions anticipated in Switzerland
Conditions in Switzerland look very medium-paced for an indoor hard court. Over the last three years, 80.3% of service games have been held, almost identical to the 80.4% indoor hard mean. The aces per game figure, 0.57, is the same in Basel as the ATP Tour.
Certainly, with this in mind, it is difficult to assume that any particular playing style will derive much benefit, but we have to note that since 2006, Roger Federer has won eight titles, and only failed to make the final in 2016, when he was absent from the event. With this in mind, in addition to his obvious ability and liking for indoor hard courts, he looks the man to beat this week in his home tournament.
Option thin with Cilic also looking short-priced
Looking at options in the bottom half, potentially each-way, makes some sense. Cilic, in my opinion, has a marginally easier draw than Zverev in this bracket, although Denis Shapovalov in round one isn't a kind opening match. However, the Croat does benefit from having the hard-court hating Marco Cecchinato as the other seed in his quarter. My concern is that Cilic, in the last 18 months, hasn't got the best record indoors, and 11/2 - given Federer will be his likely final opponent - looks skinny. I think leaving this event alone is probably for the best.
Open tournament expected in Vienna
Over in Vienna, historical data makes conditions look a little quicker than average, but not unduly so, and it's certainly not a tournament with a particular bias towards big-servers either. The winners list is extremely diverse, with both big-servers and return-orientated players having success at the venue, so it is difficult to draw any conclusions.
Without doubt, when looking at this year's draw, the obvious conclusion to draw is how open the tournament looks - there are a dozen or so players who have a good chance of success, with no outstanding favourite. This is also evidenced by the co-favourites with the Sportsbook, Kevin Anderson and Dominic Thiem, both being 7/1.
Thiem with mediocre record in his home indoor tournament
Thiem's 6-8 record in his home indoor tournament is unimpressive, and illustrates again his poor record post-Wimbledon, that I've mentioned many times before. He faces qualifier Ruben Bemelmans in his opener, before a very tough subsequent draw in what is a high quality 500-level tournament.
Of the young players with great future prospects, both Khachanov and Coric are around the 110% combined hold/break percentage in the last six months and have exhibited real improvement, although I am unsure whether Khachanov is pulling out of the event (he would be in Thiem's top quarter).
Dimitrov worth chancing at a big price
One player I want to discuss at a big price is Grigor Dimitrov. The Bulgarian has had an unimpressive few months, but look at the players he's lost to since May. Milos Raonic, Kei Nishikori, Fernando Verdasco, Novak Djokovic (2), Stan Wawrinka (2), Kevin Anderson and Dusan Lajovic. Of this list, only Lajovic is not a particularly strong player (on the hard court they played on).
Dimitrov also boasts a magnificent indoor record, far better than he can manage outdoors. Consistently through his career, he's been better with a roof, and is 13-3 in the last 18 months indoors, with a combined hold/break percentage of 109.4%. At 16/1, with the best indoor hard data in the field, Dimitrov looks to hold our hopes for the upcoming week.
***
Follow Dan on Twitter @TennisRatings
Recommended bets