British Tennis: Awash with money but still serving up the wrong answers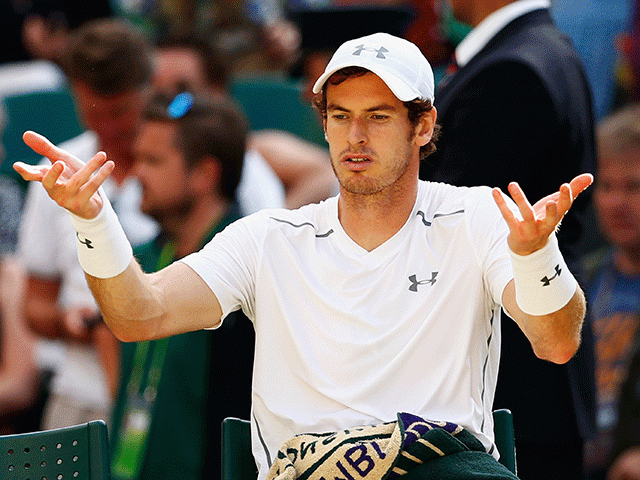 Andy Murray doesn't have the answers either!
Andy Murray aside there are few bright spots for British tennis even though the spectacular success of Wimbledon pumps millions into the game, says Sean Calvert.
"We Brits by and large see the sport as a few weeks in the summer when the weather is nice and we can dust off the racquets for a knock-up or pop down to Wimbledon for a jolly nice drink and some socialising while a couple of fellas from somewhere foreign thrill us with their skill and athleticism."
A quick internet search for 'what's wrong with British tennis' will bring you enough reading material to last until Andy Murray next wins Wimbledon, and possibly until a British woman next achieves the same feat.
Excluding Murray we've had one Brit hoist aloft a Men's or Women's Singles trophy at the All England Club since 1936 and that was questionable, as 1977 champ Virginia Wade learned to play tennis in South Africa.
Indeed, Wade spent 14 of the first 15 years of her life in that country, while of course Murray honed his tennis skills as a youngster in Spain at the Sánchez-Casal Academy.
It's a question that has dogged numerous heads of the Lawn Tennis Association (LTA), whose mission it is to 'get more people playing tennis more often.'
That's according to their official website, but we all know that getting more people playing is a means to an end - to have more than the odd one or two players each generation inside the game's top-100 in the men's and women's games.
Roger Draper spent seven years and was paid a £640,000 package to sort it out during his tenure as chief executive of the LTA - backed by Wimbledon's seemingly bottomless pot of cash - but participation in the sport remained virtually unchanged when he left in 2013.
James Ward has just sneaked into the men's top-100 for the first time, but that is merely a temporary visit aided by a rise of 22 places thanks to the withdrawal of David Ferrer and a very kind draw at Wimbledon.
Murray aside, and before him Tim Henman, we've produced pretty much nothing of any note in Britain for decades and this is a problem that won't go away without a huge change in attitude.
Maybe it's not the number of people participating in tennis that's the problem; more the type of people that it attracts, with its staid, middle-class image of Pimms and a friendly knockabout down at 'the club'.
If I were a young, raw kid, perhaps - and whisper this quietly - not from a white, middle-class background, I would feel excluded, and it would be far easier and cheaper to go for a football kickabout or a game of basketball with my mates instead.
Tennis has always had that snobbery about it in Britain, as any look around the crowd at Queen's Club during the AEGON Championships any year will conclusively reveal.
We Brits by and large see the sport as a few weeks in the summer when the weather is nice and we can dust off the racquets for a knock-up or pop down to Wimbledon for a jolly nice drink and some socialising while a couple of fellas from somewhere foreign thrill us with their skill and athleticism.
Even when we do have a really top class player like a Murray it's still seen as a bit of fun, with morons shouting out 'Come on Tim/Rafa/Roger' on Centre Court after too many glasses of overpriced champagne.
Everything about the image of the sport is wrong, with the BBC's creaking, dull, vacuous (Andy Roddick this year aside) presenting team a prime example.
Most other countries don't have that old-fashioned attitude to tennis and that for me is a big factor as to why we're attracting the wrong sort of people to the sport.
We want talented, hungry, passionate kids, who would play in a drained out swimming pool with a wooden bat if that was the only option and chucking money at it isn't the answer - at least not in the way the LTA's been going about it.
Boris Becker had this to say on the issue: "Tennis is no doubt an elitist sport, it's expensive; racquets are expensive, courts are expensive, a pair of tennis shoes is expensive. But it is fairly obvious that the LTA is not struggling for money and the question is: what should they be looking for?
"Forget their background and technique, it should be about how much does this 10-year-old want to win. You should want to see them cry and go absolutely crazy if they lose because they hate it so much. That is the sign of a future champion, it is in their DNA, and it's obvious that is lacking in the British juniors."
Obvious to me and Boris and to one of the very few respected commentators Mark Petchey, who back in 2010 had this to say in an article that is still well-worth reading today: "Very few state schools still have tennis courts and although mini tennis is a great way to introduce kids to tennis in primary schools, if there is no link between the school and the local club, this becomes a token 'tick the box' gesture and an easy way to show increased participation."
And therein lies a big issue - the clubs in this country are vastly expensive and more about socialising and barbecues than playing winning tennis - and they don't appreciate 'outsiders' in their midst.
If only the suits at the LTA would have listened to Petchey in 2013 when he offered to take the top job after Draper's expensive failure - and for a fraction of the salary.
At the time Petchey said: "Very basically, the LTA needs to focus on grassroots, not the elite end of the game. The lion's share of its money should be directed to the bottom of the game rather than the top." Hello, I think we have something here.
There's more: "France, Spain and Germany all have a very good club structure but there aren't enough people playing the game in the UK. The salary bill at the LTA is huge and millions have been pumped into performance tennis, which hasn't provided value for money," Petchey added.
But no, that all sounded far too radical, so they went for another suit in David Gregson, who was previously Chairman and co-founder of Phoenix Equity Partners, a leading UK mid-market private equity company.
That says it all really, and Petchey ended by stating that it would take about 15 years to get us up to speed from where we are now - a sobering thought indeed.
So, get ready for another decade or so of watching the modern day equivalent of Andrew Castle (he made round three at Queen's one year, you know) and co. when Murray calls it a day.

For tennis previews, tips and insight visit betting.betfair.com/tennis

Discover the latest articles