Women's Australian Open: Five potential first round upsets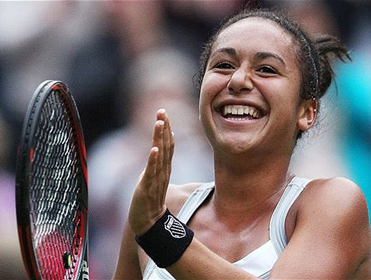 Will Heather Watson be smiling after her first round encounter?
Gary Boswell picks five first round matches in the women's draw that have the potential to witness an upset at the forthcoming Australian Open...
"Watson has however been priced for this by the British press who are suggesting that defeat is out of the question meaning there is a whopping 3.02/1 available on Cadantu who is to all intents and purposes the marginal form pick."

Lay Samantha Stosur at around 1.331/3 against Kai-Chen Chang

There will be those keen to back the Taiwanese 84 ranker at around 5.04/1 and far be it for me to put them off as Stosur does have a 0-1 head-to-head deficit from Osaka last year and is a notorious choker in front of her home crowd. That game in Japan was incredibly close considering the rankings gulf with Chang taking the third set tie-break 7-3 having traded equal blows throughout. On the similar hardcourt to here so good collateral form to expect a repeat.
Just a lay on Stosur for me though to smaller liability because the Australian is actually bizarrely an outside chance for winner if she can get through this. Her quarter draw has worked out well and she is one of those who could threaten Serena Williams. That's if she doesn't suffer the billabong collywobbles in this!

Back Coco Vandeweghe to beat Sorana Cirstea at around 2.56/4
The 100 ranked American - nicknamed 'Miss Bean' with reference to her Christian name rather than any likeness to the Rowan Atkinson blunderbuss! - is a fair price to upset the fickle Sorana Cirstea. On her day, the 22-year-old Romanian could blast through but all too often she misfires - especially in the Slams - and she still lingers around the bottom 30 of the rankings when she'd looked a surefire top 10 player when she first burst on to the scene. Vandeweghe edged a hard fought three-setter the only other time they've met in Carlsbad in 2011 and is the sort of solid no-nonsense journeywoman player that will take advantage of any Cirstea histrionics. A solid potential bet against the book.

Back Alexandra Cadantu to beat Heather Watson at around 3.02/1
Pains me to be suggesting taking on the Brits now that we have genuine potential winners at long last in the women's game. Sadly I do think this is a possible banana skin for Watson who was roundly trounced by the talented young Romanian when they met on the clay at Cagnes Sur Mer last year. This is hardcourt and Watson should do much better and is a consistent improver in the game at the moment with a career high ranking now of 47.
She has however been priced for this by the British press who are suggesting that defeat is out of the question meaning there is a whopping 3.02/1 available on Cadantu who is to all intents and purposes the marginal form pick. It could be close but there is no doubt in my mind that all the value lies in backing Cadantu.

Back Stefanie Voegele to beat Tamira Paszek at around 2.35/4
A much tighter match up than the rankings suggest with the Swiss Voegele a marginal fav in my book following her straight set hardcourt win over Paszek - who tends to be a different class on grass - in Portoroz in 2010. The rankings are dictating the prices and so the Austrian is odds on but that is a grass court price for me and on hardcourt, it is Voegele who hits the ball harder and cleaner and demonstrates the greater agility around the court. Ranked just 87 in the current list, I fully expect to see a climb from the Swiss miss in 2013.

Back Kimiko Date-Krumm to beat Nadia Petrova at around 6.05/1
After a few plays in tight calls, this a a real left field prediction for first round upset as the Methusalah of the women's game takes on the mighty Russian service game of 'no spring chicken herself', Nadia Petrova. 42 years young now is Date-Krumm and achieving her lifetime best results in the process of proving that age is no barrier to continued peak physical fitness in the modern sportsworld.
Ranked 100 places below Petrova and never a top 10 force like the ageing Russian has been, you'd think Date-Krumm was a no hoper up against the dynamic Petrova service game. Statistics belie that though with the Japanese woman winning their only meet up on the hard court in Sydney 2010 in three hard fought sets. No co-incidence that the win was in Australia either where the Russian players often do less well - climate being somewhat unfavourable to them - whilst the Asian players often excel. The longshot upset could well be on again.
Discover the latest articles