Australian Open Women's Betting: Five big-price alternatives to favourite Serena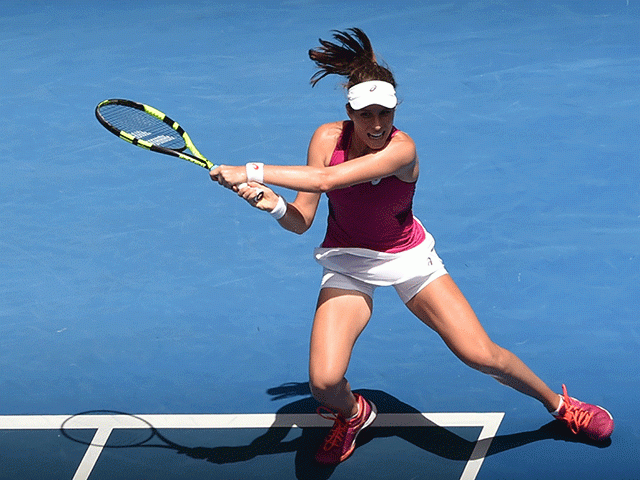 Johanna Konta looks a lively outsider to go well in Melbourne
Having called the 1-2 in the last women's Grand Slam at Flushing Meadow in September, Gary and James Boswell are back to recommend some outsiders for the Australian Open which starts on Monday...
"The employment of Wim Fissette - famous for getting Kim Clijsters back to the top as a mature player - bodes well and the way she got past an inspired Kuznetsova in Rio before the flop to Kerber was proof that the mental frailty can be overcome."

With Serena Williams losing to Madison Brengle in the warm-ups, there's a real urgency to suss out the changing of the guard that happens every so often in women's tennis.

Williams couldn't last forever as the dominant player and has been defying nature and us determined layers for too long. She simply can't keep going on. Surpassed by Angelique Kerber for number one spot in late 2016 yet here she is at the start of 2017 priced 4.216/5 to win again in Melbourne.

It's always a rollercoaster taking her on but take her on we must at that price, as a feeder to finding the next new young thing to replace her at the top of the game. Here are five suggestions of in form talent to oppose her with.
Karolina Pliskova - 12.011/1

The obvious candidate following her trawl through to the US Open final and she has put a consistency together now that signals her maturity at 25 and readiness to assume the number one spot. I watched her warm-ups in Brisbane where she once again played with clinical efficiency, and her demolition of Alize Cornet 6-0 6-3 in the final was class execution of the kind you need as you try to step up to the top of the pile - doing only as much as you have to against the minors and saving that gear change for when you come up against the cream of the crop.

Pliskova has been clicking over the wins without suffering an embarrassing reverse, a mode she has been in for a few years now. She needs chances to beat the top players in the Slam finals, and Flushing Meadow was her debut at that and she acquitted herself well. She has a bit to go to step up to the mental fight level that Kerber achieved in 2016 but is sure to be going in that direction in 2017 and on offer at 12.011/1 for the upcoming tournament in Melbourne.
Elina Svitolina - 81.080/1

The Ukranian No.13 has wins over Kerber and Serena in her locker now and I watched her win over Olympic gold medallist Monica Puig in Brisbane last week impressed by how she has improved over the winter break. A serious all round game with tremendous foot speed and a wicked forehand smash means she is a serious contender. At 23, she has reached that balance of experience and raw talent that could easily take her forward in 2017. Her odds of 81.080/1 to win in Melbourne do attract.

She followed the Puig win with another score over Kerber so that her head-to-head with the number one is now 4-5. She has emerged victorious in their last two meetings. That indicates her upward curve to me. Kerber has lead the way in showing how the new player must play and several of the younger gang are poised now to overtake her.

Svitolina is very much one of them. Slightly behind Pliskova in the pecking order as reflected by the odds and by the Brisbane semi where Pliskova asserted that greater maturity in her mental game. Should the draw favour her however the Ukranian will represent excellent value.
Johanna Konta - 41.040/1

My knees always tremble a bit when I put up a Brit. Konta is so typical as far as she shows all the attributes to excel at the game but is still able to fail mentally in the big matches. In 2016 she reached the semi before hitting the Kerber brick wall. Her record against top 10 players isn't great and she was even worse when up against Kerber again in Rio - doing the mental freeze there.

But she has such a game. And Australia is obviously a warm mental home for her - having lived with family in Sydney for a significant time of her life - that if we are to believe that at 26 she can make the next step up, it surely has to be here. This is the surface that suits. The employment of Wim Fissette - famous for getting Kim Clijsters back to the top as a mature player - bodes well and the way she got past an inspired svetlana Kuznetsova in Rio before the flop to Kerber was proof that the mental frailty can be overcome.

We have to keep supporting and believing. The Brits won the Davis Cup. It can be done! And she is ranked 10 on merit. It's up in the air for me whether she can progress from there but oh how I want and believe that a Brit could excel in the women's game again.
Katerina Siniakova - 151.0150/1

Found her way into the Boswell filing cabinet in 2015 when young James talent spotted her in Birmingham and has been closely monitored ever since. Siniakova is still only 21 and ranked 37 now after her maiden tour win in Shenzhen last week. Demolished Halep as the significant breakthrough moment but her cool dismissal of a most nervy and frail Konta might have been the more telling result.

The young Czech is big and raw - very much in the Kvitova mould but has that stamp of the Czech training camp all through her. And the progress mentally has now begun, so watch out for her next two years. 2017 may be too early but the way she played in China last week, it also may not. And 151.0150/1 is a monster price.
Daria Kasatkina - 81.080/1

And we leave the real deal to last! Kasatkina has talent oozing out of every 20-year-old pore. She could be a real Rolls Royce of a player and her win over Kerber this week is a real live signal that 2017 could be a watershed year for the Russian.

The circuit has been buzzing about Kasatkina for an age now. She turned up young and dazzled. Of course we've seen that wither on the vine many a time in the heat of the battle. Kasatkina looks like a Comaneci darling but has grown up in the arena shaped by Serena. You can't ignore the muscle. And yet she has danced past Kerber this week in graceful style.

The world really is beckoning for her, but can she deliver? Ranked 26 and very aware of the Russian void left at the top of the game by Maria Sharapova, Kasatkina has every bit of the class to fill that void. Kasatkina is priced around 81.080/1 for Melbourne, which could be short. But it could be long. Dare you be not there when she comes of age?

Recommended Bets
Back Karolina Pliskova @ 12.011/1
Back Elina Svitolina @ 81.080/1
Back Johanna Konta @ 41.040/1
Back Katerina Siniakova @ 151.0150/1
Back Daria Kasatkina @ 81.080/1

***

You can read Dan Weston's outright preview of the Men's Australian Open by clicking this link.
Game-by-Game Betting
Betfair will be offering game-by-game betting for all singles matches on the main three courts at the Australian Open, and then all matches from the quarter-finals onwards.
And a reminder that there is no longer any need to transfer to the 'Australian Wallet' when betting on events Down Under.
Discover the latest articles