Australian Open Women's Betting: Radwanska, Wozniacki and Konta all worthy of the shortlist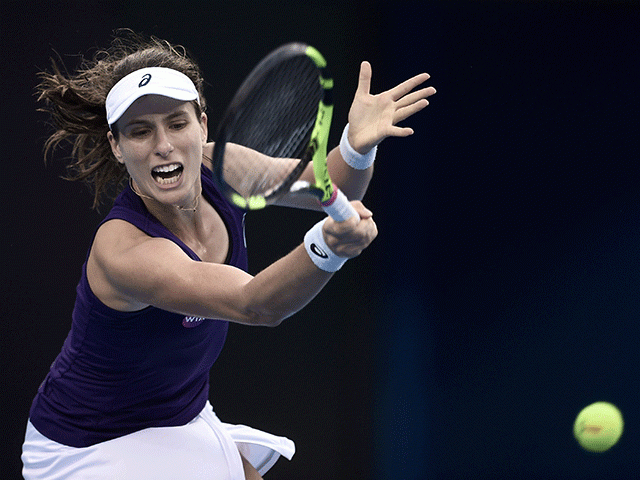 Johanna Konta has improved a great deal since breaking through on the tour
Dan Weston is back with his look at the women's tournament at the Australian Open, and he singles out a few players worth shortlisting...
"My in-play data shows that Konta is superb when leading in a match. Since July 2014, she has lost the first break lead in a set just 32.67% of the time, well below the WTA average of just under 50%. Indeed, there are many ATP players who would be envious of this figure."
While the ATP event is likely to be dominated by players at the top of the betting, the WTA Australian Open represents much more chance of an underdog victory, and particularly opportunities for some selections to trade significantly lower in-running.
Indeed, this is the first Grand Slam tournament for a number of years without a clear favourite in the betting, and it would be very reasonable to state that there are reservations about every single player in the field. It is without doubt that there is something of a 'changing of the guard' in the WTA currently, particularly with Maria Sharapova (ban) and Victoria Azarenka (pregnancy) being ruled out for at least the near future, and it is arguable that this renders some of the historical trends, which see top players thrive - although not to the extent of the ATP - less reliable than those in the men's event.
In short, my perspective on the WTA currently is that it lacks quality, depth and that many players can beat each other on a given day.
Serena unbackable at the price

Serena Williams, who has won the title four times in the last ten years, is the market favourite at a current 4.003/1 and prior to the tournament is unbackable, even at a price which is higher than typically available on her to win any tournament.
Following Williams' semi-final defeat to Karolina Pliskova in the US Open last year, Williams took the rest of the year off with shoulder and knee injuries, and was even quoted as being 'sick and tired of playing top-level tennis while injured'. Those who witnessed her inept display against Madison Brengle last week in Auckland would be forgiven if they thought she was merely sick and tired of tennis, full-stop.
Given that Williams has shown no discernible form in almost six months, we must look at other alternatives for our portfolio of outright selections.
Angelique Kerber currently too overrated to be considered

Second in the market, and world number one, Angelique Kerber 5.14/1, certainly would not make our basket of players either. The German is extremely overrated and all of Williams, Agnieszka Radwanska, Caroline Wozniacki and Johanna Konta possess better 12 month hold/break data than Kerber, who has held serve 69.7% and broken opponents 44.5% (combined 114.2%). This is well below the 120% mark of a world-class player and I've made the point previously that I expect Kerber to mean-revert in 2017 and end the year ranked around the 5-6 mark.
Certainly that has been the case for Kerber so far this season. Two extremely talented younger prospects, Elina Svitolina and Daria Kasatkina, have got the better of her already in January and there can be little doubt that Kerber's build-up has been far from ideal.
Two of the younger members of the top ten, Garbine Muguruza and Karolina Pliskova, come next in the betting and both are currently available at odds of around 10.09/1 on the Exchange.
However, my opinions on these players are somewhat split - both data and my personal thoughts do not rate Muguruza on hard courts currently (she has won just 16 of 28 hard court matches in the last 12 months), and I would be looking for a much more consistent player than the Spaniard at this point in time. Furthermore, Muguruza retired in the Brisbane semi-final against Alize Cornet last week with a thigh injury.
Pliskova, who dominated the field last week in that event, looks a much better prospect for this tournament, and the Czech big-server has a combined hold/break percentage of 113.3% on hard courts in the last 12 months, compared to that of 106.1% for Muguruza.
However, my concern with Pliskova is that she also has suffered with inconsistency - six defeats in her 11 matches post-US Open last year bears testament to this - and that her win in Brisbane has eroded any value on her, having previously traded as big as 18.017/1 for this event. Having said this, it's worth mentioning that she was runner-up in the last hard court Grand Slam, the US Open, to Kerber.
Statistically, Simona Halep is a similar level to both Kerber and Pliskova (113.7% combined hold/break percentage) but the Romanian has a more return-orientated game, and has flattered to deceive for quite some time. She has an awful record against top opponents and is particularly vulnerable on serve against the best players in the world, and my perception of her is that she has plateaued following her stunning breakthrough a few years ago. Halep is still ranked at four in the world, but it is difficult to consider her value priced at 13.012/1, given this and her poor record in Grand Slams - since Wimbledon 2014 she has only made a Grand Slam semi-final once in nine attempts.
A further worry would be a propensity to lose when a heavy favourite - since 2014 in Grand Slams she has lost four times when her starting price was 1.101/10 or below, to Mirjana Lucic-Baroni (twice), Jana Cepelova and Shuai Zhang. It would be reasonable to consider that she has frozen on the biggest stage throughout her career.
Look to take advantage of upward ability curves

For this event, it is the longer odds players who should draw the most attention, with a number of players being of a similar, or slightly lower level than those at much shorter prices, and many also possess an upward ability curve that we can look to take advantage of. Certainly, there are a number of players who possess potential for a back-to-lay proposition.
Any shortlist should not contain Dominika Cibulkova, who has a below-average serve (61.3% service games held on hard court in the last 12 months) and looks flattered by both the world rankings and the betting market following her shock triumph at the WTA Tour Finals in Singapore. Other players who I have no interest in include Lucie Safarova, who has broken opponents a mere 22.9% (more than 10% below the WTA mean) on hard court in the last 12 months following injury and illness.
Another who looks overrated by the market is Eugenie Bouchard, who has been backed into 50.049/1 on the Exchange, despite being just 6-6 on hard court in the last six months, breaking opponents a mere 28.1% of the time. Backing Bouchard to win seven matches in one fortnight, which she cannot even do so in six months, would definitely be classed as extremely ambitious.
Furthermore, veterans Sam Stosur and Venus Williams have endured significant declines in 2016 and are extremely unlikely to recover their former levels. Stosur will enjoy home support, but that didn't even help her at her peak - she has a terrible record in her home country.
With those far from consideration out of the way, we can focus on those players who have strong hold/break data, and are consistent or on an upward ability curve.
Radwanska, Wozniacki and Konta

The aforementioned Radwanska (available at 30.029/1 currently) has superb hold/break data - she has held serve 72.6% and broken opponents 50.6% on hard court in the last 12 months (combined 123.2%) - but she has a poor record against top opponents and a woeful final set record. My in-play data shows that she has lost a break lead in the final set 68.42% of the time since July 2014, while recovering a break deficit in the final set just 44.00%. A top ten player would expect to have a much better recovery figure than lead loss figure, and this illustrates her issues in final sets superbly. However, there are definitely worse propositions than the Pole - world ranked at three - and she could well be a solid outright play depending on the draw.
I would also make a similar point regarding Caroline Wozniacki 34.033/1. The Dane also has hold/break stats at a similar level or better than those higher in the betting - she has held 71.8% on hard courts in the last 12 months while breaking opponents 44.4% of the time (116.2% combined).
A worry for Wozniacki backers is that she hasn't played to that level in the warm-up events. She lost from a dominant position against Julia Goerges in Auckland and was beaten in the Sydney quarter-finals by Barbora Strycova yesterday.
Johanna Konta is also priced at a similar level to Radwanska and Wozniacki, and the Brit has improved significantly following her breakthrough, with her serve-orientated style proving solid - she has held serve 76.9% of the time, while breaking opponents 38.6% (combined 115.5%).
My in-play data also shows that Konta is superb when leading in a match. Since July 2014, she has lost the first break lead in a set just 32.67% of the time, well below the WTA average of just under 50%. Indeed, there are many ATP players who would be envious of this figure.
Prior to the draw, Konta joins Radwanska and Wozniacki on our potential shortlist.
Some other longer-priced players also are worth considering before we know the draw. Elina Svitolina and Svetlana Kuznetsova both have hold/break data which isn't far from most players previously mentioned, and if they can play towards their top level they have the potential to make a big impact.
Daria Kasatkina has also been mentioned by many smart observers as a value long-shot but the Russian has been backed in to 50.049/1 now, and while she fits the bill as talented and improving, with her greater ability on clay, I prefer her as an option for the French Open currently.
At the weekend, I will return to analyse the draw and formalise our portfolio of players, but at the time of writing, Radwanska, Wozniacki, Konta, Svitolina and Kuznetsova look to have potential for inclusion.
Discover the latest articles