Australian Open Quarter Final: Expect super-fit Djokovic to bounce back in style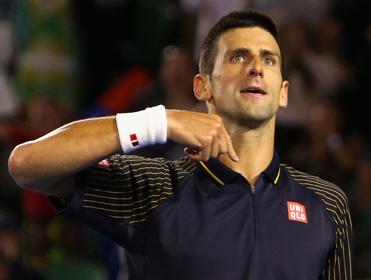 "Back me, I'll be fine." Sean Calvert expects a full recovery from Novak Djokovic.
Tennis expert Sean Calvert believes that Novak Djokovic's scare against Stan Wawrinka will only make him stronger. Which is bad news for tonight's opponent Tomas Berdych..
"I find it hard to see anything other than a Djokovic win here.."

There was misfortune in Melbourne last night as both of my recommended wagers hit the proverbial post.
First up Jeremy Chardy was a little too efficient in closing out Andreas Seppi and after the expected keenly contested match early on the Frenchman ran away with it and scuppered my overs bet by a few games.
Then Sloane Stephens beat Bojana Jovanovski as predicted, but had to go to a decider against the Serb, which put paid to my straight sets win wager.
Tonight's schedule at Melbourne Park features the big match between Novak Djokovic and Tomas Berdych and the obvious question relates to how much energy Nole will have left after the titanic struggle against Stan Wawrinka.
I would suggest that he'll be fine, as we have seen this sort of thing from the world number one before, most recently when going five sets against Seppi and then another five against Jo-Wilfried Tsonga before beating Roger Federer in straight sets at Roland Garros last year.
And, more famously, the Serb did it here in Melbourne 12 months ago when coming through a similar match against Andy Murray to the Wawrinka tussle and then defeating Rafa Nadal in another long five sets.
Obviously he'll be hoping to get his match with Berdych over with as quickly as possible when it begins at 8.30am UK time on Tuesday morning.
He brings an 11-1 head-to-head record over the Czech into this match, which is similar to his prior dominance over Wawrinka, but I'd be amazed if we saw that sort of level from the Berdman over five sets here.
The Czech is yet to drop a set in Melbourne this year, but he certainly should have done against Kevin Anderson whose game suits Berdych - Novak's doesn't.
Berdych has beaten what's been put in front of him and Anderson aside it hasn't been much at all and I find it hard to see anything other than a Djokovic win here, unless there is some sort of injury to the Serb.
Punters looking for a biggish price on this might be well advised to look to Djokovic winning by three sets to one at around 3.8014/5.
Berdych has only managed to break the serve of Djokovic nine times in total in their last eight matches and I can see him falling in the quarter finals again, as he has done for the last two years.
For me the bet is either the set betting or Nole minus 6.5 games on the handicap at around 2.111/10.
In the women's quarter finals tonight I'm taking a chance on Ekaterina Makarova to cover the handicap against Maria Sharapova.
The Russian has been mightily impressive so far this fortnight, but she hasn't faced much and I include Venus Williams, who was awful, in that category of opponent.
Makarova is consistently underrated and although I fully expect Sharapova to come through this one, as she has done in all four of their previous meetings, I'm not sure it will be by the margin of seven games.
The left-handed Makarova benefited from an injured opponent last time in Angelique Kerber, who was in fact the last leftie to beat Sharapova almost a year ago, but she does do well in Melbourne and beat Serena Williams here 12 months ago.
Maria should win, but it will surely be her closest match so far.

Recommended Bets
Back Djokovic minus 6.5 games to beat Berdych at 2.111/10
Back Makarova +6.5 games to beat Sharapova at 2.0811/10
Discover the latest articles