Australian Open Final: Murray and Djokovic set for bruising battle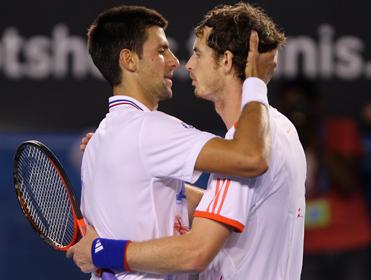 Who will be commiserating with whom on Sunday morning?
Andy Murray bids to make history by winning back-to-back Grand Slam titles on Sunday morning. Standing in his way is world number one Novak Djokovic. Sean Calvert considers the best betting options...
"My play in this one will be centred around the match going long, as it looks sure to go to at least four and quite possibly five sets.."

After two long, virtually sleepless weeks following the 2013 Australian Open we've reached the final day.
And we have the men's final that most expected, with defending champion Novak Djokovic taking on Britain's Andy Murray in the men's championship match.
If it's anywhere near as dramatic as the ladies singles final on Saturday morning - and I expect that it probably will be - then we could be in for a treat.
Hopefully there won't be as many medical time outs as there was when the unfortunate Na Li fell over twice on Rod Laver Arena and hampered her chances of the title.
My tip of a Li win was looking good when she dominated and won set one, but she fell awkwardly in the second set and injured her ankle before falling on her head immediately after the Australia Day fireworks.
Assuming there are no such injuries in the men's final it's a tough one in which to call the winner confidently, although the slight edge is with Djokovic in my opinion.
That's reflected in the world number one's odds of 1.584/7 and I'm sure that if you're thinking of backing Djokovic that you'll get a higher price than that in-running, as this to me looks like it will be close.
The last few meetings have been very tight indeed and although there is an argument that Murray got a touch lucky with the wind in New York, it doesn't matter now, as his confidence is up and he knows he can match Djokovic on the big stage.
I don't think that Murray's five setter with Roger Federer will affect his performance adversely, as he is in great shape physically and barely broke sweat in his matches prior to the semi final.
My play in this one will be centred around the match going long, as it looks sure to go to at least four and quite possibly five sets.
This pair's matches can sometimes turn into a battle where one tries to outlast the other in punishing rallies and hopefully for the sake of Murray supporters he won't get dragged into that sort of match.
I suspect that Djokovic will just about edge this, but I won't be touching the pre-match price. Instead I'll take the 1.748/11 about the match going over 40.5 games and looking to back Novak at a higher price if the opportunity arises.

Recommended Bet
Back over 40.5 games at 1.748/11