Australian Open Betting: The best finals ever
Australian Open Betting

/ Sean Calvert / 10 January 2011 / Leave a Comment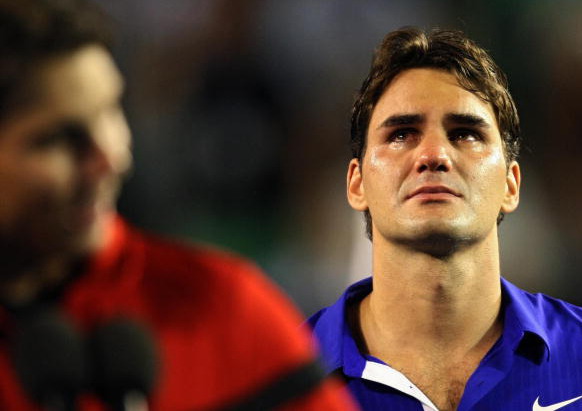 Federer cries his fans a river after as he allows Nadal to get the better of him again
"My recollection of that final is one of the cameraman panning over the
Safin players' box to reveal a collection of blonde beauties, which may
be a hint as to where the party-loving Safin's head was that day."

From Nadal and Federer's epic five-setter that left the Swiss maestro in tears to the day a hungover Marat Safin allowed Tommy Johansson to become a Grand Slam winner, here's Sean Calvert's summary of the best-ever finals.
Perhaps the most unpredictable of the Grand Slams is almost upon us again and with a week to go until Melbourne 2011, I've taken a trip down memory lane to look at some of the best finals in its 42-year open era history.
Thanks to the bizarre scheduling of the first Slam of the year - less than three weeks into the main season - the Australian Open has been known to unearth more than its fair share of unusual winners, finalists and one-hit wonders.
Over the years, the organisers have changed the date of the event several times, after failing to attract top stars in years gone by, but there's little doubt that January 17 is too early in the season to be crowning a Slam winner.
Nevertheless, it does produce some great finals, with the freshest in the memory being arguably one of the best of all, 2009's Rafa Nadal victory over Roger Federer - Rafa's first hard-court Slam title.
This five set thriller is most famous for Federer's tears during the prize giving speeches, but should really be remembered for Nadal's tenacity to go long again after playing the longest match in Australian Open history in his epic semi final win over Fernando
Verdasco.
Australia's own Pat Cash was twice a runner-up in Melbourne, losing both of his finals in five sets to Swedish players - in 1987 to Stefan Edberg on grass and 1988 to Mats Wilander on hard.
The 1988 tournament was the first to be played at the new Flinders Park venue on hard-courts and despite being perhaps better known for Cash being pelted with black tennis balls by anti-apartheid protesters for playing in South Africa the previous year, Cash came through to the championship game by beating world number one, Ivan Lendl.
After a rain delay, the final sparked into life with Cash's serve and volley game working at it's peak, until he ran out of gas late in the fifth set to go down 8-6 in the decider.
The highlight of the 1990's in the men's game was undoubtedly the
rivalry between Andre Agassi and Pete Sampras and the former's 1995
Australian Open final win over the latter was a source of great joy
for 'The Punisher'.
Agassi, sporting his pirate look of bandanna, gold hoop earring and
goatee beard, was making his first appearance in Melbourne and took
out defending champion Sampras, who was struggling mentally after his
coach Tim Gullikson suffered a stroke during the event, in four sets.
Perhaps the most famous of those unlikely champions that I mentioned earlier was Thomas Johansson's shock win of 2002, in which he didn't face a player ranked inside the world's top 20 until the final.
'To-Jo' was himself ranked number 18 and took full advantage of the number one and two seeds (Lleyton Hewitt and Gustavo Kuerten) losing in the first round and Andre Agassi's absence through injury to beat the likes of Jonas Bjorkman, Younes El-Aynaoui and Jiri Novak en route to the final.
There he faced Marat Safin, the former US Open champion and world
number one, who had beaten Pete Sampras and Tommy Haas on the way to
the final and who was a heavy favourite.
Unfortunately for Safin backers, the final was on the Russian's
birthday of January 27, which can't have helped his performance and he
lost in four.
My recollection of that final is one of the cameraman panning over the
Safin players' box to reveal a collection of blonde beauties, which may
be a hint as to where the party-loving Safin's head was that day.
As a consequence of all that, To-Jo's win has been written off as a
fluke, which is a shame and he's still the lowest ranked player ever
to win the Australian Open title.
For sheer resilience, you'd be hard pressed to beat Aussie hero John
Newcombe's 1975 win over Jimmy Connors.
Connors was looking in good touch, having dropped just one set in the
whole tournament coming into the final, whereas Newcombe had been
taken to five sets in three of his four matches, including an 11-9
decider over doubles partner Tony Roche in the semis.
Nevertheless, Newcombe took out Connors in four to claim his second
Aussie Open crown and consign Connors to his third Slam final defeat
out of three in the season.