Australian Open 2017: Four of the best long-shot bets for the first grand slam of the year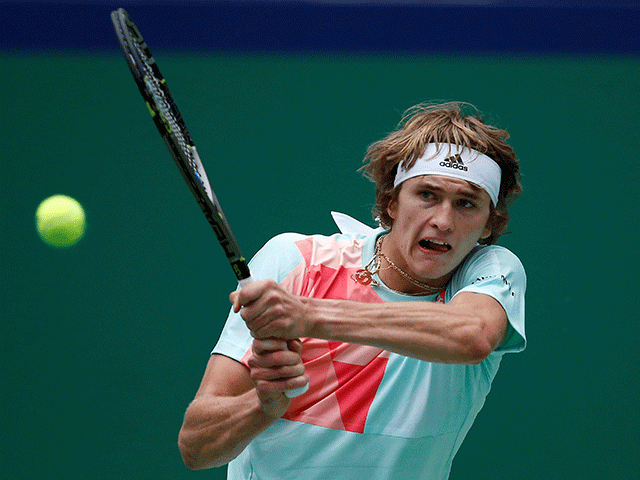 Alexander Zverev ticks plenty of boxes for Dan
Dan Weston takes a look at the men's betting beyond Andy Murray and Novak Djokovic in a hunt for the best long odds value...
"Zverev has recovered break deficits more than 50% in every set in best of three set matches, marking him out to be an elite-level recoverer. This would indicate that he possesses strong levels of fitness and mental strength - huge assets in men's Grand Slam tennis. Depending on his draw, he's definitely on my shortlist of long-shot outright propositions who could trade shorter in-running."
It is debatable whether any other player in the draw possesses both the quality and consistency to threaten Murray and Djokovic - whose chances I have previewed in-depth here - currently out on their own as the elite players on the ATP Tour and priced accordingly in the betting.
Indeed, there are question marks over every single other player in the draw. Legends Rafa Nadal and Roger Federer have to overcome rustiness after missing the end of 2016, and odds of 18.017/1 and 27.026/1 respectively reflect that. Nadal has, at least, played a competitive tournament this year, reaching the quarter-finals of Brisbane, where he succumbed to Milos Raonic despite taking the first set. Federer has had to make do with playing the Hopman Cup exhibition, where he beat Dan Evans and Richard Gasquet, but lost to Alexander Zverev, who I'll mention in greater detail later. Both players also are unlikely to be seeded in the top eight or 16 respectively, which will mean that they have the potential to draw Djokovic and Murray much earlier in the event than they would prefer.
Stan Wawrinka - currently priced at 15.5 - has been at his inconsistent worst post-US Open, with four awful defeats as heavy favourite from September onwards. His decision to play Brisbane last week was bizarre, both considering his record in quick conditions is nothing short of horrific as well as the fact that he has a superb record on the slower courts of Chennai. There can be little doubt that Wawrinka is a player who can beat the best on his day, but the major issue with the world number four is that it's impossible to tell when that day will be.
Ranked ahead of Wawrinka, but priced at the longer odds of 26.025/1, is Milos Raonic, and the Canadian being ranked third in the world is indicative of the current poor depth of the men's game. Without a current title to his name, despite improvements, Raonic still has major deficiencies on return and his serve and mental strength has got him through many matches. I've made the point many times that serve-orientated players tend to struggle in Grand Slams due to greater accumulated fatigue from playing more games per set than average, and it's probably no coincidence that Raonic has frequently picked up injuries in the latter stages of Grand Slam events.
In various ways, temperament affects the following three players in the betting - Kei Nishikori (50.049/1), Grigor Dimitrov (55.054/1) and Nick Kyrgios (65.064/1). Nishikori's mental and physical frailties have been well documented, and despite the Japanese player not lacking talent, until he can address these issues he will not win a Grand Slam.
Dimitrov has also had his fair share of mental demons - including an incredible implosion against Diego Schwartzman in the final of Istanbul last year - but compared to perceptions, I also feel he is lacking talent, and certainly statistics do not back up market faith in the Bulgarian player. On hard court in the last 12 months, he's held serve 83.7% of the time, breaking opponents 21.6% of the time (combined 105.3%) and this makes him out to be a top 15 player, as opposed to being a major contender for Grand Slam titles. At almost 26-years-old, he's also starting to be on the wrong side of the age curve for improvement. I am sure that following his victory in Brisbane last week that people will be tipping him for success here, but he's certainly not one on my shortlist.
The Australian, Kyrgios, will enjoy plenty of support from a partisan home crowd, but hasn't played a competitive match since he was banned by the ATP for 'tanking' against Mischa Zverev in Shanghai. The biggest question mark over Kyrgios isn't his talent - a combined hold/break percentage of 109.1% on hard court in the past 12 months at 21 years of age is hugely impressive, albeit a little serve-orientated for my liking - but his volatile temperament.
At the prices, I'd rather back Kyrgios than the likes of Nishikori, Dimitrov or Raonic but backers of him have to accept that he is as likely to beat Djokovic or Murray as he is to walk off court in a fit of rage.
Zverev and Thiem good statistical fits for strong runs

Every other player in the betting is priced around the 100.099/1 mark or greater, so it's worth examining what qualities I would look for in a long-shot. Firstly, I'd prefer the player to be on an upward curve regarding age and improvement, so veteran players such as Gasquet, Tsonga and Berdych (who looks to be in huge decline based on his return statistics) would be ruled out. In addition to this, I'd also like the player to demonstrate that they have the physical fitness to withstand long matches in a tough tournament.
Two players who fit this dynamic are Alexander Zverev (95.094/1) and Dominic Thiem (170.0169/1). Zverev defeated Federer in the Hopman Cup and the German is worth investigating further. It is a little debatable whether hard court is his best surface, with Zverev having better data on both indoor hard and clay, but what is clear is that he is an improving player with huge upside.
Furthermore, Zverev has a strong record in final sets in the best of three set format, winning 17 of 27 matches in the final set in the last 12 months. In addition to this, my in-play data shows that Zverev has recovered a superb 52.63% of final set break deficits since July 2014 - one of the best on the ATP Tour. Indeed, the 19-year-old has recovered break deficits more than 50% in every set in best of three set matches, marking him out to be an elite-level recoverer. This would indicate that he possesses strong levels of fitness and mental strength - huge assets in men's Grand Slam tennis. Depending on his draw, he's definitely on my shortlist of long-shot outright propositions who could trade shorter in-running.
The young Austrian, Thiem, is supremely fit and also has an excellent final set record in best of three set matches, but similarly to Zverev, has played his best tennis so far in his career away from hard courts. Six months ago, I'd much prefer Thiem to now, but his level towards the end of 2016 seems to have dropped, a possible consequence of a packed schedule meaning that he has played too many matches.
Goffin and Sock could be huge three-figure value

I also much prefer David Goffin (290.0289/1) and Jack Sock (510.0509/1) over fellow younger players Lucas Pouille (170.0169/1) and Bernard Tomic (450.0449/1).
Goffin has a combined 12 month hard court hold/break percentage of 106.2%, slightly better than Sock at 105.5%, and both have had strong starts to 2017 - Goffin beat Andy Murray in Abu Dhabi, and whilst this was an exhibition event, it will give him confidence that he can beat the best players in the world. Sock had an excellent run in the Hopman Cup too, beating Feliciano Lopez and Nick Kyrgios, before falling to Richard Gasquet in a third set tiebreak in the final.
Like his countryman Gael Monfils, Pouille is struggling with injury after retiring to Kyle Edmund last week in Brisbane with a foot injury. In addition, his 12 month hard court hold/break combined percentage is lower at 98.2%, making him merely a mediocre player at this level, although he has shown some improvement.
Tomic's 12 month figure is also below the 100% threshold, at 99.8% and this is a mark of just how much the Australian's career has stagnated. Post Wimbledon, Tomic has won just eight of 17 matches, with seven of the nine defeats coming when favourite, and certainly is far from being a player in form.
Summarising, Djokovic represents much better value than Murray, and would be my choice from the two market front-runners, and it may well be another year or two before the 'Next Generation' launch their challenges in earnest. However, of these, Zverev, Thiem, Goffin and Sock look to be the shortlist of the best pre-draw back-to-lay propositions.
Game-by-Game Betting
Betfair will be offering game-by-game betting for all singles matches on the main three courts at the Australian Open, and then all matches from the quarter-finals onwards.
And a reminder that there is no longer any need to transfer to the 'Australian Wallet' when betting on events Down Under.
Discover the latest articles