ATP Australian Open: Back Djokovic to triumph following a favourable draw
Novak Djokovic has received a favourable draw in Melbourne
With the start of the ATP Australian Open - all available on Betfair Live Video - just two days away, our Tennis columnist Dan Weston has analysed the draw and makes the case for Novak Djokovic to be much shorter in the betting than Andy Murray...

"Djokovic has to wait until the semi-final to play an opponent with over 110% combined hold/break percentage, whilst Murray must do so in the quarter-finals against either Kei Nishikori or Roger Federer."
The draw for the ATP Australian Open is now set, so we can revisit the players highlighted as potential contenders and long-shots in the ATP pre-draw preview from earlier this week and make a final judgement of each player's chances.

The table below illustrates a potential route to the final for each player mentioned in the pre-draw preview, with the players listed in draw difficulty order (easiest to hardest).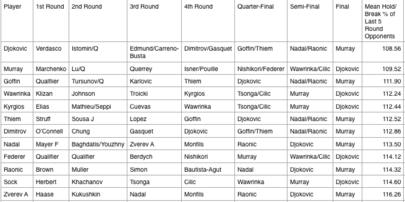 While most people tend to look at the draw for events and make a subjective judgement towards a player's chances, I much prefer to take a quantitative, statistical approach to this.

Therefore, as can be seen in the table above, I analysed each player's final five potential opponents and calculated the combined mean hold/break opponent percentage for each player.

For players where two potential players were named (e.g. Edmund/Carreno-Busta for Djokovic's potential third round opponent), the mean of their combined hold/break percentages were used.

Following this, it is immediately apparent that being seeded in the top two seeds is of extreme benefit. Every other player with the exception of the top two seeds in the event, Andy Murray (1) and Novak Djokovic (2), will have to play both the heavy tournament favourites, unless one of them suffers a shock defeat.

This draw dynamic gave both those players a last five round opponent mean hold/break percentage of over 2% less than every other player, and this analysis indicates that some player's draws are significantly worse than others.
Kind draw for Novak

Firstly, Djokovic's potential last five round draw of Edmund/Carreno-Busta, Dimitrov/Gasquet, Goffin/Thiem, Nadal/Raonic and Murray was assessed to be statistically easier than Murray's Querrey, Isner/Pouille, Nishikori/Federer, Wawrinka/Cilic and Djokovic.

Indeed, Djokovic has to wait until the semi-final to play an opponent with over 110% combined hold/break percentage, whilst Murray must do so in the quarter-finals against either Kei Nishikori or Roger Federer.

Despite this, the market has barely moved for either main contender following the draw. Given the fact that Djokovic was rated higher than Murray in the pre-draw preview, and has the better draw, backing the Serb looks to be a better prospect than the Scotsman.
Market support for Raonic and Federer

The market appears keen on Milos Raonic (now 12.5 from 26.025/1 in the earlier preview) and Roger Federer (14.013/1 from 27.026/1) but this price movement appears bizarre, considering that their last five round opponents have the highest mean combined hold/break percentages of all the main contenders in the betting.

Certainly Raonic - who is likely to face Nadal, Djokovic and Murray from the quarter-finals onwards, will have been hoping for better. Federer could not have hand-picked a better opening two rounds, with two qualifiers in prospect, but will not relish Berdych, Nishikori, Murray, Wawrinka/Cilic and Djokovic as his final five opponents.

However, Federer's Swiss compatriot, Stan Wawrinka, has drifted to a current 26.025/1 which also seems a little odd considering his draw was rated slightly easier than most.
Goffin and Thiem worth chancing at big odds

The draw does appear to favour both David Goffin and Dominic Thiem, who are likely to face off in the fourth round prior to facing Djokovic in the quarter-finals. Goffin's first three round route of qualifier, Tursunov/qualifier and Karlovic - who looked like he was struggling with injury last week - looks marginally easier than Thiem's path of Struff, Sousa and Lopez.

Furthermore, both players were drawn in the second half of the draw, playing on the latter day of the round each day for the first week, and have the potential benefit of players potentially getting knocked out in advance of their fourth round match. Backing either player with a view to trade in-running looks to be a reasonable strategy.

Nick Kyrgios also looks to be a player who can be happy with his draw, but the odds on the Australian have contracted and considering his inconsistency, he is now unattractive on the Exchange. He can, however, be considered at 50/1 on the Sportsbook.

Finally, I also highlighted Jack Sock at 510.0509/1 as having pre-draw potential. His run to the final of the Auckland warm-up event has seen his price shorten to 150.0149/1 on the exchange, and his draw looks tough as well - he has the hardest-rated draw of those analysed.

Considering that the American is likely to be fatigued by his efforts in New Zealand, not to mention his travel arrangements, and also has doubles commitments, he looks to be one to be scrubbed off the shortlist.

Recommended Bets
Back Novak Djokovic to win the Australian Open @ 2.789/5
Back-to-lay David Goffin @ 150.0149/1
Back-to-lay Dominic Thiem @ 100.099/1

***

Follow Dan on Twitter @TennisRatings
Watch the Australian Open on Betfair Live Video!
Betfair customers will be able to watch the Australian Open on our Live Video service on both the Sportsbook and Exchange. This service is only available to customers in the UK and Ireland.
Discover the latest articles