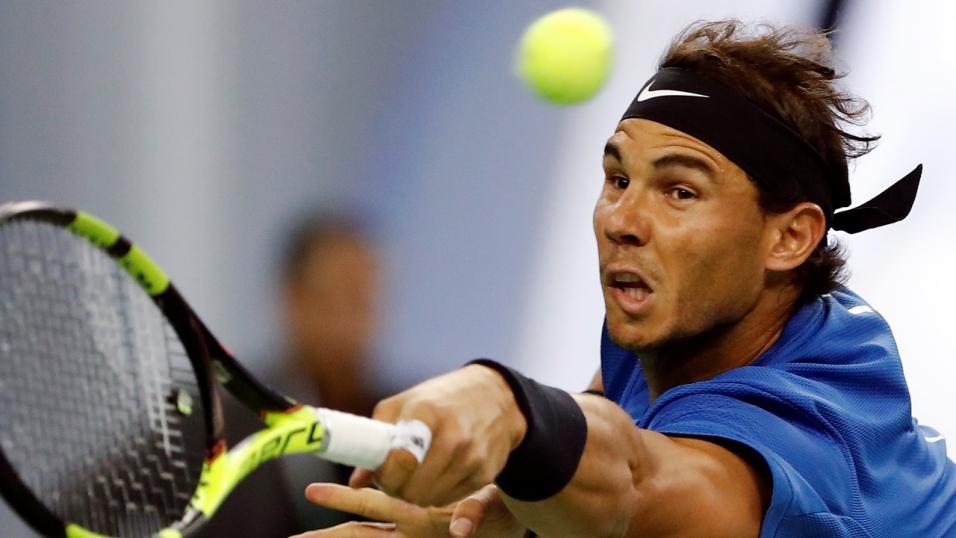 Rafa Nadal's is likely to pressure Goffin despite fitness concerns...
It's day two of the ATP World Tour Finals today, and after wins for Roger Federer and Alexander Zverev on day one, our tennis columnist, Dan Weston, is back to preview Monday's two singles matches...
"In the two main tour head to head matches, Goffin has faced 25 break points in just four sets, and similar levels of performance are going to see his serve come under huge levels of pressure today."
Federer and Zverev with wins on day one in London
Roger Federer got his Tour Finals campaign underway with a straight-set win over Jack Sock, although it wasn't - from a scoreline basis - straightforward, with a 6-4 7-6 win recorded. However, match stats indicate it was far easier than that scoreline suggested, with Sock yet again failing to create a break point chance against the Swiss legend, now having done so just twice across eight head to head sets, in what looks like a pretty bad match-up for the American.
In the predictably close evening match, Alexander Zverev reeled off five of the last six games to recover from a break down to win the final set against Marin Cilic, putting the Croat in the unenviable position of needing to win against Sock, and in all probability, Federer, to make the last four.
Accumulated fatigue a huge issue for Thiem late in the season
Getting today's action started at 14:00 UK time is Dominic Thiem and Grigor Dimitrov, with the Austrian making this event largely on the basis of his form in the earlier parts of the season.
In his typical post-US Open lull - almost certainly caused due to accumulated fatigue from playing too many tournaments and too much cross-continent travel earlier in the season - Thiem has won just two of the seven main tour matches he has competed in following the final Grand Slam of the season, despite being a favourite in all of them - not to mention being a sub [1.50] favourite on five occasions.
Indoors far from Thiem's best surface
Given this, and the poor record Thiem has indoors generally, it's unsurprising to see Dimitrov installed as the [1.47] favourite on the Exchange. Thiem is 10-10 indoors in the last two years, with a sub 100% combined serve and return points won percentage. In effect, he's barely shown top 50 level on the surface in this time period.
Dimitrov, on the other hand, is strong indoors, winning 68% of points on serve in this time period, not to mention 36.7% on return (104.7% combined) and statistics indicate that he has quite a liking for the quicker conditions on tour.
Having said this, my model doesn't account for any accumulated fatigue, merely taking into account the effect this would have had on Thiem's recent numbers, and did largely agree with the current market prices. With this in mind, I'd rather back Dimitrov at prices than Thiem, but it's certainly not clear-cut.
Fitness doubts the main talking point for Rafa
In the night match at 20:00 UK time, Rafa Nadal starts his tournament with a clash with David Goffin despite speculation that the King of Clay wouldn't be fit to take to the courts.
Nadal is currently available at [1.30] on the Exchange, and taking these fitness doubts into account, my model did agree with this line - he'd be a fair bit shorter assuming full fitness.
Despite fitness issues, Nadal likely to thrive on Goffin's serve
If Goffin is to overturn the odds, he'll need to reverse a 3-0 head to head deficit which has seen him lose six straight sets, as well as address the issues that he has on serve against such an elite-level returner. In the two main tour head to head matches, Goffin has faced 25 break points across just four sets, and similar levels of performance are going to see his serve come under huge levels of pressure today.
This was also evidenced by Goffin's low projected hold percentage of 73.8% according to my model, and with Nadal an elite-level recoverer of break deficits, perhaps the best trading strategy today would be to back Nadal when a break down and trading above starting price.
However, anyone doing so would certainly need to assess Nadal's level previously in the match, with particular reference to his success on return. Bearing Nadal's well-documented fitness issues in mind, ideally Nadal will have been able to put a reasonable amount of pressure on the Goffin serve, prior to finding himself a break down.

Recommended Bets
Back Rafael Nadal when a break down and trading above starting price against David Goffin (as long as he has been relatively competitive on return)

***

Follow Dan on Twitter @TennisRatings