ATP World Tour Finals Betting: Wawrinka to seal semi final spot with a win over Ferrer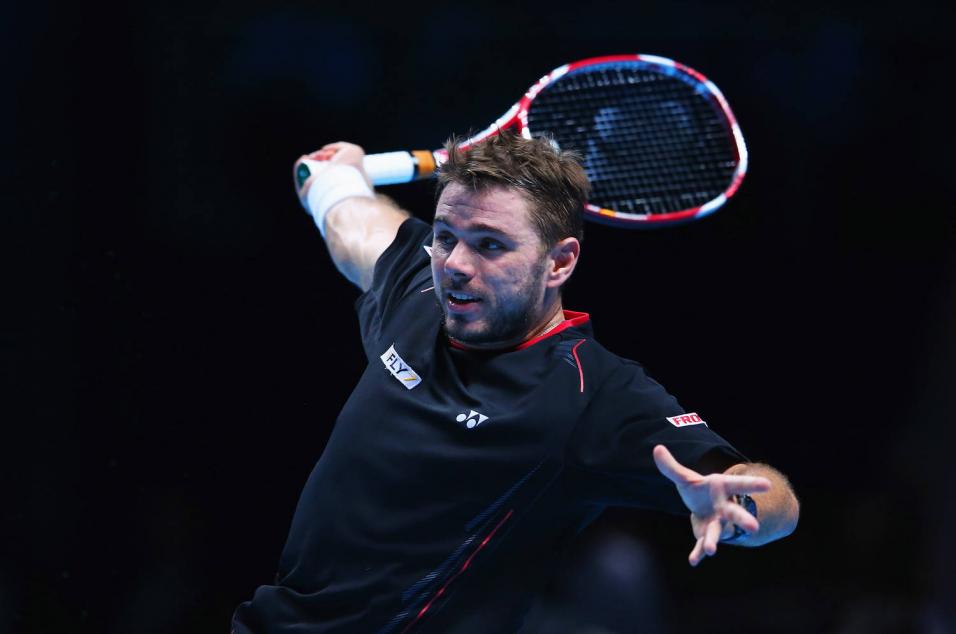 Will the Wawrinka backhand fire against Ferrer?
Sean Calvert was not happy with Richard Gasquet's performance yesterday and is hoping that Stan Wawrinka can make amends today at the ATP World Tour Finals against David Ferrer...
"A Ferrer playing just for pride shouldn't have the intensity that he needs to produce his best game, which by its very nature requires enthusiasm and energy..."

A finer example of the art of losing a match before you've even struck a ball could not be found than Richard Gasquet's appearance at the o2 Arena on Thursday.
The mentally brittle Frenchman at no stage looked like he had an ounce of belief that he deserved to be on the same court as even this 2013 version of Roger Federer yesterday and the only other reasoning for that could be an apparent illness that Gasquet was suffering from.
Either way it was hugely disappointing and perfect for Federer, who despite joining in the shanking, was always safe in the knowledge that his opponent didn't have the bottle to give him a match, which allowed him to produce some masterly strokes to please the expectant o2 crowd.
All in all it was another poor match in what has been a tournament dominated by errors over winners and much of that can be put down to the slow conditions and bad scheduling and once again that lies with the ATP.
At least Stan Wawrinka can be pleased with his contribution so far and the Swiss has the chance to take his place in the semi finals here if he can achieve the desired result against David Ferrer this afternoon.
Wawrinka faces what should be a pretty demotivated opponent in Ferrer, who can't now qualify for the last four whatever happens, while Stan knows that if he beats Ferrer and Nadal beats Berdych as he surely will, then he is through.
Ferrer has looked spent in his two matches here so far and as I said in my tournament preview he nullified his chances here by playing six straight weeks on the tour before coming here.
Wawrinka on the other hand played far fewer matches post US Open and consequently Stan has looked much fresher and of course he was always more likely to take this event seriously in his first time here.
I did not expect the Swiss to beat Tomas Berdych in match one here, but the Czech was so poor that day and improved out of sight against Ferrer on Wednesday night when he became more aggressive.
This afternoon's meeting will be the 12th in the career series of Ferrer and Wawrinka, most of which have taken place on clay, including their two clashes this season, which were shared.
On hard courts Ferrer leads 2-1, but today isn't about head-to-heads it's about how much Ferrer can be bothered to give in these circumstances and how tight Stan gets if he gets close to winning.
We saw once again in his loss to Rafa Nadal that Stan can play some superb tennis when the pressure isn't at its peak, but he does tend to become a tad suspect when push comes to shove and that's always my concern with him.
A Ferrer playing just for pride shouldn't have the intensity that he needs to produce his best game, which by its very nature requires enthusiasm and energy and I'm tempted by the Wawrinka 2-0 here at around 2.35/4.
Berdych showed how vulnerable Ferrer can be to an opponent with power, even on this awful court and Stan has the weapons, if he's capable of using them, to inflict a similar defeat upon the world number three.
Stan did give the Spaniard a beating on clay last time they met in Oeiras, Portugal in the spring and that should give him added confidence, but I just question how down he would have felt after that Nadal loss.
I think the best play here is to back Wawrinka to win at 1.558/15. It may not be pretty, but he should get it done.
Should Stan win set one then laying Ferrer's serve at short odds in the game betting markets in set two may prove profitable or backing Wawrinka minus 1.5 games in the set two handicap could too, as the fight may go from Ferrer quite quickly.

Recommended Bet
Back Wawrinka to beat Ferrer at 1.558/15
Discover the latest articles