ATP World Tour Finals Betting: Nadal to have few problems with overmatched Wawrinka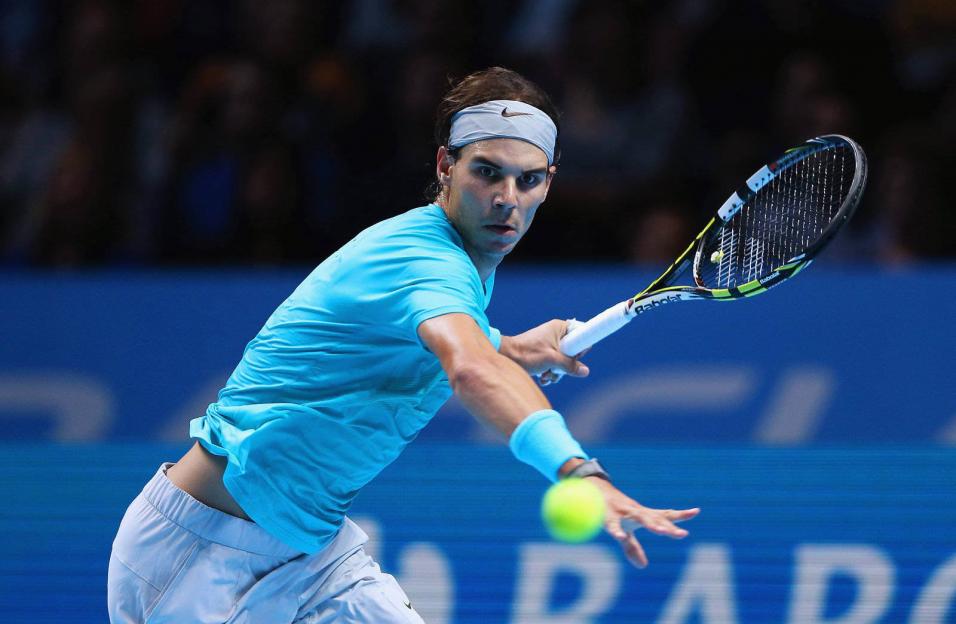 The Nadal forehand is a big problem for Wawrinka
The slow courts are causing problems for players and punters at the ATP World Tour Finals, but Rafa Nadal loves them and Sean Calvert can't see him being beaten by Stan Wawrinka today...
"Stan's best shot is the cross court single handed backhand, which unfortunately for him goes straight into the Nadal forehand and that spells bad news for the Swiss."

My concerns over David Ferrer's fitness after numerous long weeks on the tour proved reasonable on Tuesday when a tired-looking Ferrer was sunk without trace by Rafa Nadal.
This O2 court surface certainly played its part in the mauling and surely it's one of the slowest, if not the slowest indoor court I can remember seeing.
The rest of the field will find it tough to hit through Rafa in these conditions, which at least is good news for those who backed Nadal to win his group.
And Rafa should be able to seal that semi final spot on Wednesday when he takes on Stan Wawrinka for the 12th time in a match-up that is a disaster for the Swiss number two.
Wawrinka has already cost me once this week with a surprisingly nerveless display against Tomas Berdych (apart from the 0-7 tie break) but it's hard to see how he can turn a poor match-up in which he hasn't taken so much as a set from Nadal around.
The slow court here in London won't help him one bit and the last time he played Rafa was on a far quicker surface in Shanghai and he still wasn't able to hurt Nadal, although Wawrinka did hold set points in the opener of that one.
With this event utilising the round robin format it's probable that Stan will see his best chance of qualifying to be by defeating a tired-looking Ferrer in the final match of the group, by which time Ferrer may already be out of the reckoning, so I can't see him busting a gut in this one.
And of course therein lies the problem with the round robin system. Fans get to see their favourites play three matches, but not all will be competitive by any means.
Rafa on the other hand will see this as a decent opportunity to qualify for the semis without having to defeat a fired-up and probably desperate Berdych in his final match and the likelihood here is that Nadal will win fairly comfortably today.
The world number one was good without being devastating against Ferrer on Tuesday, but he didn't need to be, with the conditions suiting his game and as long as he enough in the tank he'll be tough to beat here.
Stan's best shot is the cross court single handed backhand, which unfortunately for him goes straight into the Nadal forehand and that spells bad news for the Swiss, whose game isn't at the level required where he can come up with a new game plan to beat Rafa another way.
If your main form of attack plays straight into the world number one's strength you've clearly got problems and Magnus Norman must have spent a while trying to coax his charge into believing he can win this. Chances are he won't.
It's tough to find some value in such a one-sided match-up, as the layers have everything covered unless you believe in a Wawrinka miracle, but the Nadal 2-0 looks a solid wager at 1.574/7.
The unders at 21.5 total games is also worthy of consideration here, with Wawrinka likely to struggle to break Rafa's serve.
The game betting may also be of interest, with Nadal likely to break Stan's serve often on this slow surface and laying Wawrinka when serving could prove fruitful.
A bigger priced opportunity lies in the set one correct score and if Rafa serves first the 6-3 Nadal looks good at 4.57/2 and if he receives first the 6-4 at 4.75 would be the call.

Recommended Bet
Back Nadal to beat Wawrinka 2-0 at 1.574/7

Best Cash Out Opportunity
Back Nadal to win set one either 6-3 or 6-4 (depending on serve)
Discover the latest articles