ATP World Tour Finals Betting: Nadal to continue dominance over group rivals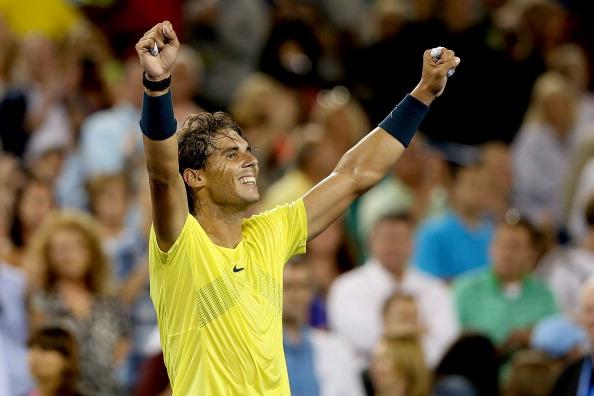 Rafa Nadal looks a good bet to win his group
The final event of the 2013 ATP World Tour season is all set to go in London, as the world's top eight players head to the O2 Arena and Sean Calvert selects the best bets...
"The 1.674/6 about Nadal to top the group looks pretty reasonable, given his record against the opposition and he will be motivated by the fact that he's still not certain to end the year at number one in the world rankings."
In a somewhat bizarre break from tradition all eight of the protagonists in London made at least the quarter finals in Bercy, which is unprecedented and it may have done some more harm than good.
One obvious case that springs to mind is Juan Martin Del Potro, who has now played 17 matches since week 40 and looked pretty much done against Roger Federer in Paris on Friday.
Federer himself has played 11 in the same time frame, while Richard Gasquet (13), Stan Wawrinka (9), Rafa Nadal (13), Tomas Berdych (9) and Novak Djokovic (15) have all played fewer than Delpo.
The exception here is the seemingly indefatigable David Ferrer, who probably shouldn't have played Stockholm with his own tournament in Valencia to come, followed by defending 1000 ranking points in Bercy.
In all likelihood Ferrer won't be factor in London anyway based on his record against the very top players, but his chances are even slimmer now, as are Del Potro's.
As a betting medium I've never been a big fan of this tournament, with its round robin format, designed purely with money in mind, generally leading to several meaningless matches.
The results tend to be entirely predictable and consequently there are plenty of short priced winners, making value seeking very hard to come by, as a look at last year's stats shows.
Of the 15 matches contested here in 2012, 12 were won by the favourite and the other three winners were at prices of 2.0811/10, 2.226/5 and 3.08, while there were eight winners at prices of 1.21/5 or shorter.
And it's little better in terms of the outright market as well, with Nikolay Davydenko's 2009 victory here the only surprise and the only time that Federer hasn't featured in a final here.
The draw for the groups must have delighted Nadal, who is drawn with Ferrer, Berdych and Wawrinka and Rafa has an excellent record against all three of those opponents.
Group B sees Djokovic take on Del Potro, Federer and Gasquet, the latter of whom must have been relieved not to have been drawn with Nadal.
Starting with Group A then and the 1.674/6 about Nadal to top the group looks pretty reasonable, given his record against the opposition and he will be motivated by the fact that he's still not certain to end the year at number one in the world rankings.
Ferrer should be pretty much cooked after his heavy schedule, while Wawrinka has a big problem believing he deserves to be in this company and has a 1-12 record against the current top-10 ranked players indoors in his career and the one win was back in 2006 when Djokovic was ranked number 16.
Stan is a fantastic talent and a joy to watch at times, but he is seriously lacking in belief and I'd be surprised if he wins more than one match here this week.
Berdych therefore looks the choice to take the other qualifying place and he at least has a 9-16 record against the top-10 on indoor hard and he along with Wawrinka has played the least number of matches in the last few weeks and is more used to mixing it with the big guns than Wawrinka. The 2.56/4 about him qualifying looks good here.
In Group B the 1.674/6 about Djokovic topping the group holds less appeal given his heavy schedule of late and he looked to be less than 100% physically against Ferrer on Sunday in Bercy.
As I said earlier, I think that Del Potro has played too much tennis to be at his best this week and Federer looks a better choice to qualify at around 1.84/5 and he could even win this group at 7.06/1, but much will depend on Novak's fitness here.
The Swiss maestro, although back to much better form than for most of this season, is unlikely to add another year end crown to his CV though, with that bit of court speed and concentration gone for good and a semi final spot seems his best hope.
As for Gasquet, well, he falls into a similar category to Wawrinka in that I doubt that he believes he deserves to be in this company and his head-to-head record reads 4-25 against the other three in the group.
Of course, he probably stands a better chance of beating Federer now than in most of their 12 previous meetings, but it seems a long shot that he can qualify.
The outright winner market favours Djokovic at 2.26/5, but it's a bit of a risk with his fitness unknown, although he would be my choice otherwise.

Recommended Bet
Discover the latest articles