ATP World Tour Finals Betting: Del Potro the value in London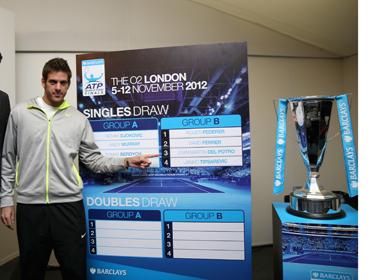 Backing Del Potro points to a good wager this week according to Sean
The stars of men's tennis have touched down in London for the ATP World Tour Finals at the O2 and tennis expert Sean Calvert takes us through the contenders..
"I think it makes sense to side with the in-form Del Potro to land this title.."
We've reached the end of the 2012 ATP World Tour, which can mean only one thing - it's time for the Barclays ATP World Tour Finals. 
This cash cow, knockabout of a tournament marketed as the 'Final Showdown', is little more than a final chance to make some money out a bedraggled selection of the world's top stars, who arrive here in various questionable states of health, fitness and motivation.
The draw of the two groups of four this year has resulted in one 'group of death' and a second group that looks like Roger Federer has hand-picked the opposition himself, the Swiss holding a career overall record of 32-3 against them. 
Group A then contains Novak Djokovic, Andy Murray, Tomas Berdych and Jo-Wilfried Tsonga, while Group B has Federer, Juan Martin Del Potro, Janko Tipsarevic and David Ferrer as the combatants. 
Last year's round robin matches produced three odds-against winners and nine wins for the favourites, with Ferrer's victory over an injured Murray and an injured Djokovic plus alternate Tipsarevic's win over Djokovic the only shocks all tournament. 
This year Tipsy is here in his own right, but how long he'll last is debatable after quitting in Paris last week and in any case he has a 1-11 record against the other members of Group B.
Ferrer may not be as sprightly as normal after two long weeks on tour where he's reached the final both times and he will be key to Spain's Davis Cup final hopes after this. 
Del Potro also put in only a token effort in Paris, which was to be expected after he too had reached a couple of finals on the bounce including beating Federer in Basel and for my money he represents decent value at around 10.09/1.
Federer hasn't looked the player he was earlier in the season lately and he hasn't beaten a top-10 player since defeating Djokovic in Cincinnati in the summer, losing to Murray, Berdych and Del Potro, so the 3.953/1 about him retaining his title doesn't look great value to me.
Group A will depend on how much effort Murray and Djokovic are putting in and the latter has a very average 5-5 win/loss record at the O2, which is hardly tempting me to rush out and back the 3.1511/5 currently on offer about the Serb.
He may well win of course - he should do as world number one - but that group is tough and Djokovic always seems to have something wrong with him physically at this time of the year and if I remember rightly even a dodgy contact lens has hampered him here before. 
Murray should, in theory, be keen to atone to the home crowd for his injury restricted performance here 12 months ago, but again he's never done that well here and he's lost from match point up in each of his last three tournaments. 
The Scot should go well, but there are enough concerns to warrant avoiding him at a skinny-looking 3.7511/4. 
All of which means that Berdych and Tsonga have chances to get out of this group, but surely only one of them will and I prefer the claims of Tsonga at a tempting 38.037/1 to spring a surprise, rather than the Czech.
Both were disappointing in Paris, where they should have done better in their respective quarter finals, but Tsonga did reach the final here last year and he's more likely to become inspired by the atmosphere and big stage than Berdych.
On current form Berdych has the edge over the Frenchman, but 26.025/1 is a little bit short for my liking and Tsonga did beat Berdych in the semi-finals here last year.
Group A is too tough to call with any real confidence though and I think it makes sense to side with the in-form Del Potro to land this title at a price of around 10.09/1 with Tsonga as a back-up at 38.037/1.
Recommended Bets
Back Del Potro at 10.09/1
Back to lay Tsonga at 38.037/1
Discover the latest articles