WWE Royal Rumble 2019: Let's get Ready to Rumble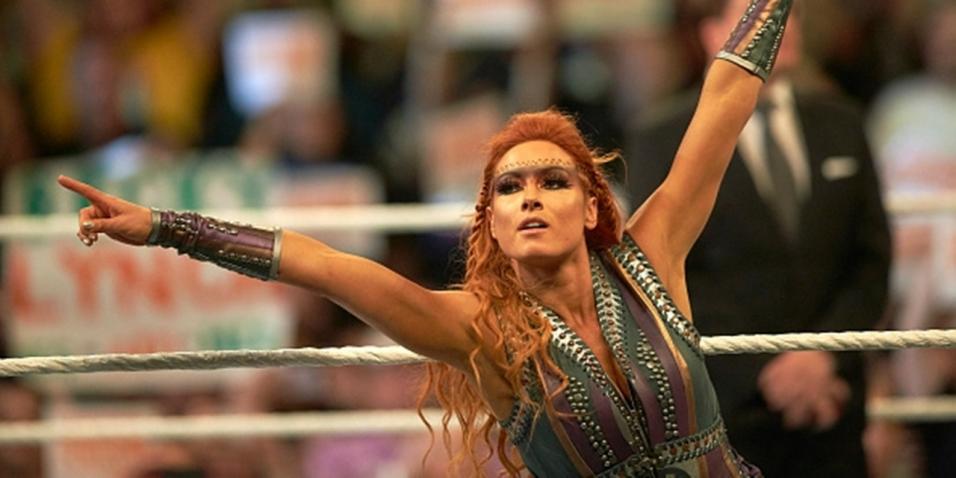 Can Becky Lynch live up to the hype?
It's time to Rumble...it's time for the ROYAL RUMBLE. The Road to Wrestlemania begins in Phoenix Arizona this weekend as 43,000 WWE fans will pack Chase Field to witness one of the highlights of the Sports Entertainment calendar. Paul Robinson takes you through the card and his best bets.
"The Women's Rumble arguably holds more intrigue than the men's this year as Becky Lynch has developed a huge following over the last few months, and while she isn't even in the match (yet), she is still as short as 11/8 to win it."
WWE Royal Rumble
Sunday January 27
Live on Sky Box Office & WWE Network
McIntrye to dominate but come up short
Seth Rollins has long been considered a likely winner of this year's Royal Rumble as the former Shield member became an obvious candidate to dethrone Brock Lesnar at Wrestlemania.
His current odds of 8/15 (Saturday AM) have shortened a little bit from the 4/5 that was generally on offer in the last few days. He is still the most obvious choice, but an 8/15 shot in a market like this isn't worth backing.
Next best is another Raw superstar, in the shape of Braun Strowman. The Monster among Men had been originally due to face Lesnar in the WWE Universal Title match, but low ratings and a dreadful promo from Braun clearly caused Vince McMahon to change his mind and shake things up.
All is not lost for Strowman, he was booked strong in the Raw before the Rumble, and McMahon might have decided to re-build him ahead of a showdown with Lesnar at Wrestlemania. Strowman hasn't been officially announced as a Rumble participant, but if he is in, odds of 5/2 wouldn't be the worst in the world.
Third in the betting is Drew McIntryre. The Scot has been pushed heavily since his return to the company and he is clearly being positioned as a top star in the future. Mania might be a bit soon for him though, and I doubt they would go heel v heel for the Universal Title on the grandest stage of them all. 8/1 doesn't float my boat.
John Cena is 12/1 and an argument could be made that he could win and challenge Daniel Bryan at Wrestlemania, where he would be aiming to beat Ric Flair's title reign record. There are conflicting reports over his movie schedule though, with an ankle injury used as an excuse to have him not be on WWE tv this week.
Other notable options in the betting are Kenny Omega (16/1), Andrade Cien Almas (20/1) and Batista (40/1). Omega's NJPW contract expires on Jan 31st and while his last week could obviously be bought out, it's more likely that he will head to AEW with his friends, Cody Rhodes, The Young Bucks and Chris Jericho.
Almas is an interesting one as he is being heavily pushed on Smackdown, and does have a bright future, but unless Daniel Bryan drops the title before Wrestlemania, I can't see Almas winning here.
Batista has long been rumoured to be returning for a Wrestlemania match this year, with Triple H being the opponents. Hunter was injured at Crown Jewell though, so if he's not cleared to wrestle, a Batista v Lesnar match could be the next best scenario.
Other markets available on this match are Final Four, Iron Man and Most Eliminations. McIntyre for most eliminations stands out at 4/5 as they will want to keep him strong if he's not winning, and it would be believable too, given his size.
Iron Man is much more open, with Mustafa Ali leading the way at 3/1. He, along with fellow Smackdown superstar, Almas (6/1), fit the bill as they are smaller guys who could easily do an hour. Seth Rollins at 5/1 could also be a decent bet if he's going to do a Shawn Michaels and win from the number one or two position.
For the Final Four, I like Randy Orton at 5/1. He's always positioned as a top superstar who could win any match, and while I don't expect him to claim his third Rumble on Sunday, I do think he'll be in the mix at the end.
The Man to win the Women's Rumble
The Women's Rumble arguably holds more intrigue than the men's this year as Becky Lynch has developed a huge following over the last few months, and while she isn't even in the match (yet), she is still as short as 11/8 to win it.
'The Man' looks set to face Ronda Rousey at Wrestlemania, with the only query being whether Charlotte Flair will be added to make it a triple threat.
Flair is favourite to win here at 4/6, and you could easily think that she wins and challenges Asuka to a rematch from last year's Mania. The other option is of course that she challenges Rousey and Becky somehow gets her way into the match.
Alexa Bliss is third favourite at 9/1 as the Goddess announced her return to the ring on Raw this past week. I can't be having anything other than a Flair or Lynch win though, and at the odds, I'm backing Becky at 11/8.
For most eliminations in this match, Nia Jax is 7/4 and it's quite conceivable that she could come in and clean house. My concern here though is that she won't be entering until late given her size, and I'd rather back Charlotte at 2/1.
Heel Bryan to head into Wrestlemania as champion
Daniel Bryan is the favourite to retain his WWE title at the 4/11 mark and I can't see any other result. AJ Styles has had a long run, and with Bryan's 'New Daniel Bryan' character taking off, it wouldn't make any sense to take the title off him at this point.
The Beast to beat The Demon
Brock Lesnar is 3/10 to retain and while Finn Balor (2/1) is receiving a renewed push at present, it would seem ludicrous to have Brock not go into Wrestlemania as champion. The only possible scenario for a Lesnar defeat is Strowman interference, and while that is plausible, I can't see Vince McMahon having Finn Balor go into the biggest show of the year as champion.
Best of the Rest
Ronda Rousey is 1/14 to beat Sasha Banks and while that should be 1/100, I won't be backing at such short odds. An odds-on shot I do like though is Asuka to beat Becky Lynch. I can see some kind of shenanigans here that see Lynch lose and then enter the Rumble.
New Smackdown tag-team, Shane McMahon and The Miz are 2/5 favourites to beat The Bar and gain the Smackdown tag titles. It makes sense from the booking on TV as while I initially thought that the pairing was a set-up for the Miz to turn on Shane, that likely won't happen yet - if at all.
#OddsOnThat
The Betfair Sportsbook have come up trumps again, with some really good #OddsOnThat propositions.
Of the 21 bets they have on offer, I like Elias to enter the Men's Rumble as participant number one at 5/1, This is because he would have time to do some mic work and play a song before the match gets underway.
I also like Mustafa Ali to eliminate Samoa Joe from the Rumble at 2/1. These two have been feuding on Smackdown, with Joe getting the better of it so far. Being eliminated by the smaller, Ali, would extend that feud and give Joe something to be mad about.

Discover the latest articles
Read past articles