WWE Wrestlemania 32: Exclusive betting preview for the big event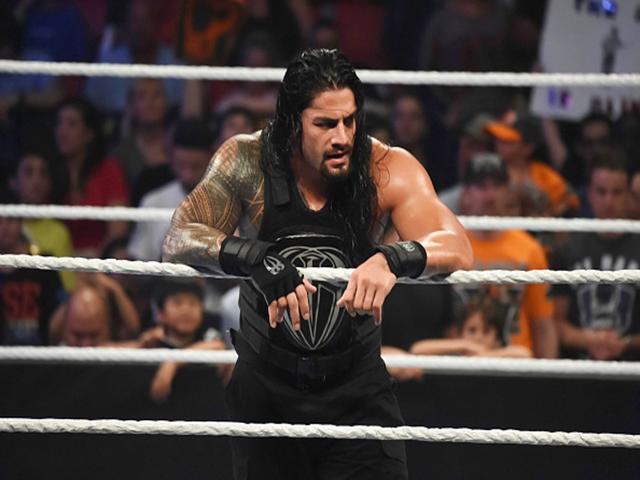 It's going to be a rough night for Roman Reigns
It's the biggest event of the year for sports entertainment fans as Wrestlemania 32 rolls into Dallas, Texas, with 100,000 fans expected to be in attendance. Paul Robinson has all the betting angles covered...
"Obviously the rub he would give Ambrose would be huge if 'The Lunatic Fringe' took the victory but I have this down as a Brock win with a hugely creditable performance from Ambrose - possibly ending in a handshake or some kind of show of respect."
WWE Wrestlemania 32
Sunday April 3
Live on Sky Box Office & WWE Network

Hell In A Cell Match
The Undertaker 4/9 v Shane McMahon 13/8
After opening up as a very warm favourite, The Undertaker's price drifted all the way out to 5/6 before coming back into 4/9 at time of writing.
This is a match that nobody really expected and while the storyline doesn't make too much sense, this is being sold as a spectacle that should hook in old fans who remember the stunts that Shane has a penchant for performing.
There are far too many different permutations to cover here as if Shane-O-Mac wins he gets storyline control of Monday Night Raw while The Undertaker needs to win to prolong his Wrestlemania career.
There have been plenty of rumours of outside interference - possibly from a debuting Balor Club, but I'm not overly convinced. John Cena could be a fly in the ointment as he was indeed scheduled to face Taker at this Wrestlemania before his injury, and he's close to a return so could get involved here and set up a match with The Deadman at Wrestlemania 33.
This should be a fun match that leans more towards sports entertainment than wrestling but I'm intrigued to see how it pans out and if I were to have a bet, I'd be keen to back The Undertaker - especially if he drifts towards even money again.

WWE Heavyweight Championship Match
Roman Reigns 1/4 v Triple H 5/2
This match has been in the pipeline for a good six months now and we are finally going to get to see it on the grandest stage of them all. The problem is, the WWE top brass want the fans to be solidly behind the challenger, Roman Reigns, but that isn't the case and it certainly won't be the case on Sunday.
Reigns has been pushed to the moon by Vince McMahon but he's just not connecting with the majority of the fans and the boos will be deafening if he closes the show as the WWE Heavyweight Champion.
The former Shield man opened up at around the 1/7 mark but it's 'The Game' who's been backed and Reigns is now only a 1/4 shot. It would be an incredible turnaround from McMahon if Reigns doesn't win here but stranger things have happened.
There is an outside chance that there could be a 'double turn' with Trips turning babyface and Reigns going heel but that is more of a fantasy bookers dream. If this match doesn't close the show then Reigns is winning, but if it is indeed the 'Main Event', there have to be some doubts about the outcome as would Vince McMahon really want his premiere event to end with 100,000 people booing the man who is supposed to be the storyline fan favourite? No bet.

Andre The Giant Memorial Battle Royal
This match is on the pre-show so get your bets on early. Braun Strowman has long been rumoured to win this but his momentum has been cooled off in recent weeks and I wouldn't back him at 6/5. The next two in the betting as of writing are John Cena 2/1 and Goldberg 9/4. I can't see them being in this myself as it's on the pre-show and unless it's switched to the main ppv, there is no way either of them will be involved, let alone winning it.
Texas' Mark Henry is a decent shout at 7/2 as this is rumoured to be his last ever Wrestlemania and the WWE veteran could be given a nice send off in front of his home crowd. I also wouldn't rule out Bray Wyatt at 9/2 as he is an upper mid-carder that management are always keen to protect.
Of the rest, the only other person I could give a chance to would be the Big Show at 10/1 as he won it last year and stranger things have happened than a back to back battle royal winner.

No Holds Barred Match
Brock Lesnar 5/4 v Dean Ambrose 4/7
I'm surprised by the odds here as I would have thought that Lesnar would be the favourite. He's had a patchy year having lost a couple of matches and while he's been kept strong, you don't pay someone millions of dollars per year to turn up a few times and lose.
Obviously the rub he would give Ambrose would be huge if 'The Lunatic Fringe' took the victory but I have this down as a Brock win with a hugely creditable performance from Ambrose - possibly ending in a handshake or some kind of show of respect.

Prop Specials
Betfair have surpassed themselves by offering 15 different Prop Specials markets and there are three that have some value in them. You can back Over 1.5 announce tables to be broken on the night at 5/6 and that is far too big. One is absolutely guaranteed and with some of the matches in store, a second should follow.
A second offering that should be much shorter is Over 1.5 Finishing Moves to be performed in the Battle Royal at 8/11. I know it's not a normal match but The Big Show is surely certain for a KO Punch, Kane can do a Chokeslam and Wyatt will get a Sister Abigail in.
A final selection is John Cena to make a live in-house appearance on the night at 10/11. He has to appear at ringside to collect but in a four hour show, WWE's biggest star will surely make some sort of appearance.

Recommended Bets
Back The Undertaker (if even money or better)
Back Brock Lesnar @ 5/4
Back Over 1.5 Announce Tables to be Broken @ 5/6
Back Over 1.5 Finishing Moves in The Andre The Giant Battle Royal @ 8/11
Back a John Cena live-in house appearance @ 10/11
Discover the latest articles