WWE Royal Rumble: Exclusive betting preview for the big event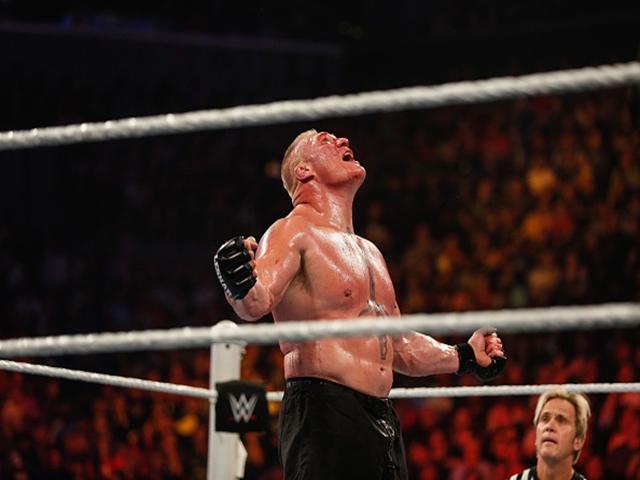 Can Brock Lesnar conquer The Royal Rumble?
The road to Wrestlemania begins in Orlando, Florida on Sunday night as the 29th annual Royal Rumble takes place at the Amway Center and Paul Robinson has all the betting angles covered...
"I quite like Brock Lesnar at 3/1 though as he's the biggest asset they have and, if McMahon wants to sell 100,000 tickets to Wrestlemania, Lesnar should really be in the main event."
WWE Royal Rumble
Sunday January 24
Live on Sky Box Office & WWE Network

For only the second time in history, the winner of the Royal Rumble will win the WWE World Heavyweight Championship. It was way back in 1992 that Ric Flair defeated 29 other superstars to win the title - which he went on to lose a couple of months later to Macho Man Randy Savage at Wrestlemania VIII.
That '92 Rumble is generally considered by wrestling fans to be the best of all time and with plenty of intriguing possibilities in play this year, the 2016 version is a must see show.

Triple H (20/21)
It's probably only in professional wrestling where the favourite to win the main event isn't even being advertised as a participant.
That's the situation we have here though as the odds-on favourite for victory is The Authority's Triple H.
We haven't seen the COO of the company since he was brutally beaten down by Roman Reigns at the end of the last PPV in December - unless you watch NXT of course - and it makes perfect sense to hold him off TV if he's to appear as a surprise participant on Sunday.
His current storyline arc with Reigns is suggesting that the pair will meet in Texas at Wrestlemania and it would be preferable if Hunter went into the event as the champ.
There are other possibilities though - the two could have their blow off match at Fast Lane in February - or the Mania match could be set up by Triple H eliminating Roman in dubious circumstances, with neither of them winning the Rumble.

Roman Reigns (6/4)
The Roman Empire is in full swing as the former Shield member is the current WWE World Heavyweight Champion following his victory over Sheamus on Monday Night Raw a few weeks ago.
His rise to the top had initially been planned to start sooner but that was curtailed as the fans booed the hell out of Reigns at last year's Rumble - a match he won.
The fans seem to be more onside lately however, largely thanks to the severe beatdown he gave Triple H at TLC last month. He followed that up by getting physical with a returning Vince McMahon and if he continues to be booked to his strengths, the fans should stay with him.
It would be a big test of faith from WWE management if he was to win back to back Rumbles though - especially as he will be the first superstar in the ring, thanks to the McMahon's on last Monday's Raw.

Brock Lesnar (3/1)
'The Beast' had been the long-time favourite to win his second Royal Rumble - he won the 2003 version - but injuries to key stars as well as Reigns being given the title have thrown a spanner in the works.
John Cena, Seth Rollins, Randy Orton are just three big names who are currently out injured, with the first two likely out of Wrestlemania in March. That means a change to the predicted card and it's not clear where WWE's biggest draw fits into that puzzle.
It should become obvious by the end of Sunday - he will either win and be in the title match at Mania, or start a new feud with someone that will culminate in front of 100,000 fans at the Cowboys Stadium in March.

Bray Wyatt (4/1)
There has been plenty of money for 'The Eater Of Worlds' this week as The Wyatt Family stood tall at the end of Raw after beating down both Roman Reigns and Brock Lesnar.
The inside word is that Wyatt is being positioned as a possible opponent for Brock Lesnar at Wrestlemania - which could or could not be for the title.
If the WWE top brass want a new winner that is a bit of a surprise then Wyatt would be a good option. He's had some high profile feuds and is a young guy with huge potential, but he's always been booked to lose the big matches, and that's hurt his credibility somewhat.

Best Of The Rest
The big news in the professional wrestling world over the last couple of weeks has been the rumoured signing of AJ Styles and Shinsuke Nakamura from NJPW.
Styles is considered one of the best American pro wrestlers and after enjoying huge success on the Independent scene since he left TNA, he is finally primed to make his WWE debut.
He is a 25/1 shot - compared to the 66/1 on offer for Nakamura - and while I wouldn't be surprised if 'The Phenomenal One' is in the Rumble, I can't see Vince McMahon putting a none home-grown talent in the Wrestlemania main event straightaway.
Daniel Bryan - the man the crowd have wanted to win the last two Rumbles - is a 12/1 shot but he's been out for the best part of a year now as the WWE doctors have reportedly failed to clear him for action following another concussion. There have been rumours and conspiracy theories that he is ready and that he's being saved for a shock return, but even if he did come back on Sunday - which I doubt - I can't see him winning it.
The Undertaker is an 18/1 shot and with Wrestlemania being in his home state of Texas, 'The Deadman' could be given a final swansong as champion in what could be his final match. He was slated to face John Cena in the last big money match that WWE haven't pulled the trigger on, but with Cena's injury, Taker's plans remain unclear.
The only two other competitors who are single-figured odds are Dean Ambrose (5/1) and Kevin Owens (15/2) and they will face off against each other earlier in the night for the Intercontinental Championship. I can't see either of them winning the Rumble though, despite their popularity with the fans.

Conclusion
All the value has gone on Triple H now that he's below evens but he is probably the most likely winner. I quite like Brock Lesnar at 3/1 though as he's the biggest asset they have and, if McMahon wants to sell 100,000 tickets to Wrestlemania, Lesnar should really be in the main event.

Other Markets
The Betfair Traders have done us proud by putting a total of 20 markets on offer for this event and there are some good prices to be found. If Triple H is to win then he will surely enter at number 30 and in the 'Entry Number Of The Winner' market, number 30 is 2/1, which is much bigger than the 20/21 for Hunter to win in the outright.
Bray Wyatt is 4/1 and Dean Ambrose is 5/1 - neither of who have won it before. If you fancy either of them, then just back 'Yes' in the First Time Rumble Winner market at 11/2 and get both on your side - plus all other entrants who have never won before - at a bigger price.
There are always surprise entrants in the Rumble match, often older superstars who are given one more moment of stardom. There had been talk a while ago that Scott Hall would be given a slot and considering that he's now cleaned up his act, as well as the event being in his home state, the 16/1 on offer for him to participate is worth a tickle.

Recommended Bets
Back Brock Lesnar to win The Royal Rumble @ 3/1
Discover the latest articles