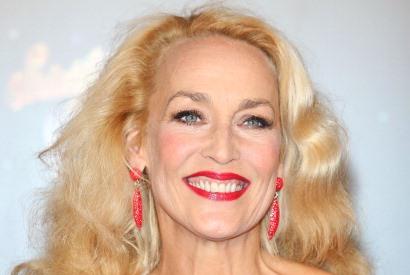 Former model Jerry Hall looking forward to her Foxtrot
Betting.betfair.com's resident Strictly expert Alan Dudman looks ahead to the first round of eliminations this Saturday, with a certain Texan supermodel looking at the exit door.
"Hall once described Bryan Ferry as having the personality of a lampshade. I am hoping Ferry would have seen her opening dance, as she has as much movement as a lampshade"
In last week's column I opted for the big one as an ante-post bet. I got the wrong big one. My Fern Britton was trumped and then raised by Lisa Reilly - yes Lisa Reilly. The Emmerdale actress was a massive mover after her first dance, and from [190.0] matched for £4, she is now available to back in the winner market at [17.00]. Overall, we seem in a pretty healthy position with the early picks, with a female winner already trading at [1.69].
Reilly was good, her cha cha cha was very entertaining (as they nearly always are). She had a great song and undoubtedly had the crowd on her side. Can she win it? I am not sure, as there were a few mistakes and we have to see her with the technical stuff. But make no mistake, the girl can dance, but this is an over-reaction.
This week she tackles the ballroom, namely the Viennese Waltz. This dance needs to be delicate, nimble of foot and lots of swift turns, and if you are prepared to back her to win at that price (which considering how high she was I am afraid you have missed the boat), she might not be as spectacular in hold. Or as Darcey Bussell would say: "breath yah, take it in yah, from the hips yah, musicality yah". Sod off yah?
Other things we learned from the opening show:
1) No one reads an autocue quite like Tess Daly.
2) Fellow betting.betfair columnist Elliott Polak was correct about Victoria Pendleton and her tears. The ducts were
opened on the first show. She can't really dance either.
3) Colin Salmon and Sid Owen were quite good.
4) Denise Van Outen and Kimberley Walsh could go all the way.
5) And Dave Arch (of the orchestra) never changes his black shirt.
The biggest point scorers from the opening shows were Van Outen (25), Kimberley Walsh (28), Sid Owen(26), Louis Smith(27), and Lisa(30). The lowest scorers were Victoria Pendleton (16), Nicky Byrne and his illegal waltz lift (17), Johnny Ball (17) and Jerry Hall (18). The judges were quite harsh with their marks, but Hall's cha cha cha was utterly abysmal.
Hall once described Bryan Ferry as having the personality of a lampshade. I am hoping Ferry would have seen her opening dance, as she has as much movement as a lampshade. It's a shame they didn't marry - she would have been Jerry Ferry.
On to this week, and the highest scorer market is always a good place to start. Kimberley Walsh is favourite with the layers to nail the best marks at [2.20]. The singer has ballroom with the Foxtrot, and from her training, she has the position immediately. Denise has the jive, but has also suffered whiplash from training this week, which tempers the bet with any real enthusiasm.
The jive is a really hard dance (but very rewarding if done well), and is very fast and upbeat. The routine always gets the crowd going, and if on song (and stiffness of neck alleviated), could hit decent marks at [4.00].
Gymnast Louis Smith looks a bit short at [3.0] for highest score. He was quite good last Saturday, if a little wooden, and he needs to loosen up slightly. I do like his hairstyle though, and might be asking Ken the barber to do me one.
Token Eastender Sid Owen performed a wonderful Waltz routine, his dance was perhaps the one that surprised me the most last Saturday. The cheeky chappy, cockney geezer has a Salsa this weekend, and that cheeky chappy nature might suit this week's Latin. Another celeb pair that will suit the Salsa will be Dani and Vincent, as the fast and funky stuff should be up their street. However, I can never bring myself to back the little twerp (Vincent).
For the lowest score, bottom two and first elimination markets we need to focus on four of the celebs. Johnny Ball, Jerry Hall, Richard Arnold (who?) and Victoria Pendleton.
Ball was fairly hopeless last week, but he is this year's John Sergeant. Quite likeable, but he didn't quite have that Sergeant fun factor. Ball is [1.80] for lowest score, and [2.80] for first elimination. And remember, the bottom two
go into a dance-off and the judges decide this year - which is so much better than the public vote. He is also [1.95] for a place in the bottom two.
The interesting one is Hall for exit purposes. She displays a fair degree of contempt for the dancing, and you feel she would rather be somewhere else than dancing with Anton the berk (wouldn't we all dear). The Texan supermodel has a Foxtrot this Saturday, and her saving grace could be that the ballroom is Du Berk's speciality and he might just lead her around. I am not sure her attitude will go down well with judges, as they look for effort - and she made absolutely none last weekend.
Pendleton also has the Foxtrot with Brendan, and might be more comfortable in hold. Her Latin last week was pathetic, and expect more tears.
Hall at [2.30] for the bottom two looks a cracking price. She is a tasty [5.20] for first elimination, but that would be offset if Johnny Ball is in there too.
Week One Recommendations:
Back Denise Van Outen for highest score @ [4.00]
Back Sid Owen for highest score @ [11.00]
Back Jerry Hall in bottom two @ [2.30]