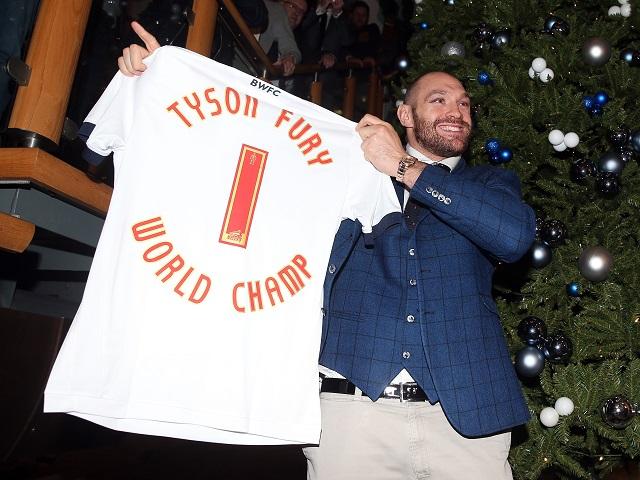 Tyson Fury is number one - but not when it comes to the SPOTY voting public
Tyson Fury's shock world heavyweight win has seen him shoot into the front runners to be BBC Sports Personality of the Year. Ralph Ellis agrees with the man himself that it can't happen...

"When you assess the SPOTY market it's important to remember you are looking not at who deserves to win, but at the demographic of the audience which will be voting."
Tyson Fury got a lot of things right in the last couple of days - most of all the tactics to use his height advantage to beat Wladimir Klitschko and become heavyweight champion of the world.

When it was all over he got something else right too. Asked if he thought he might join the list of just four boxers who have been crowned the BBC's Sports Personality of the Year, he responded with two words: "No chance".

Of course there were plenty who gave the same two word verdict on Fury's potential to dethrone Klitschko in his adopted Dusseldorf back yard. I tipped him to win right back in July when the fight was first announced, and gleefully picked up the winnings on Saturday night. But I was in a tiny minority.

As far as SPOTY is concerned, though, I go along with Tyson's verdict. No chance - even though he now stands third in the betting at [14.0] and was matched at just [5.7] after his weekend win, providing excellent profits to anyone who listened to Mike Norman's reasoning for a back-to-lay wager three weeks ago.

Let's face it, some of his more extreme views on religion would have the BBC mandarins terrified.

It's a reflection of Fury's status that while his odds have been slashed and Lewis Hamilton's lengthened to [21.0] to be the outright winner of the BBC's biggest honour, in the market for a place in the top three the places are reversed. Hamilton is [2.24] third favourite behind Andy Murray [1.15] and Jessica Ennis-Hill [1.24], while Fury is [2.24].

I still think Hamilton could emerge as the first ever to hold the trophy two years in a row, if only because of the voting power of F1 fans. His status has been undone while Mercedes have manipulated the last races to make sure Nico Rosberg finished second in the championship, but there was a concerted effort by the petrol heads to put him ahead of hot favourite Rory McIlroy last year, and I can see the same thing happening again.

Whether Fury's achievement in the ring deserves to be recognised when the telephone votes start getting counted on December 13th is, of course, another argument. Britain has never had a heavyweight champion holding so many belts before, and certainly not one who dethroned a guy who'd been at the top for 11 years.

But having gone through all the trash talk and off the wall interviews in the build up to his big fight, he's clearly in no hurry to start making nice now he's the champion. He was asked: Could he see himself as a role model for kids? "If they are looking to become a yes man, then no," was his honest response.

I could even see Chris Froome, currently a lay of [12.5] for a place in the top three, attracting more votes than Fury. He won his second Tour de France, and did it in the face of horrendous verbal and physical assaults.

When you assess the SPOTY market it's important to remember you are looking not at who deserves to win, but at the demographic of the audience which will be voting. You can immediately do something that Wladimir Klitschko couldn't - knock Tyson Fury out of contention.