SPOTY Betting: Froome drugs failure has blown his award chances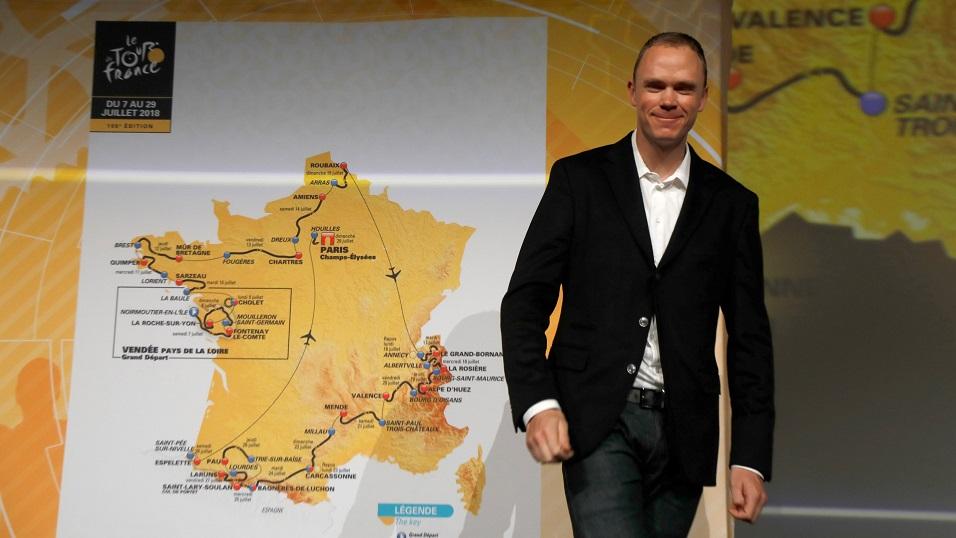 Road to nowhere? Chris Froome at the 2018 Tour de France launch
Six weeks after launching next year's Tour de France, Chris Froome is fighting to be allowed to ride in it following an abnormal drugs test. Ralph Ellis looks at the implications for SPOTY...
Those who follow Gary Lineker on Twitter will know he's not scared of a bit of controversy. Be it politics, sport beyond football, or football itself he's pretty forthright with his views.
He's also asked some pretty uncomfortable questions at times of guests he's interviewed in one of his other roles as a co-presenter of the BBC's annual jamboree to choose the Sports Personality of the Year.
There was the time he referred to Zara Phillips, 11th in line to the throne, as "posh totty" and then the famous question to Sven-Goran Eriksson following his Ulrika Jonsson escapade in 2002: "Well, Sven, you had a busy summer. And then there was the World Cup as well."
I wonder if Lineker has drawn what is now the very short straw this weekend of interviewing Chris Froome, and if so how will he approach the very delicate subject of the cyclist's abnormal drugs test which was announced this morning?
Froome, rightly among the nominations after achieving the epic feat of winning both the Tour de France and then the Vuelta a Espana a few weeks later, tested positive during the Spanish event for a high level of the asthma drug Salbutamol.
In the space of a few hours following his statement admitting the problem, his price to be this year's BBC Sports Personality of the Year flew out from 9.08/1 to 55.054/1. Matched as low as 1.4840/85 for a place in the top three, you can now back him at 6.25/1.
I've actually a certain sympathy for him. He has talked before about his problems with asthma, and Team Sky's claim is that he followed the permitted doses of the drug but sometimes there can be freak results.
He's not been immediately suspended while investigations continue, and the lawyers are getting in line to plead an exceptional case and so save his career.
Sadly none of that is going to wash with the great British public who have never really warmed to the Kenyan born athlete, and are already deeply sceptical about the misuse of drugs in cycling. Ever since Lance Armstrong's massive fall from grace the sport has been tarnished.
Froome has been an outspoken critic of those who have tried to bend the rules, including asking questions of the use of Therapeutic Exemptions by his former team mate Sir Bradley Wiggins. Now he is tarred with the same brush. It will take a lot of sympathetic questioning on Sunday night whether it be from Lineker, Clare Balding or Gabby Logan and some brilliant answers to change the minds of those who will vote.
I had actually picked out Froome back in September as a likely rival to odds-on SPOTY favourite Anthony Joshua 1.21/5. Not now, though. In my view Lewis Hamilton 8.615/2 - with the backing of F1 fans who traditionally organise themselves to vote - has become the boxer's only threat.
As for the top three - well Harry Kane, who I suggested backing for a podium spot when the nominations came out last month - is now in to 2.56/4. Superbikes world champion Jonathan Rea is 3.211/5.
It's all very messy, and is going to be all very awkward come Sunday night. What should have been a glowing couple of minutes looking back at a unique sporting achievement instead runs the risk of being a bit of an embarrassment - with one time World Cup Golden Boot winner Lineker trying to work out how not to score an own goal.