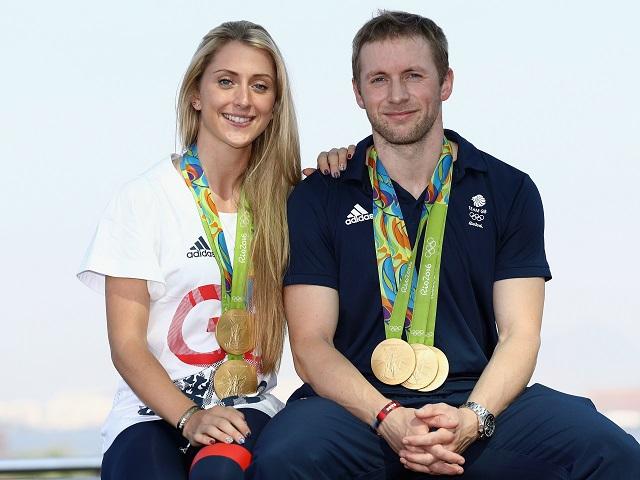 Laura Trott's brilliance on the bike, infectious personality and forthcoming wedding to Jason Kenny are a potent mix in the Spoty betting
Two wonderful weeks in Rio have thrown up a host of British sporting heroes. Ralph Ellis has been sifting through the contenders for this year's Sports Personality of the Year.
"The audience profile of the people who will pick up their phone to cast their vote on December 18 suggests they are more likely to be swayed by the bubbly blonde looks of Laura."

If Laura Trott and Jason Kenny have set their wedding date then so far they've managed to keep it a secret from everybody except closest friends and family.
The Manchester Evening News - which covers the area of their home in Cheadle - have suggested it will happen in September. Every other bit of coverage forecasts it will be by the end of the year but is far more vague on exact dates.
If British sport's most golden couple are paying attention, however, to the British cycling team's ethos of marginal gains then they will tie the knot in the first week or so of December - because that would be the very best way for bubbly, infectiously happy Laura to end up as Sports Personality of the Year.
It's amazing to think back to 2009 when Ryan Giggs won the BBC's prestigious award - or even three years earlier when Zara Phillips got it - to imagine the lack of serious contenders available on those occasions. This year it will be tough enough for the panel to pick the 12 who are nominated for the Beeb's big night, never mind the top three award winners.
Lewis Hamilton is zooming away and already [1.27] favourite on course for his third Formula One Drivers' Championship in a row yet, two years after he won SPOTY, he's [70.0] for this year's award.
Danny Willett won the Masters and gave us an inspiring tale of a down to earth lad from Sheffield, a humble new dad who'd hit the golfing jackpot. He's [610.0] in the betting, and if you think that's just because he couldn't follow up his Augusta success with any sort of a decent performance in Rio, then gold medal winner Justin Rose is as long as [320.0].
Anthony Joshua has followed up his gold in London by winning a world heavyweight title, and will defend his IBF belt again in November. His engaging media appearances in Brazil have still not reduced his SPOTY odds below [60.0]. Jamie Vardy is [100.0], with his romantic rise from non-League football to win the Premier League all but forgotten
Wimbledon and Olympic champion Andy Murray is hot favourite at [2.52] to retain the Beeb's title, but I'd steer away from that. Look back to 2012 when he'd also won gold, and then backed it up with the US Open, but finished third with less than half the votes collected by winner Bradley Wiggins.
Personally I'd vote for Mo Farah [4.3]. The levels of effort, dedication and commitment in winning the double double make him the greatest track athlete in British history. But I wouldn't back him with hard cash, because I think the audience profile of the people who will pick up their phone to cast their vote on December 18 suggests they are more likely to be swayed by Laura.
She's [7.4] in the betting, and that has to be the best value on offer - especially if she has just become Mrs Kenny. Everybody loves a wedding, and the pictures when they get hitched will doubtless add a romantic twist to what's already a wonderful story. Who knows, there might even be a tandem involved somewhere!