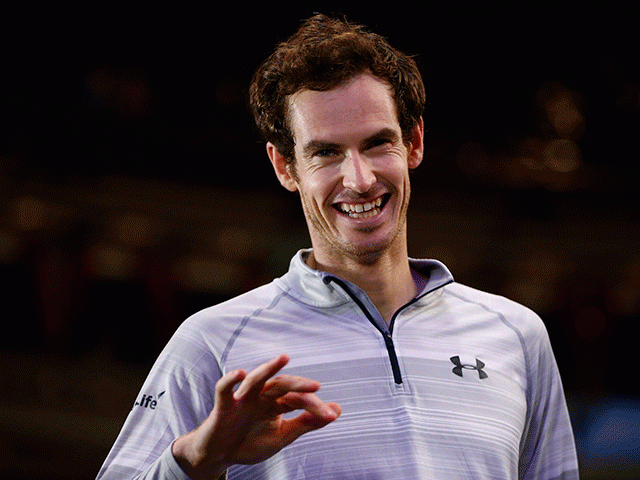 Murray should be smiling on the night
Andy Murray is the favourite heading into Sunday night's SPOTY final and he should reward his backers, says Joe Dyer...
"Murray has a baby on the way and may be calling time on his tennis career soon. A SPOTY sign-off seems apt."
The SPOTY award is heading Andy Murray's way again with only Jessica Ennis-Hill providing opposition - provided the Betfair market has called it right.

After newly crowned heavyweight champion of the world Tyson Fury buried his chance beneath an avalanche of caveman quotes it looks a straight fight between Murray and Ennis-Hill for the award.
The British tennis ace is the [1.91] favourite going into Sunday night's live final with his Sheffield rival [3.2] to go one better than her runner-up spot in 2012.
Rugby League veteran Kevin Sinfield looks the only other legitimate challenger to the top two in the betting. A grassroots push is under way by league fans to have their hero recognised and he has come in from [1000.0] to his current [9.8].

But even that dramatic plunge leaves him a distant third favourite and it's hard to see the 35-year-old gatecrashing the Murray-Ennis-Hill duopoly. Sinfield has been matched at a low of [7.0] so appears to be settling at his natural level now.
It could be argued that Murray is on the drift, having traded at [1.5] he is now heading towards double that price. Could it be that punters are unconvinced by the 'glory' of helping Britain win the Davis Cup, a competition barely deserving of column millimetres in years when we massively underperform?
Maybe so, but the appetite appears to be there to reward one of British sports' most remarkable success stories. With two grand slam victories from eight appearances in finals, an Olympic gold medal and now the Davis Cup to his name, Murray has succeeded in a sport that has served up nothing but sob stories for years. The 28-year-old has a baby on the way and may be calling time on his tennis career soon. A SPOTY sign-off seems apt.
Ennis-Hill already has a child and many ascribe her high position in the betting to young Reggie, who was 13-months-old when she won heptathlon gold in Beijing. It certainly adds to the achievement for me.
Those looking for a bet now must choose between Murray and Ennis-Hill it seems, unless you want to take a flyer on a long-shot. Ultimately, [1.91] doesn't seem a bad price for the favourite who is as short as [1.66] elsewhere so Murray would be the man for me.
However, the lesson to learn is that this is a market to play throughout the year. The first and second favourites have both traded at higher than [30.0] and as low as [1.6]. That is trading heaven and shows once again that the SPOTY market is one to play from January to December, not just the week before the award is handed out.

Recommended Bet
Back Andy Murray @ [1.91]

***
For all the latest price movements on SPOTY and other entertainment markets, check out Betfair Predicts...