London Mayor Betting: Never mind politics. Boris is winning this personality contest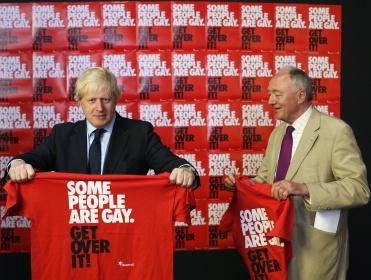 Boris and Ken focus on the issues
With less than a fortnight until London's mayoral election, the government is in disarray, says Paul Krishnamurty. And yet Boris Johnson defies political gravity with a healthy lead over Ken Livingstone in the polls. Is there anyway back for the Labour candidate?
"Big-hitters eyeing up 1.241/4 about Boris would do well to remember David Miliband being turned over for the Labour leadership, not to mention huge-priced upsets in by-elections and US primaries."

Whether it's increasingly unpopular public service cuts, Cabinet-inspired panic at the petrol pumps or any number of complaints about George Osborne's 'millionaires' budget', the government lurches from one disaster to another. The Conservative Party's national poll rating is in steep decline, trailing Labour by up to 13 points in last week's surveys. Surely then, there couldn't be a better time to unseat a Tory Mayor?
After all, London has long been considered a Labour city and when respondents were asked about voting for the Greater London Assembly, Ed Miliband's party recorded another healthy ten point lead. Yet when it comes to the contest that will dominate the headlines, Boris Johnson continues to defy political gravity, consistently polling https://ukpollingreport.co.uk/blog/archives/5197 around six percent ahead of his predecessor Ken Livingstone after second preferences have been re-allocated.
Love or hate him, it is increasingly hard to avoid the conclusion that Livingstone was the wrong choice to be Labour candidate. Indeed, the fact Ken prompts extreme, passionate opinions on either side is part of the problem. From the challenger's perspective, any election should be about the incumbent's record - which, in Boris' case, has struggled to withstand scrutiny in numerous debates. Yet rather than rising tube fares, falling police numbers or Boris' lack of leadership during the London riots, the biggest topic under discussion has been Ken's tax rate.
Such sustained attacks on Livingstone's character, given a platform in Tory-supporting newspapers or talk radio shows, are all the more lethal due to the nature of this contest. Unlike any other major UK election, the Mayoralty has always been as much about the individual as the party. Remember, when Ken was elected in 2000, he did so as an independent having quit Labour over their dodgy selection process. Whereas that would almost always be impossible in a General Election, Ken's personal popularity overwhelmed the official Labour candidate Frank Dobson. Back then, he was billed as the outspoken maverick, a brand long since assumed by Boris, leaving Ken trying to escape being defined as 'yesterday's man'.
Successful political comebacks are rare, especially in a cynical era when a candidate's mistakes or weaknesses attract vast amounts of coverage compared to their strengths. As a consequence of the emnities made during a long political career, Ken is struggling to marshall his own natural supporters. Labour peer Lord Sugar's attacks on Twitter were a hammer blow to the campaign, while other party figures have flocked to independent Siobhan Benita. In such a close contest, neither man can afford to lose their own party's core supporters but while the Tory vote is splintering nationally, UKIP are nowhere to be seen in the capital.
Nevertheless, the race is not over yet. Recent political history is littered with late turnarounds and upsets. Big-hitters eyeing up 1.241/4 about Boris would do well to remember David Miliband being turned over for the Labour leadership at similarly short quotes, not to mention various huge-priced upsets in by-elections and US primaries.
Indeed, Ken supporters may take strange solace from their own party's recent shock defeat in Bradford West. Then, George Galloway utilized social media to maximise turnout, catching out pollsters who'd banked on the old rules where young and minority voters fail to turn up at the polls. Livingstone's campaign has a similar grassroots feel to it and for this election, Galloway and Respect party leader Salma Yaqoob are firmly in his corner. If it can be heard above the trivia, Ken's message of cutting tube fares, rents and restoring the EMA has dynamite potential on the doorstep, particularly among young, normally apathetic voters.
Last but not least, there's still time to turn around a six percent deficit. Eleven days is a long time in politics, especially in a tight election where the main protagonists fail to inspire. Just ask Nick Clegg.