Hottest Summer Temperature: Not as hot as tabloids think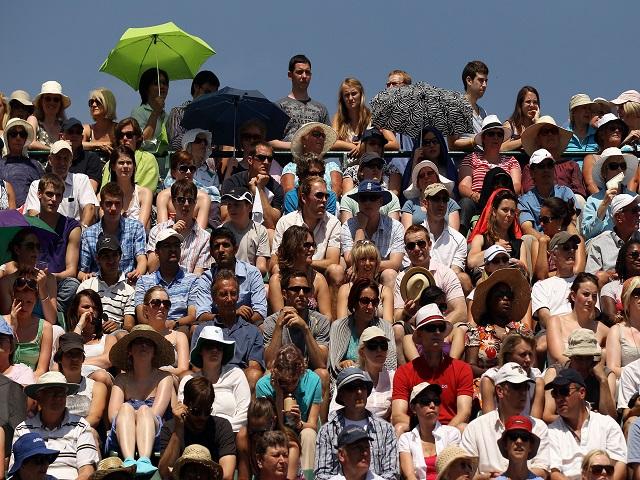 Punters at Wimbledon will need plenty of sun cream this week - but don't get carried away in the temperature markets
Despite what the tabloids and PR brigade might have us believe, Jack Houghton writes, this week might not be all that hot at all...

"The Daily Mail, in its usual reserved style, leads with the headline "Hotter than Ibiza!", telling readers that temperatures will be "soaring" by midweek..."
When, like me, you tend to use numbers to inform your punting, nothing is as exciting as when a betting market is ignited by a media frenzy.
It invariably means that the market gets pulled out of shape, with the odds being offered no longer reflecting the likelihood of things happening.
When you're prepared to spend some time understanding what the true odds should be, this usually means that profit is to be had by exploiting the skew-whiff pricing.
As I wrote about when previewing Wimbledon this week, one of the latest news stories to excite the tabloid press has been the spell of hotter weather that the South of the UK is predicted to have from Tuesday. The Daily Mail, in its usual reserved style, leads with the headline "Hotter than Ibiza!", telling readers that temperatures will be "soaring" by midweek.
Never ones to miss the opportunity to fuel the furnace of a media frenzy, the bookie PR-crew have been out in force, with a spokesperson from Coral saying that they think July could be the hottest ever on record. Well, it could be, but I like to think that more discerning Betfair customers will recognise that whenever a bookmaker makes a prediction, they might not be doing it with their customers' best financial interests at heart.
Instead, here, we are going to try and be a little more measured in our predictions.
First, let's look at what might happen this week. The Met Office predict that, "highs across southern Britain are likely to reach the low 30's Celsius with a small chance of values in the mid 30's here."
If these predictions are accurate, and it should be noted that the Met Office have doubts as to the amount of Continental heat that will reach British shores, this means that in Betfair's Top UK Summer Temperature 2015 Market, it is likely we will end next week with a record temperature for the year so far of somewhere between 85.01 and 94 degrees Fahrenheit, which would hardly be remarkable.
The problem with punting in this market is that it's easy to get distracted by information that seems relevant, when in fact it is not. Even leaving aside the complicating factors that are the tabloid press and the bookies' PR-agents, many think that a few days' of hot weather increase the chances of their being further hot spells in the future.
However, this is not the case. In much the same way that a run of 10 blacks on a roulette wheel have no bearing on whether the 11th spin will also be black, the weather we've had has very little bearing on the weather we are going to have. It's true that a wet spell can lead to lower temperatures as the sun has to concentrate some of its energy into evaporating water rather than heating the air; but there are other factors, such as the direction of prevailing winds and local airflow, that have a much greater effect on whether a scorcher is recorded.
Also, it is very easy to accumulate stories relating to climate change, and think that this must increase the chances of seeing record hot days. However, climate change relates to average measures of things like temperature and rainfall, which is clearly related to, but is not the same as, the weather extremes that tend to get reported in the media and which is the focus of this Betfair market.
For example, 1976 - the hottest summer on record in terms of average temperature - only recorded a high of 96.6 degrees Fahrenheit: distinctly mid-table when it comes to the temperature bands used in Betfair's market. Similarly, 2014 was widely reported as being the hottest year globally on record, and yet the highest single temperature recorded in the UK was only 90.14 degrees Fahrenheit.
The approach to this market that I have taken is to look at what tends to happen each year in terms of record high temperatures and go from there. Below are the results (Temperature Range / Number of Times Since 1900 that Highest Temperature was in that Range / Equivalent Pure Odds).
85 or lower / 14 / 8.21
85.01-90 / 44 / 2.61
90.01-94 / 45 / 2.56
94.01-97 / 8 / 14.38
97.01-99.99 / 3 / 38.33
100 or higher / 1 / 115.0
With all this in mind I'm going to back 85.01-90 at the currently available 6.1, hoping that the start of Wimbledon isn't quite as hot as some seem to think it will be. It means that the bet might be dead by midweek (and I wouldn't blame anyone who wanted to adopt an alternative strategy of laying 90.01-94 to potentially keep it alive for longer), but the data suggests it is the value bet.

Recommended Bet
2-point back 85.01-90 in Top UK Summer Temperature 2015 Market

*****

A note for those who care about this kind of thing. This data goes back to 1900, and although I have played around with different date ranges, there is little perceptible difference in the outcome of the analysis. Looking at all of the data on a scatter diagram does not show any perceptible increase in record temperatures in recent years, and conducting the same analysis as above using more recent date ranges only serves to increase the years in which 85.01 to 94.00 degrees held sway.