Eurovision Song Contest: Not too late for Sweden to spring a surprise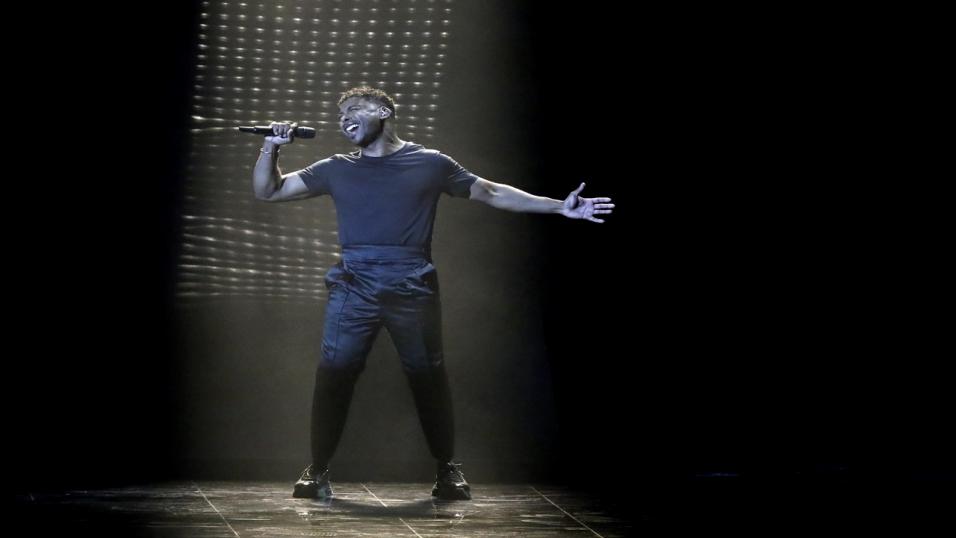 Can Sweden's John Lundvik cause an upset in Tel Aviv?
Tel Aviv is primed for the biggest music TV event on the planet, and our Eurovision obsessive Kevin Hatchard has hurled himself into the bonkers world of glamour and glitter to find the best bets.
"The Dutch entry has shortened to odds-on, but I still don't think it feels like a winner. Sweden won Eurovision in 2012 and 2015, and I think they can win again in Israel."
Eurovision Song Contest Grand Final
Saturday May 18, 20:00
Live on BBC One
Dutch too short to claim first prize
The favourite for a long time has been the Netherlands, and the Dutch are trading at 1.865/6 to win the contest. I have maintained from the get-go that I like the song but don't understand the hype.
"Arcade" is a beautifully-sung ballad by Duncan Laurence (although it disappointingly has no references to Operation Wolf or Space Invaders), but it lacks big moments that stir the soul, and the staging doesn't lift it as much as it needs. It's just Laurence and his piano, and because the song takes a while to get going, I wonder if Dutch Duncan will lose a few televoters.
The Dutch haven't won the contest since 1975, and although this has been relentlessly backed, there is better value in this market.
"Too Late For Love" by Sweden's John Lundvik feels far more like a Eurovision winner to me. It's an up-tempo number that the charismatic Lundvik carries on his shoulders until a quartet of superb backing singers come to join him. The staging is simple but it works, and Lundvik's vocals are great.
Because of the love for the Netherlands, "Too Late For Love" is out to 16.015/1, and at that price I would back it.
I also think Australia have a potential winner, and in my semi-final preview I advised backing it in the Top 5 market at 2.77/4. "Zero Gravity" by Kate Miller-Heidke has now shortened to 1.4640/85 in that market, and it has a lot going for it.
The song is a quirky pop-opera effort, and Miller-Heidke belts it out in sensational fashion. She is dressed in an outfit that Elsa from "Frozen" would've rejected as being too flashy, and the staging is stunning, as our Kate floats above the planet with two buddies tumbling around. It's memorable for televoters, but the only concern is whether it will grab enough points from juries.
Australia are trading at 8.615/2 to win the contest, and I reckon that price will shorten now that the Aussies have been drawn second-to-last in the running order.
Russia is trading at 22.021/1 with "Scream", but Sergey Lazarev has the same issues as he had when he finished third in 2016. Again, his vocals are on point, the staging is well thought-out and spectacular (several Sergeys are projected onto mirrors, and there are some great water effects) but the whole thing lacks a bit of soul. There's no emotional connection here, and Sergey may well be screaming for the wrong reasons when the votes are tallied.
UK in the running for last place - don't blame Brexit
The United Kingdom has a poor recent record at the contest, and after every disappointing display you'll always hear a few people claim it's to do with politics and that we'd never win even if Adele or Elton John performed. This carping will only become more pronounced this year against the Brexit backdrop.
The bare truth is that we haven't sent a decent song to Eurovision since Andre Lloyd-Webber penned "It's My Time," and Jade Ewen finished fifth in 2009. If you don't take Eurovision seriously enough as an entrant, you'll be punished, and that's why the UK has finished 24th or worse in six of the last 11 contests.
Sadly, "Bigger Than Us" by Michael Rice is another underwhelming effort. The vocals are fine, and the theme of the song (unity in fractious times - the video's quite good) is very laudable, but I just don't know how this will pick up votes. Michael has great pipes but he doesn't have any star power to carry this - we seem to see Eurovision as a musical training ground for rookies, whereas most of the rest of Europe sees a Eurovision slot as a great honour.
The UK's entry is trading at 4.1 in the Last Place market, and I think that's a slightly bigger price than it should be.
The main rival to the UK is this market is Germany, which is "Sister" by Sisters. It doesn't help that the first line is "tired of losing," but while this duet is a touch screechy in places, I'm not convinced it's the worst entry in the contest, and 2.0621/20 seems too short to me.
Heat of outrage to melt Iceland's chances
Those of you who have been following these columns all week will know that I have already opposed Iceland once, as I said they wouldn't finish in the top three of Tuesday's semi-final. We won't know if that was the right call until after the Grand Final, but I'm going to double-down and lay Hatari's "Hatrid mun sigra" in the Top 10 market at 1.42/5.
Hatari are an anti-capitalist art collective, and the lyrics to their song include "hate will prevail," and "happiness is an illusion, a pipe dream." Lovely stuff. The staging is a BDSM-based nightmare (Iceland must be now completely out of spikes and leather) and the song features some truly unpleasant growling. It's certainly memorable, but my suspicion is the sexual overtones here will alienate quite a few televoters, who won't necessarily get whatever point it is that Hatari are trying to make. Juries will have a mixed view of it at best.
As always, curiosities abound
San Marino was the shock qualifier from the semi-finals, mainly because singer Serhat looks and performs like someone's Grandad who took a swing at the local karaoke. He says he wrote "Say Na Na Na" in five minutes, and frankly you can tell.
Slovenia features a real-life couple who stare into each other's eyes for the entire three minutes, except for the moments when Gasper turns to play his keyboard. The performance is achingly dull and excruciatingly awkward, and I'm still quite angry that it reached the final. I get angry about strange things.
Greece have gone down the route of a Jess Glynne tribute act. "Better Love" is actually a really good song, but seriously, our Jess should be having a strong word.
Back Sweden to win the Eurovision Song Contest at 16.015/1
Lay Iceland in the Top 10 market at 1.42/5
Open bets from previous columns
Backed Australia in the Top 5 market at 2.77/4
Laid Italy in the Top 5 market at 1.654/6
Laid Netherlands in the Top 3 market at 1.454/9

Discover the latest articles
Read past articles