Eurovision Song Contest Second Semi-Final Betting: Trust in the power of the angels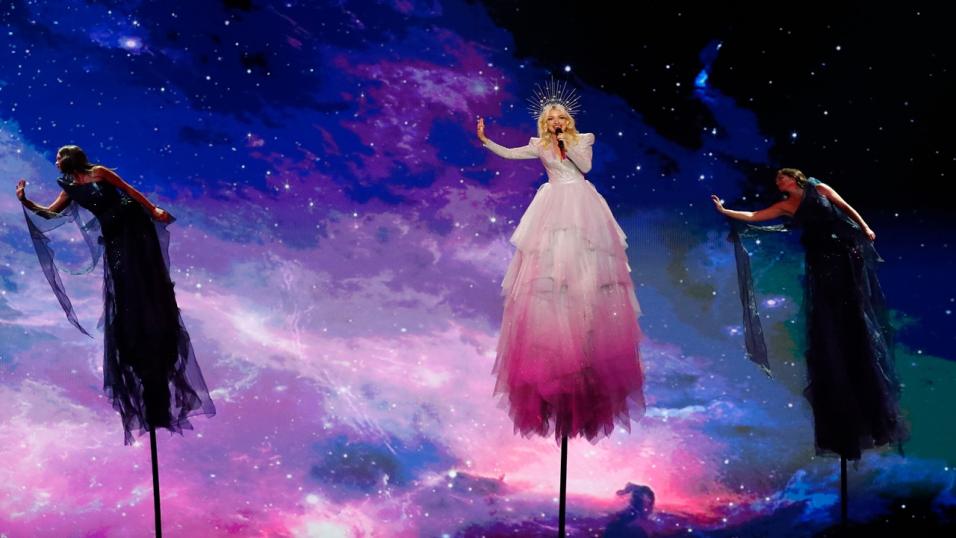 Australia are in contention after a great performance on Tuesday
After some thrills, spills and surprises in the first semi-final, our Eurovision veteran Kevin Hatchard believes there could be a few more in the second show.
"Serhat's shock progress has encouraged me to think big for this semi-final, and young Croatian Roko has the vocal chops to pull off a stunning qualification."
Eurovision Song Contest Semi-Final 2
Thursday May 16, 20:00
Live on BBC Four
Tuesday night's first semi-final was a curious affair, and in terms of quality it was one of the worst shows I can remember. I'm gobsmacked that croaky crooner Serhat made the final on behalf of San Marino, and I'm royally annoyed that our lay of Slovenia didn't come off. Their performance was truly awful, but I guess that more people enjoy three minutes of excruciating awkwardness than I thought. Our disappointment was added to by Portugal's early exit - in retrospect the toning-down of the more bonkers elements of Conan Osiris' performance from the national selection contest was a mistake.
There were some bright spots though. Australia wowed the crowd with incredible staging, and although the pop-opera style hasn't traditionally done that well at Eurovision, the second-half draw for the Grand Final won't do any harm at all. While I'm not convinced enough to back Australia in the Winner market at 10.09/1, I'll add a Top 5 bet to my portfolio at 2.77/4.
I was really impressed by "Friend of a Friend" by the Czech Republic. Fresh-faced boyband Lake Malawi really seemed to enjoy their performance, the song is super-catchy (although the spoken-word bit is pure cringe) and in a year of quite serious ballads this could really stand out for televoters on Saturday. This is worth considering in the Top 15 market at 1.618/13.
Right, it's time to reapply the glitter, and go again. Thursday's second semi awaits.
Surprises unlikely in battle for semi-final win
While the first semi-final was low on quality, this one is loaded with most of the favourites. You can read the analysis of Netherlands, Sweden and Russia here.
If you're looking outside those entries for a semi-final winner (and I'm not sure that's wise), you're realistically looking at either Azerbaijan and 7.26/1 or Switzerland at 11.010/1.
Azerbaijan's "Truth" by Chingiz is a pounding modern pop track with well-controlled vocals and a confident performance. The staging is diverting, with Chingiz in front of a giant illuminated triangle, with robotic arms moving around in front of him. Think of a low-budget version of Westworld and you're on the right track.
Switzerland's Luca Hanni has an air of Liam Payne about him (I'll leave you to decide whether that's a good thing or not), and "You Got Me" is a nice little Latin-flavoured effort. Luca's a fine dancer, and televoters will probably lap this up. It might do reasonably on Saturday, but it'd be a big surprise if it won such a strong semi-final.
Can Croatian angel ascend to Grand Final heaven?
North Macedonia are competing for the first time with that title, and Tamara Todevska absolutely nails the empowering ballad "Proud". The mirror-based staging complements a rousing performance, and this should certainly play well with the juries. The fact that the song is second-to-last in the running order should do it no harm either.
At 1.454/9 in the To Qualify market, this seems a bigger price than it should be, so we'll back North Macedonia to reach the Grand Final.
A much bigger price of 6.86/1 is available for Croatia to make it to Saturday, and the theatrical "The Dream" by 18-year-old Roko is worth considering as a value bet. Roko's vocals soar, he sports a lovely pair of angel wings, and the staging's been given a boost. Given Serhat's qualification on Tuesday, I now believe that anything's possible. If juries appreciate the vocals and aren't put off by the slightly dated nature of the song, this could sneak into the top ten on Thursday.
Irish eyes should look away
Ireland are trading at 2.186/5 in the Last Place market, and that feels about right. Singer Sarah McTernan has been suffering from dental problems, and although that hasn't adversely affected her husky vocals, she seemed a bit nervous in rehearsals. The song is deeply underwhelming, and second spot in the running order is an awful position to be in. By the time the televoting process begins, this will have been long forgotten.
Back North Macedonia To Qualify at 1.454/9
Back Croatia To Qualify at 6.86/1
Back Australia in the Eurovision Grand Final Top 5 market at 2.77/4

Discover the latest articles
Read past articles