Eurovision Semi Final Betting: Austria had the wurst, now they have the worst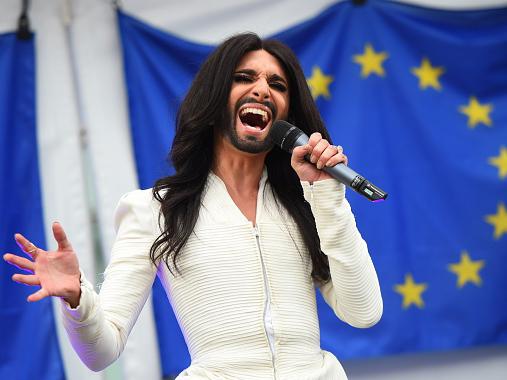 Austria stormed to victory in 2014 with Conchita Wurst, but don't expect a repeat
After a profitable start to Eurovision 2017, Kevin Hatchard's looking for more winners from the second semi-final in Kiev...
"Austria have an awful place in the running order, and a pleasant but forgettable song."
Eurovision Song Contest
Semi Final 2
Thursday May 11, 20:00
Live on BBC Four

First of all, some thoughts about Tuesday night's first semi-final. Poland did the business for us by qualifying for the Grand Final, and Kasia Mos put in an excellent performance of "Flashlight". Armenia's Artsvik also did a superb job, and I reckon it's between her and Portugal's Salvador Sobral for the semi-final win. I tipped Armenia, and we won't know the results until after Saturday's final.

I have to hold my hands up, and say I might have misjudged the appeal of Sobral's "Amar Pelos Dois." I said all along that I liked the song and the juries would lap it up, but I wasn't sure it would have wide enough public appeal to lift Portugal's generally awful Eurovision record. However, everyone on forums and social media seems to love the song and the quirky singer, so my Top 5 lay may be on shaky ground.

I will add another bet to the portfolio here. I really like Armenia, I think the staging is fabulous, and they have a good spread of voting allies. They are trading at 7/42.76 to make the Top 5, and I think that's achievable.

Now, to the second semi-final.

Winner

Bulgaria is the clear favourite to win this semi-final at 4/51.77, and I've discussed that entry more here. I can understand why it's odds-on, as the song itself is great, and Kristian Kostov's an engaging performer.

Romania (second favourite at 17/29.6 at present) is a bit of an assault on the senses. "Yodel It" is as awful as the title suggests - Ilinca yodels her way through her bits of the song, while Alex Florea raps. The staging is eye-burning. As a package, I despise this, but Romania's traditional allies will push this into the final with room to spare.

I'm pretty sure the Estonian entry 7/18.2 was written using Google Translate, because "Verona" has some barmy lines in it. However, our darling duo Koit and Laura are strong singers, and if the chemistry between them is good on the night, this should at very least sail through to the final.

To Qualify

Of the entries that are odds-on to qualify, Austria's looks the most in danger to me. Nathan Trent is a handsome chap, and the vocals are perfectly nice, but there's nothing exciting in "Running On Air" at all. It's in the dreaded number two slot, and I can't help feeling people will have forgotten this by the end of a show featuring 18 songs. Also, bear in mind that Austria got "nul points" in the final two years ago, but won it with Conchita Wurst three years ago. That means Austria lives and dies by the quality of the song. It feels way too short at 40/851.47, and at time of writing you could lay it at 4/71.58.

If you want an odds-against effort to back, I like Croatia at 7/52.4. It's a bit mad, to be honest, with singer Jacques Houdek warbling in two totally different voices. He swings from boyband to Pavarotti and back again. It's extraordinary stuff, and certainly unforgettable. The song is good, and if enough televoters get on board, this can sneak in.

Last Place

There are two clear leaders in this market. Lithuania's "Rain of Revolution" (on at 11/53.15 to finish last) is actually quite scary, and feels like you're being shouted at for three minutes, without ever really finding out what you did wrong. It's lively, but the vocals are strained, and the performance is way too intense.

San Marino avoided last place last year, and even though they are trading at 11/53.2, they could do avoid the wooden spoon again (if only just). Valentina Monetta seems to be the only female singer in San Marino, because she's back for a fourth time, and on this occasion she has Jimmie Wilson in tow. Jimmie must do a lot of weights while he sings, because he has arms like B.A. Baracus.

"Spirit of the Night" is a dance number, it has a Eurovision feel, and it's not toe-curlingly awful. However, the sartorial choices do leave a lot to be desired. Judging by rehearsals, Valentina is wearing a baseball cap and PVC trousers (the classic nightclub look), Jimmie is wearing a glittery jacket Liberace might've thought twice about, and one of the backing singers is wearing a top hat. That's right, you heard me, a top hat.

Do they not have nightclubs in San Marino?

Recommended Bets
Lay Austria to qualify at 4/71.58
Back Croatia to qualify at 7/52.4
Back Armenia to finish Top 5 in the Grand Final at 7/42.76