Eurovision 2015 Semi-Final 2 Betting: Latvia and Israel shorter than they should be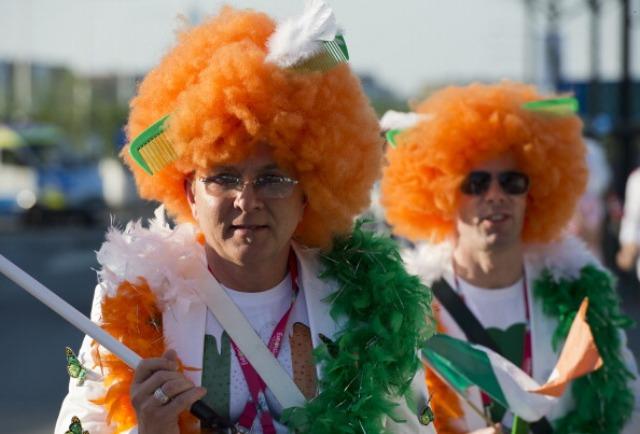 It could be another wasted trip for Irish Eurovision fans
After making a profit from settled bets in Tuesday's first semi-final, Kevin Hatchard's picked out a couple of well-backed entries that could go down in flames before Saturday's Grand Final...

"Latvia have failed to qualify in each of the past six years, and this avant-garde effort by Aminata is a big risk."
Eurovision Semi-Final 2
Thursday May 21, 20:00
Live on BBC Three
Before we focus on Thursday's semi-final, a few thoughts on Tuesday's events. As I suspected, Finland's dreadful punk effort failed to make the cut, and our lay of 1.758/11 was fully justified. On the other hand, despite a bright and energetic performance, our boys Denmark didn't quite force their way into the final.
The big winners on the night were Russia. We won't know for certain whether they won their semi-final until after Saturday's Grand Final, but I'll be very surprised if Polina Gagarina's stunning rendition of "A Million Voices" didn't top the polls. We backed Russia to win the semi-final at 2.0421/20, and it traded as low at 1.330/100 before the results were revealed.
The staging was spectacular, and Gagarina looked and sounded amazing. If you're going to back Russia to win the whole contest, I'd do it soon, because it was 6.86/1 during the semi-final and it may well shorten.
Now then, time to turn our attention to Thursday night.

Winner
For me, there's only one realistic winner of the second-semi, and it's "Heroes" by Sweden's Mans Zelmerlow. This has been the favourite to win the whole tournament for a long time now, and despite Russia's rapid advance (insert topical politics joke here), it remains the market leader at 3.39/4.
I really liked this as soon as I heard it, and although it's a dance track that's been criticised for a lack of originality, Sweden know what works in Eurovision. They have finished in the Top 3 in three of the last four contests, and "Heroes" is far better than snooze-fest "Undo", which finished third last year.
Not only does the track sound like a Eurovision winner, but the staging is breathtaking. Who doesn't love virtual reality gnomes? Zelmerlow makes the light show work, he's a magnetic performer, and I was impressed by his voice when I heard an acoustic version of the track.
The only fly in the ointment is some seemingly homophobic comments made by Zelmerlow on a TV programme. He quickly apologised and insisted his comments had been misconstrued. Although this may do some minor damage, Armenia's Aram MP3 said far worse ahead of last year's Eurovision, and still finished fourth.
At 1.392/5 to win the semi-final, Sweden aren't an attractive bet, but I think it's a strong contender to win Saturday's Grand Final at 3.39/4. It's between Sweden and Russia for me, so you could approach this in a couple of different ways. You could keep your powder dry until the running order is released following the second semi-final, but I'm a touch concerned that both entries could shorten as we approach Saturday night. On that basis you could dutch both entries at odds of around 2.6, but I'll advise a point on each, and let's hope Russia just about edges out Sweden.
To Qualify
This is the market that could bring us some joy on Thursday night, as there are two short-priced entries that I think could fail to make the cut.
Latvia's "Love Injected" is a moody and avant-garde effort that could either be a huge hit or could crash and burn. Singer Aminata has a quirky voice that will polarise opinion, and she looks like Dame Vaako from The Chronicles of Riddick decided to have a crack at space-based karaoke. If you got that hugely obscure sci-fi reference, you get a gold star.
I think the song is all over the place, and Latvia have failed to qualify in each of the past six years. Some juries might appreciate the originality, but I'm just not sure enough tele-voters will get it. It's not in a great place in the running order (second after the mid-show break), and I can't quite fathom why it's 1.351/3 to make the final. I'd price it at evens at least, so I'd encourage opposition.
I much prefer Israel's "Golden Boy" by self-proclaimed King of Fun Nadav Guedj, but it's far too short a price to make the final at 1.42/5. Guedj is an infectious performer (in a good way, not a virus-based way), but his voice is really pitchy, and he's seemed a bit out of breath in some of the rehearsals. The song sounds like something Craig David might have rejected during his slide out of the limelight.
Like Latvia, this could go either way. I don't think juries will score it highly, it's been put it a bad place in the running order (just after the mid-show break), but tele-voters might absolutely love it. One thing to bear in mind is that Israel have failed to qualify from the semi-finals in each of the last four contests. It might make it, but that price is there to be attacked.
Support in the To Qualify market has been dwindling for Ireland and young Molly Sterling, who is now trading at 3.185/40 to reach the final. "Playing By Numbers" is artfully sung by a girl who is clearly talented, but it doesn't really go anywhere, and Molly is so wrapped up in getting the performance right I worry she won't connect with the audience. The backing singers need a boot up the bum as well, as in the rehearsal they looked bored to tears.
It's in the worst possible place in the running order, and there aren't too many traditional voting allies to lean on. I'd love to advise you to back it, but I couldn't do so with any confidence whatsoever.

Top 3
If Norwegian duo Morland and Debrah Scarlett nail their vocals, they could be sensational, because their chemistry during "Monster Like Me" is improving all the time. If Morland can improve the unsteady start, I'd advise that the odds of 65.064/1 in the Winner market represent a back-to-lay opportunity. I'd certainly recommend backing it to finish Top 3 in this semi.
Slovenia are still well fancied (they are 2.166/5 for a Top 10 finish in Saturday's final), and "Here For You" is growing on me, but they have kept the weird staging elements. Singer Marjetka is insisting on wearing a big pair of headphones throughout, and the weird cyborg air-violinist has been kept on. The whole thing looks like an unnerving dream sequence.
In other news, Montenegro's effort looks like someone's civil servant uncle has snuck on stage when no-one was looking, the Czech Republic's duet is awash with uncomfortable sexual tension, and San Marino's "Chain of Lights" is the dullest three minutes of this year's contest.

Recommended Bets
Lay Latvia to qualify at 1.351/3
Lay Israel to qualify at 1.42/5
Back Norway in the Semi-final Top 3 market at 2.285/4
Grand Final Bets
Back Sweden to win the Eurovision Song Contest at 3.39/4
Back Russia to win the Eurovision Song Contest at 6.86/1
Eurovision Live!
Join Kevin as he takes over the Betfair live blog for Saturday night's show. Expect tips, opinions, price updates, the best pictures, tweets and more...
Discover the latest articles