Eurovision Grand Final Betting: Sweden and Russia to fight for the win, while Bojana makes a big impact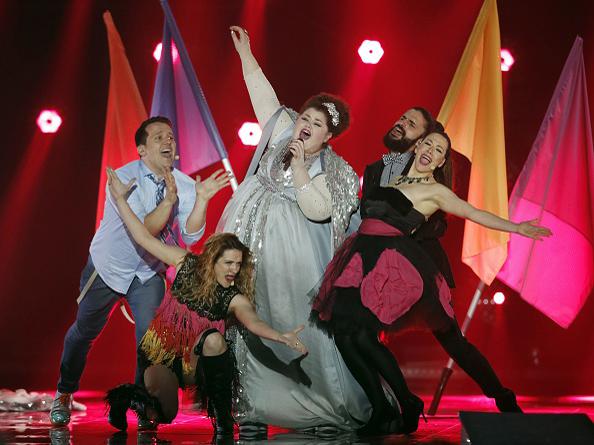 Serbia's Bojana has been wowing the crowds in Vienna
The music event of the year is once again upon us, and after making a 10.5 point profit last year, Kevin Hatchard's back with his best bets.
"Serbia's Bojana Stamenov blew everyone's socks off in the first semi-final, and she's been going down a storm at events in Vienna. She might be able to draw in a lot of floating televoters."
Eurovision Song Contest Grand Final
Saturday May 23, 20:00
Live on BBC 1
The semi-finals are done and dusted. Hearts have already been broken, and dreams have come true, and now we're ready for the main event. Vienna awaits, as does last year's marvellous winner Conchita Wurst, who will be adding a bit of sparkle to the host broadcaster's presentation team.
One important thing to bear in mind is how the voting works. It is split 50-50 between the jury votes, and the actual televotes from watching fans across Europe on the night. The jury votes are awarded on Friday night (although the results don't of course come out until Saturday night), so you may want to wait to see how the markets react to the jury rehearsals before placing your final bets.
Are you ready? You look ready. Let's do this.

Winner
I've said since my very first preview that Sweden were justifiable favourites, and Mans Zelmerlow's pumped-up performance in the semi-finals didn't change my mind. "Heroes" has been derided by some for being a blatant Avicii rip-off, but I really like it, and it's worth remembering Sweden have failed to finish in the top three in just one of the last four contests.
I was a bit worried that Sweden wouldn't be allowed to replicate the spectacular staging they had at Melodifestivalen (the Swedish selection contest), but the virtual reality gnomes have survived, and Zelmerlow has got his routine down pat. The song might not be the most original thing you've ever heard, but the whole package is slick, and it feels like a winner.
In my second semi-final preview I recommended backing Sweden in the Winner market at 3.39/4, and although it's now come in to 2.727/4, it's still worth backing. I feel the same way about this track as I did about Denmark's winning entry "Only Teardrops" in 2013, and that was odds-on by this stage.
On Wednesday I also advised backing Russia to win at 6.86/1, after Polina Gagarina delivered a simply stunning performance of "A Million Voices". She looked amazing, she sounded terrific, and the staging added to what is a stirring anthem.
You may well think the lyrics "praying for peace and healing" are outrageous given Russia's political outlook, but juries will absolutely love this, and the Russian diaspora might see it home. Last year I talked myself out of backing Conchita to win because I didn't think eastern Europe would go for a bearded drag queen, and I'm not going to make the same mistake by overestimating people's resentment towards Russia. This has huge potential, especially as it has been given a place late in the running order.
The threat to my two picks is Italy at 4.94/1. Operatic trio Il Volo are all powerful performers with good chemistry, and although "Grande Amore" takes a while to get going, juries will love it. It also appears Italy have put themselves in financial peril as a country by spending a fortune on erecting gigantic statues in the background.
This will go close, but I'm not sure the pop-opera style has universal appeal (just ask G4). The song is superbly delivered but doesn't have a "moment", and Italy have only finished in the top three once since they returned to the Eurovision fold in 2011.
I really like Norway's haunting duet "A Monster Like Me", and said it was a good back-to-lay at 65.064/1. It came in to 32.031/1 after a great performance in the jury rehearsals ahead of the semi-final, but Debrah Scarlett didn't quite get it right on the night, and a shaky vocal has pushed her and her buddy Morland back out to 100.099/1. A shame, but if they both nail their vocals on Saturday night, then the odds of 1.618/13 for a Top 10 finish will be justified.

UK and Australia
I don't think anyone really expects the UK entry "Still In Love With You" by 1920s-themed duo Electro Velvet to make much of an impact, and it is the 3.953/1 second-favourite in the Last Place market.
The song is one of the few up-tempo islands in a sea of ballads, and I think the fun staging will help it stand out, but the weak and faux-American vocals from male singer Alex Larke make for an underwhelming start. His cheeky co-star Bianca Nicholas is much better, and she lifts the song by the end, but the early spot in the running order won't help. People of the UK, let's not get our hopes up, but I'll be unpleasantly surprised if this finishes bottom of the pile.
Australia's controversial involvement (it's just not right, I tells ya!) could be a one-off unless ex-Australian Idol champ Guy Sebastian can win with "Tonight Again". It's a cool, up-tempo track, but it doesn't have the wow factor of some of the leading contenders.
The novelty factor of Australia being involved could help, but even though Mr Sebastian once did a delightful radio dedication to my Mum (she's a massive fan of his), I can't support him in the Top 5 market at 1.728/11.

Top 10
Before we look at a couple of odds-against shots for the Top 10, a word on Estonia. In my first preview I advised opposing "Goodbye to Yesterday" in the Top 5 market at 1.511/2, and it has moved out to 2.26/5. Although sultry songstress Elina Born smoulders so much she might burn down the arena, her drab colleague Stig Rasta drags the whole thing down with a poor opening to the song. I still don't see it finishing Top 5.
Azerbaijan have never finished outside of the Top 10 in Eurovision, and Elnur Huseynov's "Hour of the Wolf" is a rousing ballad that has grown on me since I first heard it. Also, Elnur has a half-naked man and woman writhing in the background throughout, so there's something in there for everyone. With good support from traditional voting allies and a place pretty late in the running order, this should make the Top 10 once again.
I must admit I dismissed Serbia far too easily before the semi-final, but Bojana Stamenov blew everyone's socks off by belting out "Beauty Never Lies". My wife is in Vienna for the contest, and she says Bojana has been wowing the fans at promo events, and there is huge support for her. The song might do really well with floating televoters, and the choreography is delightfully bonkers. It's worth a crack in the Top 10 market at 2.962/1.

Recommended Bets
Back Azerbaijan in the Top 10 market at 2.1411/10
Back Serbia in the Top 10 market at 2.962/1
Open Bets from previous previews
Backed Sweden in the Winner market at 3.39/4
Backed Russia in the Winner market at 6.86/1
Layed Estonia in the Top 5 market at 1.511/2

Eurovision Live!
Join Kevin as he takes over the Betfair live blog for Saturday night's show. Expect tips, opinions, price updates, the best pictures, tweets and more... Link available at 8pm on Saturday on our homepage
Discover the latest articles